Country-by-country information
Exxaro Resources, as the ultimate parent and reporting entity, is responsible for the preparation and submission of the country-by-country (CbC) report for the Exxaro group in South Africa. The master file has been prepared in accordance with commentary in chapter V of the 2017 Transfer Pricing Guidelines for Multinational Enterprises and Tax Administrations issued by the Organisation for Economic Cooperation and Development, and in line with the requirements of the public notice published by SARS for the submission of the CbC report, master file and local file by persons specified therein.
Exxaro is a diversified resources group with business interests in South Africa, Switzerland, Peoples Republic of China, Australia and Israel. Exxaro divested from its shareholding in Tronox which had business interests in the USA,UK and several other countries.
Exxaro is among the top five coal producers in South Africa with a diversified commodity portfolio. The asset portfolio includes investments in iron ore, ferrous and residual base metals. In line with its focus on renewable energy creation and reduction of carbon intensity, Exxaro purchased the remaining 50% in its Cennergi investment from Tata Power Company Limited in 2020.
The products under Exxaro's key business areas are discussed below.
KEY BUSINESS AREAS
Coal
The coal business remains the primary driver of Exxaro's revenue. Its extensive coal asset base is a key differentiator and critical part of how the group creates value for its stakeholders despite headwinds against coal.
Exxaro operated eight mines, of which four were underground, in South Africa. During 2021, Exxaro disposed of its investment in ECC, leaving five operating mines:
Belfast
Grootegeluk Complex
Leeuwpan (Exxaro is busy with the divestment process of this mine)
Matla
Mafube (50% JV with Thungela Resources)
The coal business produces thermal, metallurgical and coking coal. Internationally, coal is sold to EITAG for the export market. For the domestic market, it is sold mainly to Eskom and ArcelorMittal SA Limited. Thermal coal is mainly supplied to cement producers and power generation companies.
Ferrous
Exxaro's FerroAlloys ferrosilicon plant supplies superior-quality, gas-atomised and milled ferrosilicon to various customers.
Iron ore
Exxaro owns 20.62% of SIOC, a leading supplier of high-quality iron ore to the global steel industry and a subsidiary of Kumba Iron Ore.
Renewable energy
Exxaro owns two windfarms, which deliver power into the Eskom grid. Tsitsikamma has an installed capacity of 95 megawatts (MW) and Amakhala 134 MW.
Base metals
Exxaro has a 26% interest in Black Mountain Mining Proprietary Limited. Black Mountain Mining explores, develop, treat, produce and sell zinc, lead, copper and associated minerals concentrates.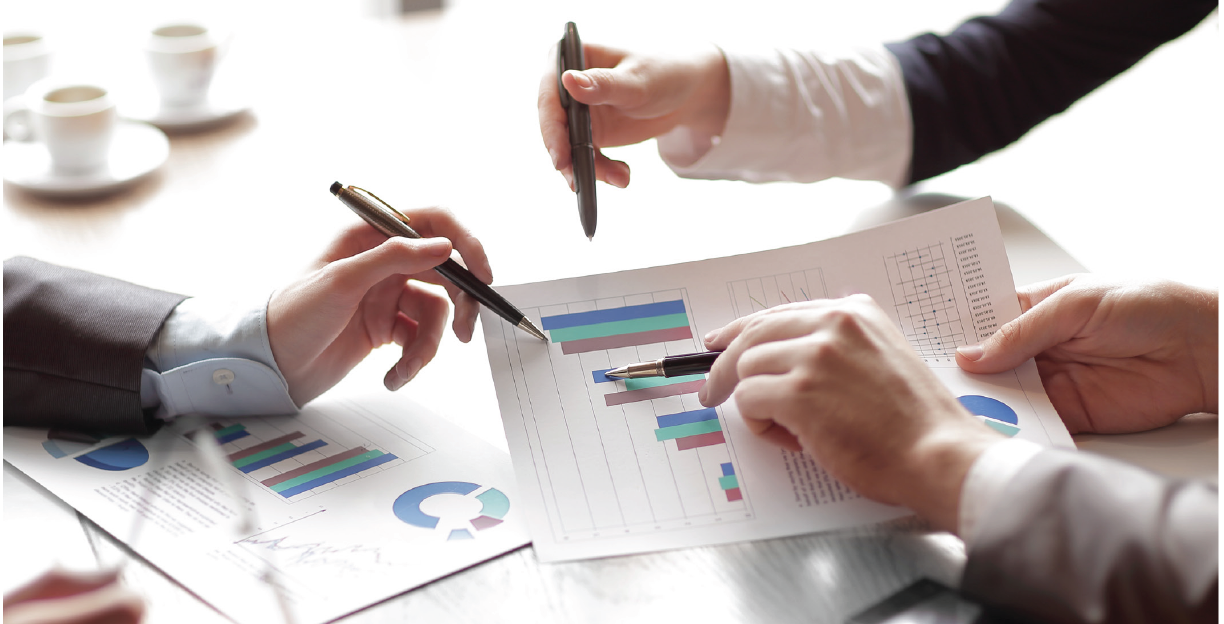 GEOGRAPHICAL PRESENCE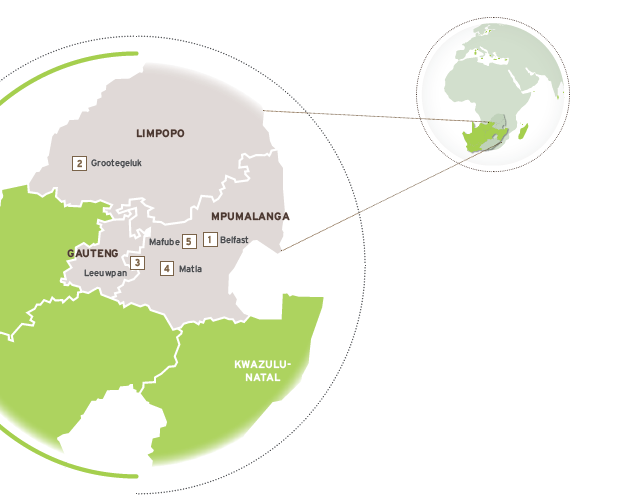 Mining operations: South Africa
Location:

1

Belfast
South of Belfast

2

Grootegeluk complex
West of Lephalale

3

Leeuwpan
South-east of Delmas

4

Matla
West of Kriel

5

Mafube
East of Middelburg
South Africa
The five mines left in Exxaro's coal portfolio are in the following locations:
Belfast – south of Belfast
Grootegeluk Complex – west of Lephalale
Leeuwpan – south-east of Delmas
Matla – west of Kriel
Mafube – east of Middelburg
The FerroAlloys ferrosilicon plant is in Pretoria.
The two wind projects are in the Eastern Cape. The Amakhala windfarm is near Cookhouse and Tsitsikamma is near Mfengu community land in Tsitsikamma. Cennergi has offices in Centurion and Gqeberha.
The Exxaro group is headquartered in Centurion.
Switzerland
Coal extracted from the South African mines is sold into the overseas markets through the Swiss marketing company, EITAG, which is Exxaro's central offshore sales company. EITAG buys coal from Exxaro Coal, ECC (until the divestment on 30 September 2021) and Exxaro Coal Mpumalanga (collectively Exxaro SA) and on-sells the coal products to the ultimate customer. The goods are delivered to Richards Bay Coal Terminal Proprietary Limited (RBCT) and, from there, directly to the foreign client. EITAG is responsible for the coal blending process as well as the RBCT entitlement usage.
EITAG attracts new customers, and develops new markets for Exxaro coal products. Based on the contract concluded with customers, EITAG manages the scheduling of coal volumes, quality types and shipping dates.
EITAG's business strategy is to use the following regional advantages:
Proximity of clients
Intelligence gathering
Product and market knowledge
Access to ports to facilitate efficient logistics
Cultural fit with customers
Having a central offshore sales company also ensures the application of consistent policies, and the growth of the Exxaro brand and offshore client base. EITAG has five employees (1 expat employee, 1 local employee and 3 contractors).
Australia
Exxaro Australia Holdings Proprietary Limited (EAH) is the holding company of the Australian group of companies (the EAH Australian tax group) and does not have any employees. Exxaro Australia Proprietary Limited, a subsidiary of EAH, holds a 50% interest in a JV with Anglo Coal (Grosvenor) Proprietary Limited (Anglo Coal) in the Moranbah project, which is currently an undeveloped coal resource in exploration stage. Anglo Coal manages the project.
The Moranbah project is located in the Queensland district of Australia.
China
Exxaro holds a minority investment in the Chifeng Hongye Zinc Smelting Co Limited smelting operations, incorporated in the People's Republic of China.
United Kingdom (UK)
Exxaro owns a 25.86% interest in Insect Technology Group Holdings UK Limited, which is currently in the process of deregistration.
Exxaro disposed of its remaining investment of 10.26% Tronox shares on 2 March 2021.
Israel
Exxaro owns a 28.5% interest in LightApp Technologies Limited.
SIGNIFICANT INTERCOMPANY TRANSACTIONS
Important service arrangements within the Exxaro group are shown in the table below. During 2021, there were no loans between Exxaro and any of its foreign group companies outside South Africa. Exxaro does not maintain unilateral advance pricing agreements in support of its intercompany transactions, or tax rulings relating to the allocation of income across countries.
Sale of coal
ECC, Exxaro Coal and Exxaro Coal Mpumalanga
South Africa
EITAG
Switzerland
Yes
Provision of warehousing, logistics and blending support
Exxaro Coal and ECC
South Africa
EITAG
Switzerland
Yes
Provision of various business and management support services, including but not limited to:

Financial and accounting services
Human resources
Legal and insurance services
IT, purchasing, business developments, operations and quality assurance
Communication and regional management services

Exxaro Resources
South Africa
Various
South Africa
Not applicable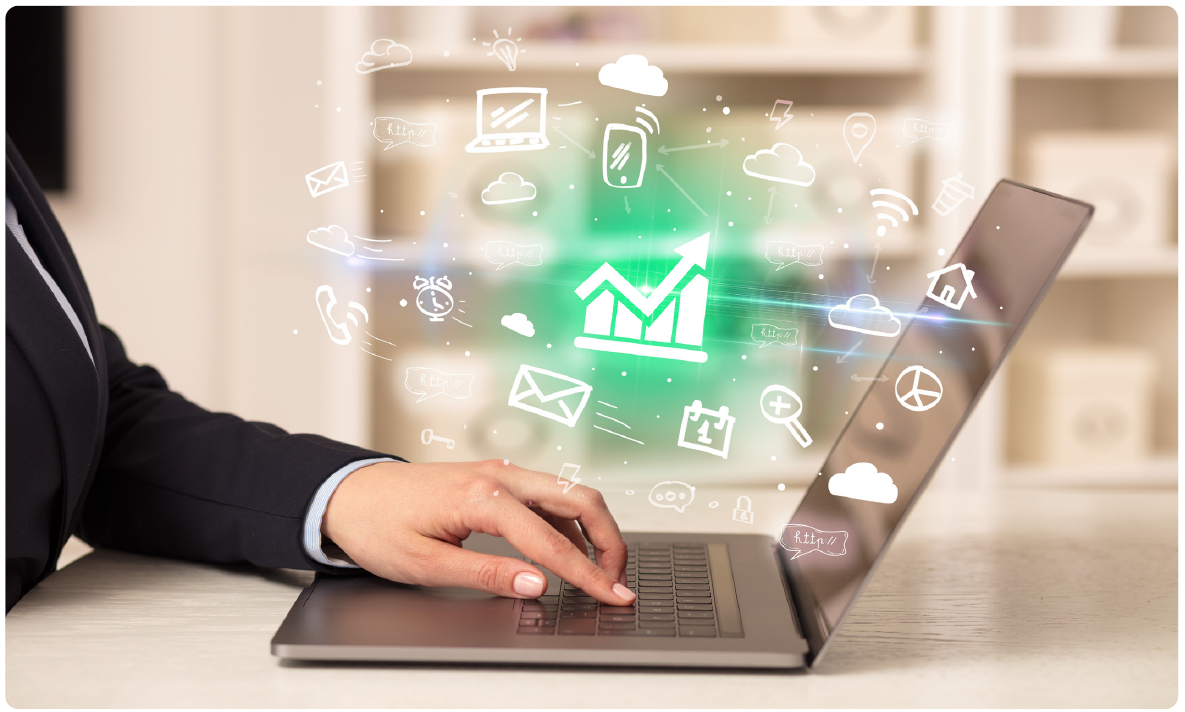 COUNTRY-BY-COUNTRY REPORTING
2021
Revenue from
third-party sales
Revenue from
intra-group
transactions
with other
jurisdictions3
Net
profit/(loss)
before tax5
Equity-
accounted investment
income1
Corporate
tax paid/
(received)
in cash
Corporate
tax expense
accrued
Dividend
withholding
tax accrued
Dividend
withholding
tax paid
Statutory
tax
rate
Effective
tax
rate
Total
number of
employees2
Tangible
assets
South Africa
Coal
20 572
9 939
7 149
385
1 184
2 105
28%
6 140
32 117
Ferrous
168
(10)
28%
82
32
Base Metals
353
352
Iron ore
9 037
9 037
28%
Titanium dioxide and pigments41
2 271
54
379
28%
Renewable energy
1 193
(150)
11
26
28%
20
5 553
Other
15
102
104
36
1
1
28%
502
523
Inter-company sales
(9 939)
Total
21 948
–
18 762
9 828
1 289
2 546
1
1
28%
38 225
Switzerland
Coal - EITAG
10 823
204
19
24
11
11
12%
12%
2
–
Australia (coal)
(26)
126
Israel
16
16
Grand total
32 771
18 956
9 844
1 308
2 570
12
12
14%
6 745
38 351
Equity accounted investment income is reflected in the country of incorporation
The number of employees include permanent employees. It does not include FTE's and contractors
Excludes fees received for administration services delivered by Exxaro Coal (Pty) Ltd head-office.
Classified as discontinued operations
Equity-accounted investment income is included in net profit/(loss) before taxation

* Public notice 1117, Government Gazette 41186, dated 20 October 2017, published in terms of section 25 of the Tax Administration Act.