Exxaro uses the International Integrated Reporting Council's Integrated Reporting Framework 2021 ( Framework), as well as the Global Reporting Initiative Standard 207:Tax 2019 ("GRI207") for public reporting on tax, to demonstrate value creation and transparency to our stakeholders.
This report discusses Exxaro's approach to tax, tax risk management (TRM), tax governance, and how we engage with our stakeholders. Exxaro also wishes to demonstrate how our taxes align with our sustainability commitments and give context to our financial reporting performance.
In this voluntary report, we wish to:
Show the contribution we make in the countries where we operate
Promote confidence and credibility in our tax practices
Enable stakeholders to make informed judgements
Support the development of socially desirable tax policy
Tax transparency allows us to demonstrate that our tax affairs are conducted in accordance with tax law and ethical business practices. Providing information that complies with recommended standards ensures that we are transparent beyond mandatory legislative requirements.

This report should be read together with Exxaro's 2021 integrated report, available at www.exxaro.com.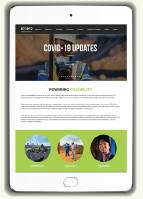 CONNECT WITH US
We encourage and welcome feedback on our reporting suite from our stakeholders. Please send any comments or suggestions to:
Malusi Buthelezi Manager: Integrated reporting and ESG Tel: +27 12 307 3174 Mobile: +27 83 460 3723 Email: Malusi.Buthelezi@exxaro.com

Disclaimer: Photographs of people without masks were either taken pre-COVID-19 or in full compliance with health and safety protocols. With thanks to Stefanie De Beer, Line of Sight Photography, for Cennergi's windfarm photographs used in our integrated and ESG reports.
Follow us on Facebook, Twitter, Instagram, LinkedIn and YouTube