Strategy and overview of estimates
Exxaro has a world-class Coal Resource portfolio, comprising fully owned operations and projects, and a number of jointly owned operations and projects in South Africa and Australia. The fully owned operations and projects in South Africa are located in the large and highly prospective Waterberg coalfield in Limpopo, and the more mature Highveld and Witbank coalfields in Mpumalanga.
Our Coal Resource and Coal Reserve estimation strategy focuses on providing integrity and trust to our mineral estimates by employing responsible and innovative technical management principles. Our Competent Persons are the custodians of the mineral assets, and are therefore accountable for ensuring the integrity of our Resource and Reserve estimates by applying pioneering technology in combination with trusted knowledge and experience. Our projects, operations and expansion initiatives are built on these trusted and assured Coal Resources and Coal Reserves, creating a platform for the LoM from which annual business plans are derived. The Mineral Resource managers of each operation are the custodians of the LoM and ensure professional execution of the business plans, stimulating profitability and return on investment while guarding against irresponsible exploitation.
Our Sustainable Growth and Impact strategy is designed to participate in the just transition to a low-carbon economy while delivering on our early value coal strategy in a prudent and responsible manner. There has been a steady decrease in our total attributable Coal Resources with Exxaro divesting from the large Waterberg North-and-South prospecting assets in 2019 and ECC* in 2020. We are currently in the process of divesting from the Leeuwpan coal mine near the town of Delmas and investigating future options for the Thabametsi mining right, a large Coal Resource adjacent to our Grootegeluk coal mine, after the cancellation of the associated independent power producer (IPP) project.
In 2020, we outlined our strategy to access early value at our coal operations. Mining has, during 2021, successfully advanced within the newly implemented mining plans at our Grootegeluk and Belfast operations. The execution of our 2021 exploration programmes in support of this early value mine plans was not as severely impacted by the COVID-19 pandemic as in the previous reporting year due to proactive planning by the operational teams. We could therefore conclude our exploration plans at all our coal operations in support of our early value exploitation plans.
We continuously strive to enhance the level of estimation and reporting of Resources and Reserves, committed to our governance structures and associated assurance processes. In 2021, we conducted internal reviews during the update of the geological and structural models at our Leeuwpan and Mafube operations. Our geological models were scrutinised by a review team consisting of geoscience, geotechnical, structural and mining specialists before sign-off and handover to mine planning was concluded. Reviews of LoM were conducted at the Belfast and Matla operations. We also conducted a number of technical reviews of development projects with specific focus on the estimation that underpins these projects. The Grootegeluk integrated water management and truck and shovel strategies, the Belfast contracting options and Mafube debottleneck projects are examples of reviews undertaken with technical findings and opportunities documented and included in the various project development processes. In addition, EY conducted an external estimation process audit at the Leeuwpan operation. No critical findings, which may have a material impact on our estimates, were reported. Four findings regarding the improvement within our process relating to the timely update of estimation procedures and Reserve fact packs were noted. Corrective measures were implemented and audited, and findings were closed. A number of proposals to unlock value within the geological modelling process were received and we welcome these valuable inputs to enhance our current methodologies.
Figure 3: Exxaro's attributable Coal Resources and Coal Reserves
Our total attributable Coal Resource decreased by 6%, primarily the result of mining depletion at our operations, the divestment from ECC and a change at Matla coal mine due to the movement of 111Mt of Coal Resources outside the LoM to inventory. These Coal Resources are remnant and isolated coal blocks due to locality, infrastructure and/or accessibility constraints and do comply with our considerations of Realistic Prospects of Eventual Economic Extraction (RPEEE) for reporting of Coal Resources.
Our total attributable Coal Reserve decreased by 4%, mainly due to the divestment of ECC and normal mining depletion at the various operations.
The divestment of ECC decreased the total attributable Resources by 556Mt and the total Reserves by 95Mt. The change is, however, masked by the significant amount of Coal Resources and Reserves held within our Waterberg coal assets.
For all other operations, other than normal LoM depletion, no material changes to the total attributable Coal Resource and Reserve estimates are reported. We do not know of any pertinent technical and operational risks or other material conditions that may impact the company's ability to mine or explore.
Exploitation at our Grootegeluk coal mine, of the thick interbedded coal deposit (Volksrust Formation) in conjunction with the underlying multi-seam coal deposit (Vryheid Formation) through a large open pit, producing various specialised coal products via a significant beneficiation complex, requires a well-planned, well-balanced and integrated geoscientific, mining and beneficiation (MRM) process. We have therefore, during the reporting year, pursued various initiatives within this value chain.
Our geological model consists of 11 coal zones (benches) with each bench incorporating various individual coal and shale samples. In 2021, the team compiled a comprehensive coal and shale sample model to provide additional detail and flexibility to mine planning to enhance the quality of run of mine (RoM) coal streams to the various beneficiation plants. We have, in parallel, started with the implementation and testing of our OCCS mine planning software for improved development of mine layouts and schedules. We envisage that the sample model, aligned with the
OCCS-based mine planning solution, will unlock considerable value for the Mineral Resource Management (MRM) process.
A number of studies associated with the LoM are in progress at our Grootegeluk coal mine. Water as well as overburden (OVB) management are significant aspects of our huge opencast coal operation. An integrated water management system project, with the objective to improve overall water management at the mine, ensuring legislative compliance and sustainable production over LoM, is nearing conclusion. We believe that the outcomes will enhance efficiency of water management and water use. The Grootegeluk Alternative Mining Solution (GGAMS) project that investigates different methods of extracting, transporting, handling and placement of OVB is also near completion with outcomes expected during the second quarter of 2022. The execution of the early value mine plan previously mentioned is progressing well with planning and development in place for opening of the northern turnaround pit in 2030. Planning of a backfill and a discard system to accommodate the increase in waste and relocation of in-pit crushers are in progress. We foresee that the north pit will be fully established in 2036 on all benches. At that point in time, OVB will be mined in an easterly direction while backfill and discard will be advancing in a westerly direction in the central pit. OVB mining will commence in the southern pit around 2046.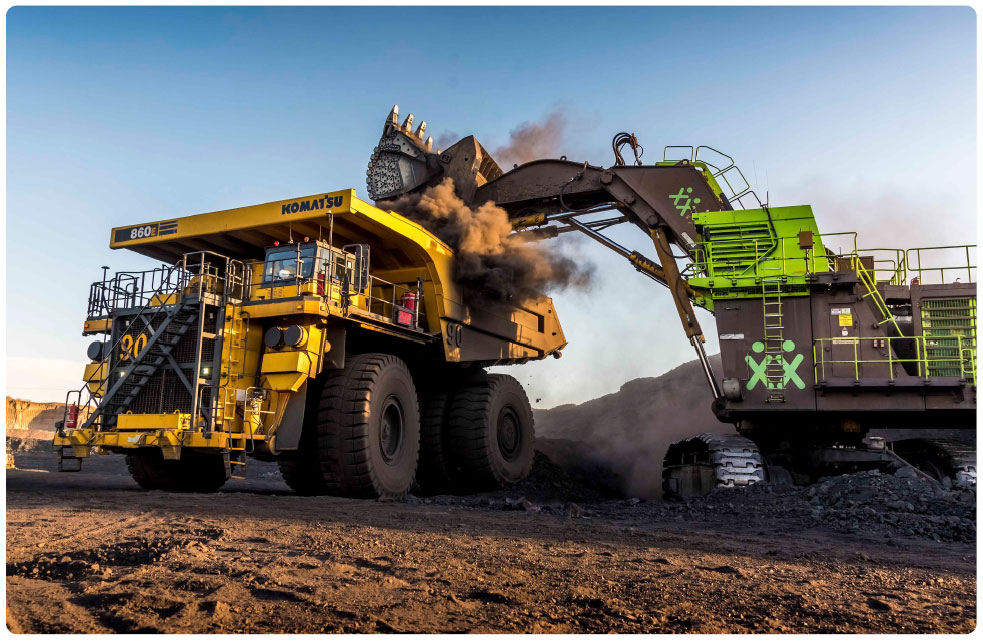 We successfully addressed a number of challenges at our Belfast coal mine through the implementation of technical solutions and effective management of the market-to-resource exploitation process. With results from detailed geological and metallurgical investigations we successfully facilitated impacts relating to coal weathering and near-density coal material that affected our plant yield. Mining continued from pits 1, 2 and 7 as well as the newly introduced pit 4B on the western side of the Coal Reserve totalling RoM of 2.80Mt. The additional pit space introduced more flexibility and mitigated excess water challenges in pit 7 experienced during the wet season. The collection of mining actuals since the start of operations resulted in accurate coal and waste reconciliation, and enhanced our reserve estimation modifying factors.
We completed a market-to-resource investigation leading to the successful transitioning from RB1 to RB2 product specification with subsequent increase in yield. This investigation is, however, ongoing where we continuously strive to establish the optimal product mix for the asset and Exxaro. The annual RoM target, based on lower Transnet Freight Rail (TFR) performance and approved lower train allocation to Belfast resulted in a slight increase from 11 to 12 LoM years. The Coal Reserves at Belfast mine only fall within the southern portion of the total Coal Resource with ~80Mt of the Resource located to the north and outside the LoM. The Belfast Expansion Project (BEP), a prefeasibility study to potentially expand the LoM to the north, is progressing well with exploration drilling concluded in 2021. Drilling results will upgrade most of the BEP Coal Resources to the Measured Resource category and further studies will commence in early 2022 to optimise characterisation and test optimal exploitation options.
Matla mine has three valuable mine expansion projects in various stages of implementation. Together these development projects contain an estimated 83% of Matla's Coal Reserve, illustrating their significance in the future of the operation. Timely funding and subsequent project execution are vital. Some delays have placed the operation under pressure to identify additional ground for the various mining teams until delays are addressed, which they achieved.
Figure 4: Matla's expansion projects