Environment
Using environmental stewardship principles to guide our business strategies, will strengthen our organisational resilience while ensuring a positive co-existence relationship with the natural environment.
Acknowledging the role the mining industry plays in our fragile ecosystem, we continue making progress in reducing our overall environmental impact, strengthening our organisational resilience and creating environmental smart future mining opportunities for sustainable growth.
We are driven by our commitment to sustainable mining and corporate responsibility while balancing our role as a critical supplier to South Africa's coal-based electricity sector. As such, we aim to be the most environmentally responsible coal mining company at the forefront of climate change and environmental stewardship as we transition our company to low carbon portfolio.
In this chapter, we illustrate our impact on natural capital and the value we create in integrating environmental stewardship into our strategic decision making.
We manage our environmental impact and long-term sustainability through, among others:
Committing to environmental stewardship
Incorporating environmental performance principles in all our management systems, policies and practices
Adhering to local and international environmental standards and future-based best practices
Participating in voluntary benchmarks such as the global carbon and water disclosure projects
Ensuring all mining and related activities are appropriately authorised and comply with all statutory environmental requirements as a minimum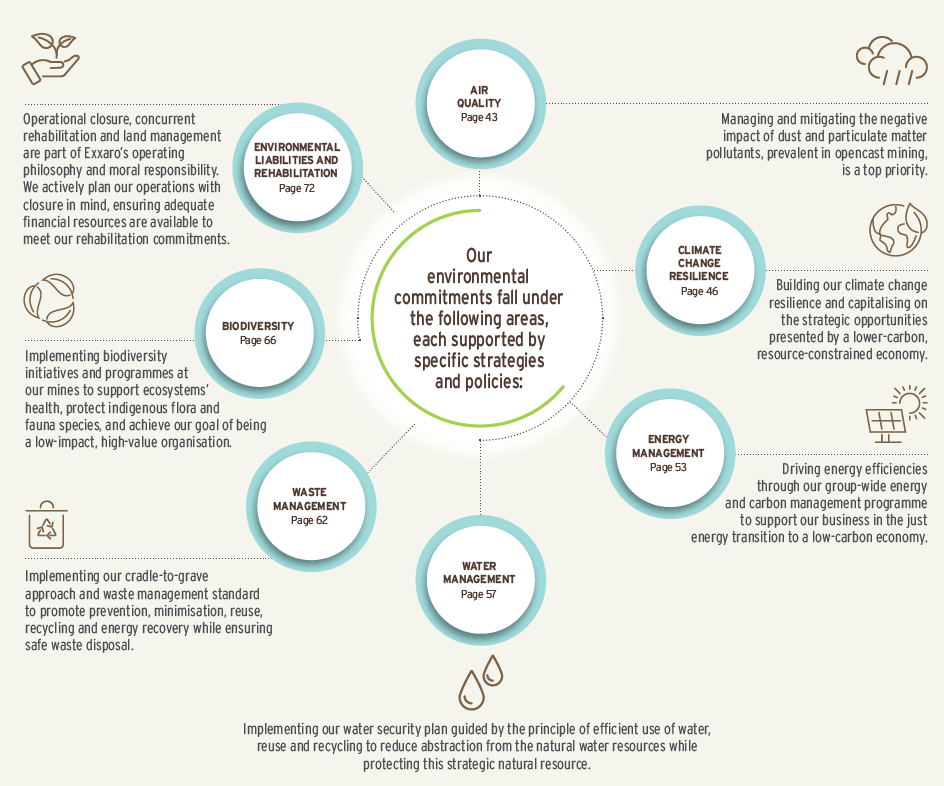 ENVIRONMENTAL MANAGEMENT
This year, we intensified our focus on all environmental areas that impact our journey to environmental stewardship and carbon neutrality target. This includes implementing energy performance metrics across all functional areas and entrenching a resource optimisation culture in the organisation.
Air quality: Submitted five-year pollution prevention plans for the group and installed multi-monitor close receptors at Grootegeluk
Climate change:

Established a project management office to coordinate and streamline Exxaro's decarbonisation activities
Piloted cross-functional STI KPIs across the organisation to support climate change initiatives and energy intensity targets

Energy: Completed a detailed opportunity scoping review at BUs
Water security: Finalised Grootegeluk water strategy
Waste management:

Concluded three waste management contracts as part of Exxaro's Belfast SLP and ESD initiatives
Received the Evergreen award for hazardous waste handling at Matla

Biodiversity:

Alien invasive plant control plans gained momentum and should be fully implemented by 2022
Recreated six pans as part of the proof of concept study of the pan creation project at Grootegeluk
Commenced rhino relocation project in April 2022 (from Manketti to Mozambique)
Adopted the biodiversity management plan at Amakhala Emoyeni windfarm to achieve no net loss in biodiversity
Recorded no red data species mortalities at Tsitsikamma community windfarm
Implemented an application across BUs to track rehabilitation and measure liabilities

Recorded zero significant environmental incidents across the group

Preparing for and implementing processes to meet the requirements of evolving environmental regulations, such as the terms of the Financial Provisioning Regulations related to liabilities
Socialising STI targets with all employees
Managing excess water due to above-normal rainfall in the first half of 2021
Rolling out systems for standardised energy data acquisition
Establishing two Cape vulture facilities at Amakhala Emoyeni windfarms
Our approach
Our environmental approach is guided by our Sustainable Growth and Impact strategy and our goal to proactively transition our business to climate resilient portfolio. To achieve this, we are developing and continually evolving our environmental policy to align it with company goals and current international best practice and standards. This is supported by our all-encompassing group standards for air quality, water, energy, rehabilitation and mine closure, as well as environmental incident management and reporting. Each BU embeds these standards and maintains ISO 14001 certification for effective environmental management requirements. From 2022, achieving our goals will be enhanced further by the implementation of our STI scheme, linked to our decarbonisation plan and Sustainable Growth and Impact strategy.
Our operations in South Africa have environmental management programmes as required by the MPRDA and NEMA, and have the required IWULs. The defined precautionary principle as per NEMA guides us in evaluating the potential environmental impacts of our current activities and future business opportunities.
Cennergi is guided by a new environmental and social management system to manage environmental and social impacts in line with the Equator Principles, the International Finance Corporation's (IFC) Performance Standards and the World Bank's Environmental, Health and Safety guidelines, among other international requirements.
Accountability and responsibility
The board, supported by the RBR committee, has ultimate accountability for our environmental management and impact. The executive head: sustainability oversees the implementation of our environmental strategies, and sustainability managers and BU managers are directly responsible for implementation at each BU.

Every employee and contractor is responsible for complying with policies and procedures at each BU and site.
Exceeding minimum regulatory requirements
South African mining companies and mining-related activities are strictly regulated. To ensure that we maintain our environmental licence to operate, we endeavour to exceed minimum regulatory requirements and ensure consistent compliance. This is achieved through the Exxaro wheel of environmental stewardship as per below: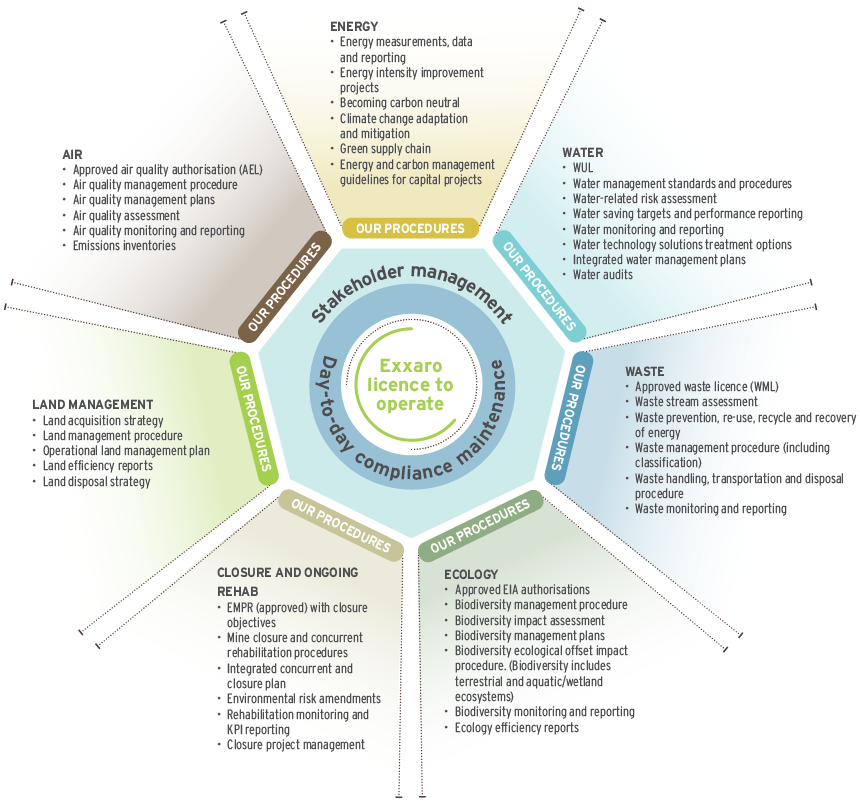 The above wheel of excellence ensures that our approach to environmental stewardship is consistent across the group. It also allows us to integrate new assets quicker and place them on the path to excellent performance. We are able to ensure we can implement compliance, monitoring and reporting processes that are aligned from group to operational level. In addition, the wheel provides a skills competency guide and requirements at each operation. Our collective skills and competencies should cover all areas of the wheel.
ENVIRONMENTAL INCIDENT REPORTING
Our standardised environmental incident reporting system ensures our BUs manage incidents effectively and efficiently to minimise negative impact. We immediately report any incidents and mitigation measures to the relevant authorities. In 2021, we updated our incidents management standard to include a level zero used to capture near misses or incidents that have zero environmental impact but pose potential risks.
A record of our environmental incidents over the past three financial years is shown in the table below.
Environmental incidents
2021
2020
2019
Trend
2021
2020
2019
2021
2020
2019
Total Group
31
91
373
0
0
0
0
0
0
Limpopo
Grootegeluk
6
9
15
0
0
0
0
0
0
Tshikondeni
1
0
0
0
0
0
0
0
0
Mpumalanga
Belfast
6
15
0
0
0
0
0
0
0
ECC*
6
4
293
0
0
0
0
0
0
Leeuwpan
9
42
55
0
0
0
0
0
0
Matla
3
21
10
0
0
0
0
0
0
KwaZulu-Natal
Durnacol
0
0
0
0
0
0
0
0
0
Hlobane
0
0
0
0
0
0
0
0
0

Negative

Positive

Unchanged

Cennergi recorded no significant environmental incidents in accordance with section 30 of NEMA and NWA.
OUTLOOK AND FUTURE FOCUS
Water scarcity, air pollution, biodiversity loss, hazardous waste and climate change pose significant environmental and financial risks that we need to manage while delivering on other business objectives. In response to climate change, global efforts are driving economic reforms, commitments and regulations to steer decarbonisation efforts, such as the pledges made at COP26 to scale up transition away from unabated coal generation in support of the Paris Agreement. This will limit the average increase in global temperatures to below 2°C warming pathway with a target of 1.5°C. As part of our energy transition commitments and in response to these goals, we continue investing in and expanding a diversified renewable energy business, see Biodiversity of our integrated report for reference, and our internal multi-functional task team is developing a decarbonisation strategy and implementation plan using TCFD recommendations.
Our decarbonisation project management office is conducting an assessment to baseline our value chain emission profile and determine quick wins that we can implement in 2022 and beyond. To align to the TCFD recommendations on matrix and targets, water and energy intensity targets will be included as part of the revised group-wide STI in 2022 to link climate change outcomes to organisational risks and performance. This will ensure that we can implement strategic projects to mitigate the risk of water security and transition our energy use to cleaner fuels.
Our environmental management challenges include constraints experienced by the various government departments like DMRE and DWS. We are exposed to significant risks when permits are delayed. These permits include IWULs aligned with mineral rights and environmental licensing procedures. Our endeavours are also constrained while we wait for the integration of complex proposed laws dealing with climate change, pollution prevention and carbon tax.
We remain focused on transitioning our business portfolio and making it resilient to the 1.5°C world.
STEWARDSHIP TIMELINE
It is our aim to be a leading mining company at the forefront of climate change and environmental stewardship.