CEO's report
Exxaro displayed tremendous resilience in navigating a tumultuous operating environment during the financial year, characterised by economic disruptions from the Russia-Ukraine conflict and resulting energy crisis, market volatility, domestic challenges, and evolving geopolitics.


Dr Nombasa Tsengwa
CEO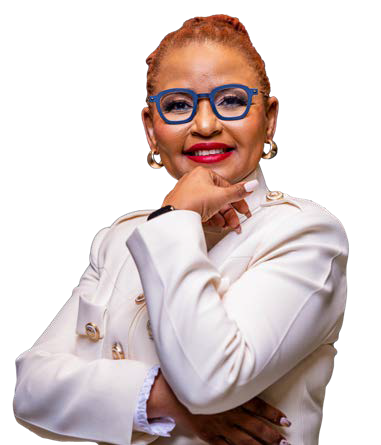 Since Exxaro's creation in 2006, we have weathered international and domestic disruptions, among others, the global financial crisis, the commodity downturn and more recently COVID-19, while responding to the resonating global call to action against climate change to reduce carbon emissions in the face of South Africa's energy security challenges.
This is a time of many shifts – both externally and in our industry. Geopolitical changes, the global energy transition, and the move away from fossil fuels toward renewable energy will lead to varied regional impacts that will disrupt social structures and local communities. As such, we are conscious of the uncertainty among our stakeholders as we embark on our business transformation and transition to sustain Exxaro on the road to a low-carbon future. We are equally conscious of our leadership role and responsibility in society to carve a path to a positive legacy for generations to come.
Exxaro's value proposition
Our strategy is responsive to the changing operating environment. Key strategic shifts include optimising our portfolio to maintain our robust and resilient long-life coal assets, which are cost competitive and continue to deliver operating margins above 20%. We unlocked significant value for shareholders by disposing of non-core assets.
Our early value coal strategy was our foremost response to climate change – to limit stranded high-value Coal Reserves and increase the proportion of high-quality (high energy value) coal products in our export mix. Combined with our market to resource approach – to inform operational plans with market insights to deliver coal products that meet customer specifications – this strategy provides optionality and flexibility in terms of coal blending to supply different markets during the prevailing European energy crisis.
We have a robust capital allocation framework that supports our business and future plans, through which we aim to maintain our sustaining capital at an average R2.5 billion a year for the coal business. We foresee a consistent dividend policy of 2.5 to 3.5 times adjusted group earnings, translating to a pay-out ratio of up to 40%. To facilitate our minerals and renewable energy growth opportunities through mergers and acquisitions, we are maintaining sufficient cash holdings and have sufficient debt facilities, as shared elsewhere in this report. In addition, macro-risks demand that we maintain an above normal level of financial liquidity.
Investment in renewable energy and minerals
Cennergi will begin construction of the 68MW Lephalale solar plant and enter into an offtake agreement with Grootegeluk mine. Future merger and acquisition opportunities will further grow the generation capacity from the 229MW base of wind energy generated in the Eastern Cape. We aim to grow to 1.6GW of generation capacity from wind, solar and battery storage by 2030. This renewable energy investment will contribute significantly to South Africa's decarbonisation plans.
In the minerals portfolio, we have reviewed opportunities in our targeted commodity interests, namely manganese, copper, and bauxite. The commodity sector remains competitive with high expectations for valuations, consequently, limiting access to opportunities and delaying our pace of development. Therefore, when pursuing acquisitions within these minerals, we balanced the need to transition at speed with our investment criteria and capital allocation requirements to balance risk and returns.
Our performance for the 2022 financial year
The past financial year was undoubtedly challenging for Exxaro, but it also presented opportunities and demanded agility and proactive response. Overall, the results of a record safety performance and EBITDA were commendable. The tenacity and excellent safety performance of our people, coupled with higher coal prices, combined to deliver this value to our stakeholders.
Unwavering in our commitment to safety
Safety remains a top priority for me and the Exxaro family at large. Encouragingly, our LTIFR performance continues to improve. We achieved a rate of 0.05 ahead of our 0.06 target, which is an industry-leading performance.
Sadly, following a five-year record without fatalities, it was a lowlight when we lost Mathews Moanalo in an accident involving mobile mine machinery at Belfast on 15 August 2022. It was a stark reminder that consistent vigilance is critical in mining environments, given prevailing energy levels. We extend our sincere condolences to Mathews's family, friends and colleagues who can find comfort in Exxaro's support as we come to terms with this tragedy.
Our safety performance, combined with other sustainability factors, such as community development, biodiversity management, our decarbonisation plan and overall good corporate governance, contributed to an improved FTSE Russell ESG Index performance rating from 3.8 to 4.0 out of 5.0. We have identified further opportunities, such human rights practice and policy disclosure, to improve this scorecard performance and demonstrate the reduction in risk to our investment proposition.
Delivering against logistics constraints
The most significant hurdle to overcome was ongoing logistics constraints, which limited our export volumes at a time of record coal prices (reaching US$271.63/tonne for RB1 and US$205.43/tonne for RB3 thermal coal), arising from the Russia-Ukraine conflict and consequent European energy crisis. After a record 12Mt of exports in 2020, we are disappointed that we could not achieve our export sales capacity of between 15Mt and 16Mt following our expansion of the rapid load-out station, Grootegeluk 6 (GG6) project and Belfast mine development.
We delivered maximum sales tonnage of 42.1Mt into a favourable domestic and seaborne price market. While this outcome contributed to the record revenue of R46.4 billion and EBITDA of R19.0 billion, the financial opportunity lost is unfortunate. Reflecting on this performance over the past five years, revenue and EBITDA growth was 82% and 161%, respectively, the latter demonstrating consistent cost management and despite a worsening logistics performance. We are working closely with TFR, government and the Minerals Council to remove logistics constraints in the short term, including security of the coal line and performance efficiencies.
Our continued focus on cost management has ensured that we remain below mining inflation, despite the aggressive inflationary increases observed during the year. Cost competitiveness is an essential lever for our business's sustainability. We achieved a coal cost performance increase of 12.7% versus mining inflation of 13.8%.
Driving operational and production performance
Our people exerted energy and displayed tenacity to ensure maximum export volumes under difficult conditions. We achieved a 1% increase in overall production and sales volumes. We improved our coal product mix through higher RB1 grade export volumes to achieve the highest coal price level, despite worsening rail logistics constraints. We successfully maintained our coal supply to Eskom for electricity generation at Medupi, Matimba and Matla power stations and responded to various other coal product markets.
Cennergi delivered renewable energy in line with planned design output. However, poor wind conditions in 2022 resulted in a 7% decline in energy generated of 671GWh compared to 2021.
Delivering against our strategy and outlook
The Sustainable Growth and Impact strategy remains on track to deliver on our strategic objectives. Our progress during the year and outlook is as follows:
Transition at speed and scale: the commodity market for acquisition opportunities remains competitive but not impossible. We have developed a pipeline of potential target opportunities and remain prudent in our approach to ensure we do the right deal at the right price. In the meantime, the coal business remains robust, given the resource and reserve quality. While we foresee thermal coal prices softening, through our early value coal strategy and delivering high-quality volumes as a proportion of our total exports, we will be able to achieve the highest price levels. We firmly believe that this dual strategy of managed coal operations and growing future-facing businesses is the most optimal pathway for the energy transition, enabling us to journey along with our employees, communities and all our stakeholders
Make our minerals and energy businesses thrive: cost management is critical to maintain the competitiveness of our operations and protect margins, especially during a high-inflationary environment. We achieved a below-inflation cost increase for the coal business, a level of performance we will continue to aim for; ongoing stakeholder relations management ensures that we create harmony between operations and community stakeholders for business continuity; our regular engagement with shareholders ensures that our investment thesis remains top of mind; and the rail performance will remain a challenge. However, formally established structures between industry, Transnet and government will expectantly show positive developments in the first half of 2023
Empower people to create impact: as a critical enabler of our vision, we strengthened and reinforced our human resources development and skills programmes following the COVID-19 disruption. We are bolstering our skillsets in renewable energy in anticipation of the growth. In relation to our communities, we achieved record financial support of R291.2 million to local SMMEs through our ESD programme and, combined with supply chain efforts, achieved a record R1 097 million in local procurement – an increase of 11.5% that exceeded our annual 10% target. Our SMME development programme has created over 2 000 employment opportunities since inception in 2017/18
Be carbon neutral by 2050: we remain on track, despite short-term volatility and our disposal of Leeuwpan being withdrawn until further notice, towards a 43% reduction in scope 1 and 2 carbon emissions by 2026. Decarbonisation of our business is an essential tenant of our business model
Becoming a catalyst for economic growth and environmental stewardship: our Lephalale solar plant project reached financial close in April 2023 and construction will commence in the first half of the year. Further to our SMME development programme, our Social Impact strategy aims to deliver significant investment in education, land use management and related skills, as well as ongoing local economic development. This strategy was approved by the board in November 2021. Execution plans will be shared with the board for approval in the second quarter of 2023
Appreciation
Reflecting on my journey, I am deeply grateful for the support received and the lessons learned along the way. It has been a journey of growth, self-discovery and several changes in my professional life. The journey also prepared me for the period we find ourselves in today. I firmly believe that, on the journey ahead, there is a better place to be tomorrow than where we are today.
I would like to thank our investors and funders for their continued support. To my board, thank you for your counsel and insights. To our stakeholders, including among others, our government partners, organised labour, regulators and community members, I extend my gratitude for your support in building the Exxaro of tomorrow. Not least of all, to our employees, you provided an opportunity for me to engage with you on our "get on the bus" roadshows, which was one of the highlights of my year.
Thank you all for your commitment and dedication as we work together to build for a tomorrow we can be proud of.
Dr Nombasa Tsengwa
CEO
14 April 2023