Summarised governance report
The Exxaro board applies good corporate governance to ensure sustainable growth while transitioning to a low-carbon world, an ethical culture and delivering on the promise of human rights.
Exxaro's board is the focal point and custodian of good corporate governance for the group. The board sets Exxaro's short, medium and long-term strategic direction through our

Sustainable Growth and Impact strategy. By approving a new capital allocation model and budget, setting and monitoring performance and culture expectations as well as a governance framework for the group, the board enables sustainable value creation.
At the core of Exxaro's corporate governance are principles that guide the board in meeting its responsibilities to the company, the group and its stakeholders. These principles enable the company to achieve the King IV governance outcomes and fulfil its purpose to power better lives in Africa and beyond.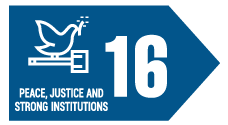 In addition, through good governance, our board is committed to contributing positively to achieving SDG 16, which seeks to promote peaceful and inclusive societies for sustainable development, provide access for all, and build effective, accountable and inclusive institutions.
Click on the icons below to view further information
The board therefore regards good corporate governance as fundamentally important to create value and achieve the above King IV governance outcomes in its own ethical and effective leadership.

In line with King IV's recommendation to apply and explain how Exxaro practices good governance, we include our detailed King IV application register in the ESG report. This sets out each principle with an explanation of steps taken as well as Exxaro's policies and processes.
Material themes in focus
The following material themes received focused attention in 2022:
| | |
| --- | --- |
| | Adapting to a changing context |
| | Responsible environmental stewardship |
| | Building sustainable communities |
| | Helping our people thrive |
| | Executing our strategy |
| | Driving business excellence |
| | Principled governance |
These material themes were addressed as described below.
CEO transition
The board welcomed Dr Nombasa Tsengwa as CEO of Exxaro from 1 August 2022, and expressed confidence in her expertise and leadership as Exxaro's first female CEO, taking the company further on its journey to achieving its Sustainable Growth and Impact strategy. She succeeds Mxolisi Mgojo who retired on 31 July 2022. The board thanked Mxolisi, who received a Business Leader of the Year award in 2022, for his invaluable contribution and wished him well in his retirement.
Board diversity and independence
The board expressed commitment to contributing to diversity, equity and inclusion in its composition, and to promote independent character and judgement within the board.
To this end, the board achieved the following outcomes:
Identification of new directors to take over in future as chairpersons of board committees as part of succession planning
The board continued to address independence, gender diversity as well as strategic skills, experience and competencies (including sustainability, ESG, human resource governance, energy and hard rock mining) in line with Exxaro's strategy and succession planning
The following directors were appointed:
Independent non-executive directors
Appointed

Karin Ireton

7 February 2022

Ben Magara

Billy Mawasha

Dr Phumla Mnganga

Nondumiso Medupe

3 January 2023
Ras Myburgh, an independent non-executive director since 1 September 2016, indicated that he would not be available for re-election at the AGM on 25 May 2022 and retired by rotation. The board expressed sincere appreciation to Ras for his dedication, commitment, and invaluable contribution to Exxaro during his tenure as an independent non-executive director and chairperson of the remuneration committee.
Nondumiso Medupe's appointment as an independent non-executive director and audit committee member (effective 3 January 2023). Vuyisa Nkonyeni and Isaac Mophatlane will retire by rotation, as independent non-executive directors, with effect from the date of the AGM, being 18 May 2023.
Governance roadshow 2022
Following two years of COVID-19 restrictions since the last governance roadshow in 2019, and in an attempt to improve ongoing engagement with shareholders, Exxaro held a three-day governance roadshow with equity shareholders in September 2022.
The purpose was to:
Introduce Exxaro's new board leadership, represented by the chairpersons of the board and remuneration committee, accompanied by the group company secretary and executive head: stakeholder affairs
Provide insight on the shareholder structure and returns, ESG performance, Sustainable Growth and Impact strategy, concrete plans to drive decarbonisation, the updated capital allocation model and response to society's needs
Provide feedback to shareholders on progress in addressing concerns about executive remuneration and incentives raised during the 2019 governance roadshow
Confirm the board's commitment to Exxaro's Sustainable Growth and Impact strategy, as communicated in September 2021, and listen to feedback about the strategy, capital allocation and other governance-related issues
Shareholders' views were considered and the board committed to continuing the annual governance roadshow to keep shareholders informed about progress in meeting the abovementioned commitments.
Climate change response
We intentionally focus on positioning Exxaro for growth, anchored on the just transition principle, which seeks to balance our financial performance, South Africa's economic development needs, ecosystem protection and society's adaptive capacity in the face of climate change.
Exxaro believes that our greatest opportunity is to help steer South Africa towards a sustainable future through undiluted focus on low-carbon minerals and energy with the goal to be carbon neutral by 2050. The board is committed, beyond compliance, to mitigating the impact of climate change with a robust Sustainable Growth and Impact strategy.
The board has oversight of climate-related impacts, risks and opportunities. This is included in the SERC and RBR committee terms of reference and annual work plans.
Actions that honoured this commitment in 2022 included:
Exxaro continued implementing the National Energy Regulator of South Africa-registered 68MW Lephalale solar project with the first phase of this multi-technology solution, designed for Grootegeluk's demand profile, fast-tracked to reduce up to one third of the BU's scope 2 emissions and significantly save electricity costs
Review of Exxaro's strategic objective (evident in total carbon abated) to realise our goal to be carbon neutral by 2050 through scope 1 and 2 emission reductions with current initiatives as well as other opportunities presented at COP27 and concrete plans to drive decarbonisation. The objective will be indicated by the total amount of carbon abated
Review of the minerals diversification strategy in a low carbon future as growth in these future facing minerals become critical
Exxaro to implement Taskforce on Nature-related Financial Disclosures pilot in the 2023 financial year
To strengthen our GHG mitigation and business resilience efforts, water security, energy and water efficiency targets have been included as part of the group incentive scheme in 2022
Strategic direction
As sustained value creation is founded on good governance and on responsiveness to significant social and environmental challenges, our strategy is continuously monitored and assessed, and formally presented to the board for approval at least once a year. Before executive leadership's strategy presentation to the board, iterative strategy workshops, following bottom-up process, and board governance sessions afford integration of inputs into the group strategy. The board therefore supports King IV principles regarding strategy setting through an iterative process.
As part of the strategy process, a risk and opportunity assessment is conducted, including emerging risks and assessment of material sustainability issues.
Top five risks at the end of 2022:
| | |
| --- | --- |
| | Unavailability of current rail capacity |
| | Eskom systemic risk |
| | Community unrest |
| | Cybersecurity threats |
| | Health and safety concerns |
Diversity, equity and inclusion strategy

Exxaro's diversity, equity and inclusion strategy (ESG report) supports the achievement of our transformation commitments through employment plans, Mining Charter III targets and the B-BBEE scorecard that uphold our licence to operate.
The board approved the strategy in July 2022 when diversity, equity and inclusion principles, strategic priority areas and success measures were identified. The concept of "equity" was added as a key success factor for diversity, equity and inclusion within Exxaro. The strategic objectives include gender identity and equity, racial equity, disability competence, inclusive culture, external inclusivity, leadership, and communication.
Our diversity, equity and inclusion principles include:
| | |
| --- | --- |
| | Promoting an environment of respect for all |
| | Building an environment of trust |
| | Establishing processes free from prejudices |
| | Zero tolerance of discrimination and harassment |
| | Promoting diversity, equity and inclusion |
Exxaro's gender equality charter (launched in 2021) was enhanced with our anti-gender-based violence (GBV) footprint and implemented in the first quarter of 2022.
Corporate calendar 2022
Approved the group's annual financial statements and final dividend declaration

Approved re-pacing of the Sustainable Growth and Impact strategy relating to minerals and energy as well as capital allocation

Considered the going concern assessment

Approved the assessment of the group's liquidity and solvency in the context of distribution to shareholders and trading statement

Mandated management's COP27 participation

Considered the going concern assessment

Approved the assessment of the group's liquidity and solvency in the context of distribution to shareholders and trading statement

Information management deep dive: information management strategy, governance processes, risk management, applications and current initiatives

Approved the group interim financial results and interim dividend declaration

Deliberated and approved the group's

Social Impact strategy

(ESG report)

Considered and approved:

Board committee composition

Rotation and independence of directors

Group company secretary evaluation

Prescribed officer determination

Considered amended conflicts of interest, gifts and benefits policies

Approved the consolidated group annual budget

Approved the governance report to be included in the ESG and integrated reports

Considered the JSE compliance certificate

Held the group's third hybrid AGM

Governance roadshow

Approved group delegation of authority and human rights policy


Executed return-to-work action plans to minimise production impact, focusing on cost containment and productivity

Strategy sessions

First governance session

Stakeholder days

Second governance session
Governance that supports our sustainability drive
"We conduct our business activities in a way that creates success for Exxaro and society. From how we mine to what we mine, we are stewarding our natural assets and social capital to uplift our communities." Dr Nombasa Tsengwa
The company recognises that it forms part of an interrelated community. As such, it may have positive and negative impacts on society and the global SDGs. Exxaro believes that investing responsibly and strategically in commodities will help sustain life on the continent, and is committed to being an environmentally responsible organisation, driving sustainability throughout our business while building on our delivery track record.
The board sets the ultimate direction for sustainability considerations, including committee and individual responsibilities for oversight of sustainability-related impacts, risks and opportunities by ensuring these are reflected in board and committee terms of reference, annual work plans, and other relevant policies and processes.
The board's oversight of sustainability is best illustrated by the distribution of ESG matters among the respective board committees reporting to our board (as outlined below).
Board and board committee oversight of ESG matters (per committee terms of reference and captured in annual work plans):
Environmental

Climate change

x

x

x

GHG emissions

x

x

Energy, water and waste

x

x

Pollution

x

x

Environmental compliance

x

x

Biodiversity and land use

x

x

Resource scarcity

x

x

x

Social

CSI

x

x

x

Training and education

x

x

Diversity and equal opportunity

x

x

x

Non-discrimination

x

x

x

Human rights

x

x

x

Health and safety

x

x

x

Privacy and security

x

x

x

Labour relations

x

x

x

Local community impact

x

x

x

Governance

Board diversity and structure

x

x

Board performance

x

Ethical culture

x

x

x

Executive pay

x

x

Anti-bribery and anti-corruption

x

x

x

Audit and assurance

x

x

x

Stakeholder engagement

x

x

x

x

Procurement practice

x

x

x

Risk management

x

x

x

Regulatory compliance

x

x

x

x

x

Internal policies

x

x

x

x

Information technology governance

x

x

Tax transparency

x
Click on the buttons below for further information on the board committees