People
The success of our labour-intensive mining business depends on an employee value proposition that meets the needs and expectations – including safety, health, wellbeing and personal development – of the people we employ from local communities and the scarce skills we attract beyond our immediate operating environments.
We inspire and guide our people to fulfil their purpose by providing opportunities that enable them to thrive in an evolving workplace.
Our approach
We uphold our licence to operate through our people and diversity and inclusion strategies, alignment with and commitment to internal policies, and our employee value proposition.
Our people and partners have the capabilities, mindset and passion to achieve our purpose. Empowered to create impact, we build our resilience as a company on each other's strengths.
Our people strategy
Our robust people strategy is the foundation of our employee engagement approach. The strategy is based on six pillars. These pillars are underpinned by a commitment to a people-fit organisation, developing capabilities and enabling human resources through our purpose to power better lives in Africa and beyond.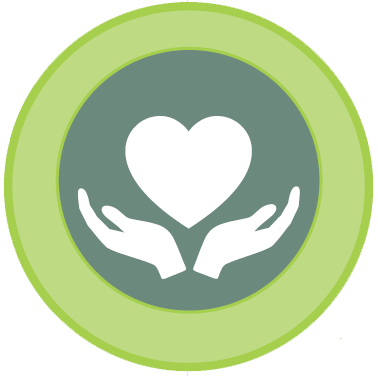 People at the heart
We differentiate ourselves by continuously evolving, creating impact through new ways of work and pursuing new opportunities
People at the heart
We leverage internal and external partnerships to continuously optimise our human resources services to better serve our people

Develop capabilities and grow talent
We evolve by demonstrating excellence, sharpening skills, pushing limits and realising our true potential
Lead with trust, adaptability and an outward mindset through the Exxaro Leadership Way
We empower our employees to truly live our values and foster a culture of trust without fear

Seamless employee experience
We collaborate with our employees to create compelling human‑centred experiences throughout the employee lifecycle
Future-fit organisation
We look at current and future trends, and continuously
pivot our organisation
with speed to
remain relevant
and take our people along on the journey, considering:
Diversity, equity and inclusion
Culture and values
Operational model
Partnerships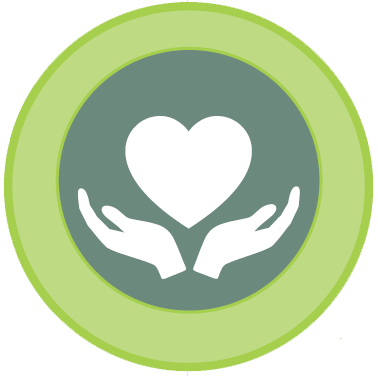 Catalyst for the five Sustainable Growth and Impact strategic objectives

Cennergi has 21 full-time employees, supported by service partners. The operation and maintenance of the wind turbines are done under contract by Nordex at Amakhala Emoyeni and by Vestas South Africa at Tsitsikamma. These contractors use sub-contractors for maintenance activities, employing 44 people at Amakhala Emoyeni and 38 at Tsitsikamma. Cennergi governs human resources with a comprehensive suite of policies that are consistent with those of Exxaro.
Accountability and responsibility
The SERC oversees people's health, safety, engagement and development. Our executive head: human resources, supported by various management departments, is responsible for developing and implementing employee-related strategies.
How we performed
Exxaro employed 19 242 people (2021: 18 813), 35% full-time employees (2021: 35.84%) and 64.9% contractors (2021: 64.13%).
Our commitment to safety, health and wellness

Our approach and performance reflect our endeavours to achieve zero harm through collective responsibility and risk awareness.

Employee engagement and talent management

Our culture – the behaviour we expect from employees - enables us to deliver on our Sustainable Growth and Impact strategy under pressure to mitigate the impacts of climate change. The strategy is mindful of the just transition needed to enter a low-carbon economy without leaving employees and communities behind.

Supported by sustainable human resource governance policies, our employee value proposition empowers us to co-create an innovative and agile work environment with value-adding solutions that enable growth and development.
Future focus
Our future focus is on building internal capabilities and reskilling the workforce to support transitioning the organisation into new commodities. Addressing pay equity is also a continued focus. Diversity, equity and inclusion will continue to be a top focus area over the next two years, while leadership accountability and communication will be the key enablers to unlock the diversity, equity and inclusion strategy.
Case study:

Top South African employer in 2022
(media and insights, press releases tab)
Exxaro's human resources policies and people practices were again acknowledged by the international Top Employers Institute.
Case study:

Young change makers chosen for UN SDGs Innovators Programme
(media and insights, press releases tab)
Four of Exxaro's young employees (Simone Naicker, Basetsana Malekele, Makolo Kanku and Muhammad Jassat) were selected to be part of the UNGC's Young SDGs Innovators Programme.
Case study:

Leadership in action
(sustainability, case studies tab)
Safety
Our unwavering focus on zero harm has enabled us to achieve our record LTIFR performance of 0.05. We focus on identifying and managing inherent processes, external risks with a hierarchy of controls, and stakeholder involvement on our journey. We believe that we can achieve zero harm through continuous improvement and proactive measures.
Our ultimate safety goal is zero harm.
Our approach
Safety is crucial to achieving our strategic objectives for our business to thrive. In our aim to manage safety-related risks and prevent incidents, we are guided by our safety strategy supported by the five pillars.
The five safety pillars
Incredible leadership
To demonstrate sustainable commitment to our employees' safety, our CEO leads an annual leadership safety day and the sustainability summit. The 2022 sustainability summit was hosted by Belfast Coal on 7 April 2022. The leadership safety day affords the executive committee:
An opportunity to engage with employees on health and safety issues
A platform to demonstrate our commitment to our zero harm vision
Events to congratulate employees and contractors for safety excellence
Communication
We continuously communicate our safety performance which covers incidents and learnings from incidents as well as actions to be taken to address emerging risks. Messages are broadcast on virtual platforms across the group:
Our Khetha Ukuphepha (isiZulu for "choose safety") campaign encourages personal responsibility for safety
BUs host annual safety indabas to drive the critical importance of safety
Consequence management
We set simple non-negotiable safety rules to promote life-saving behaviours
Incidents are analysed in terms of zero tolerance rules
Consequence management on safety-related contraventions is applied fairly across BUs in line with our cultural values
Training
We provide comprehensive training to address safety risks. In 2022, these included:
The course for managers in risk management programme
Safety management training for line supervisors
Visible felt leadership champions training
Safety representatives training
On-the-job training for our employees
Risk management
The course for managers in risk management programme trains leaders and employees on a structured approach with guidelines and strategies to establish and maintain a multidimensional risk management framework. We aim to embed the course's principles in our daily risk management processes and improve our understanding of safety risk assessment processes.
Since implementation in 2009, we review our safety strategy annually to ensure focus areas are appropriate. We also review our safety targets every year, based on prior performance, and apply stringent management protocols, programmes and systems. We launched the Khetha Ukuphepha campaign in 2019 with the main objective to reinforce our zero harm vision and reiterate our philosophy that every life counts.
Accountability and responsibility
While ultimate responsibility for safety lies with our people, accountability for their safety is built into leadership and governance structures, and ultimately rests with the board. Our BU management team investigates all incidents, and a skilled committee, headed by an independent chairperson, investigates fatalities and high-potential incidents (HPIs). Exxaro reports investigation findings, in particular HPIs and fatalities, to the executive committee and RBR committee, and escalates these to our board.

Cennergi's head of operations reports findings of safety incident investigations to the windfarms and company boards. Site managers and health and safety representatives conduct investigations following reports from contractors. HPIs and lost-time injuries (LTIs) are immediately reported to the group health and safety department.
How we performed
No safety-related grievances were raised against Exxaro in 2022 (2021: none) and the group performed well compared to industry averages.
The group achieved a five-year fatality-free milestone on 2 March 2022.
Regrettably, Mathews Moanalo (dozer operator at Belfast) tragically lost his life when he was struck by an articulated dump truck on 15 August 2022. Following a high-level investigation into the cause, we implemented action plans to prevent similar incidents across our operations. Measures include:
Reinforcing the Khetha Ukuphepha principle that everyone counts
Adopting industry best practice incident investigation techniques
Training carefully selected incident investigators and facilitators
Systematically identifying incident causes
Identifying corrective or preventive actions aimed at directly addressing weaknesses
Sharing incident investigation outcomes and lessons learned with other operations
Ensuring the correct interpretation and understanding of corrective actions
Monitoring the implementation of corrective actions
Measuring the effectiveness of corrective actions post implementation
By the end of December 2022, we had sevenRA LTIs (2021: 12), bringing the LTIFR to 0.05 (2021: 0.08) against a target of 0.06. This is a 37.5% improvement compared to 2021. Regrettably, we recorded five HPIs (2021: one). More than 50% of serious incidents recorded in 2022 were repeats, which prompted a call to action from the CEO.
The leading causes of these incidents include:
Poor risk awareness and assessment
Inadequate hazard awareness and identification
Non-adherence to procedures
Unsatisfactory supervision, change management and task planning
In collaboration with our operations, we are addressing the increase in the number of HPIs by revising our incident management process to enhance the quality of our incident investigations and enable meaningful learnings from incidents and appropriate mitigation measures across the group.
Our 2022 safety targets
How we performed
Zero fatalities

Five-year fatality-free milestone achieved in March 2022

Grootegeluk: 10 years fatality-free milestone in October 2022
Leeuwpan: 32 years fatality-free milestone in March 2022

One fatality at Belfast in August 2022

Zero HPIs
Five HPIs (2021: one)
LTIFR of 0.06
Below target: 0.05 (2021: 0.08)
Zero DMRE notices

Seven section 54s (mining activity stopped) (2021: two)
No section 55s (mining in affected area stopped) (2021: two)
| | | | |
| --- | --- | --- | --- |
| Safety performance | 2022 | 2021 | 2020 |
| Fatalities | 1 | 0 | 0 |
| HPIs | 5 | 1 | 3 |
| LTIs | 7 | 12 | 9 |
| LTIFR | 0.05 | 0.08 | 0.05 |

Cennergi has maintained a strong health and safety record with zero fatalities for six consecutive years. No reportable LTIs were recorded in 2022 (2021: one)
In quarterly external compliance audits by Libryo, Tsitsikamma and Amakhala Emoyeni achieved average scores of 96.4% (2021: 97%) and 96% (2021: 98%) respectively.
No reportable health and safety incidents were submitted to the DEL (2021: two).
Future focus
We will continue to aim for zero fatalities and the reduction of all other work-related incidents by:
Eliminating repeat incidents
Implementing stringent risk management processes across the group
Case study:

Safety first at summit (media and insights, press releases tab)
Health and wellness
We improve quality of life, morale, productivity and safety for our employees and communities through a health and wellness strategy that extends beyond compliance with regulations to the sustainability of our industry.
The growth and sustainability of our business depend on healthy and resilient employees and host communities.
Our approach
Our integrated health and wellness strategy incorporates legislated basic conditions of employment. It is a preventive, employee-driven, holistic approach that identifies occupational and non-occupational health risks and their causes. It presents solutions to mitigate these risks and their impacts on the business within an empowering environment.

Although Cennergi is not required to meet mining industry health targets, employees are encouraged to use the group's employee health and wellness programme and attend sessions arranged for Exxaro BUs.
Integrated health and wellness strategy
Manage
We improve healthcare management by ensuring all employees with occupational and nonoccupational health risks are included in a disease management programme.

Our integrated health and wellness strategy is supported by our cultural pillars
Prevention initiatives
Employee wellness programme (EWP)
1. Financial

Since the onset of the COVID-19 pandemic, our EWP has addressed the impact of financial, and other personal and professional challenges, on employees.

Bayport Financial Services provides debt restructuring, financial rehabilitation and financial management training to employees experiencing financial hardship (worsened by the impact of COVID-19).
2. Emotional
3. Social
4. Thinking
5. Occupational
6. Environmental
7. Spiritual
8. Physical
Managed by our human resources and sustainability departments, our external counselling service has addressed psychosocial, legal, financial, emotional, family, work-related and substance abuse issues since January 2021.
Awareness:
We advertise the EWP on LetsConnect, LCD screens at our operations, screensavers and the intranet
Mental health masterclasses on Microsoft Teams every second Friday educate employees and present practical self-diagnosis and coping techniques
Daily inspirational messages via SMS provide EWP contact details
#You'reNotAlone:
Voice notes and videos share employees' struggles with mental health and the relief offered by counsellors or therapists
Certificate of fitness:
The EWP is part of induction and physical fitness tests
Utilisation
12.68%
(2021: 15.82%)
Life Employee Health Solutions benchmark: 10.74%
(2021: 9.47%)
Demographics:
Majority men
(14 to 50 years old) as in 2021
Mining industry:
9.32%
(2021: 7.67%)
Services accessed:
Face-to-face counselling preferred
Counselling mainly in English
Mental health*
Our approach to mental health is informed by World Health Organization principles and the impacts of COVID-19 at each BU (disruptions to regular working routines, fear of loved ones contracting the virus and uncertainty about the future). Mental health was the top category presented to the EWP

793
cases managed

1 in 3
employees has mental healthrelated challenges

37%
are 25 to 34 years old

Stress
is the leading cause of mental health issues

54% female
and
46% male
Case study:

Collaborating with government health departments
Exxaro's collaboration with government health departments of Limpopo and Mpumalanga in the COVID-19 vaccination campaign reached 12 036 people (9 556 employees and 2 480 community members).
As DoH-registered primary vaccination sites since 2021, the Grootegeluk and Matla occupational health centres could purchase and store COVID-19 vaccines.
Exxaro provided marshals, administrators, chairs and incentives (such as T-shirts and food), and the DoH brought the vaccines, vaccinators and pharmacists to site. We also donated five laptops to the DoH to facilitate online registration.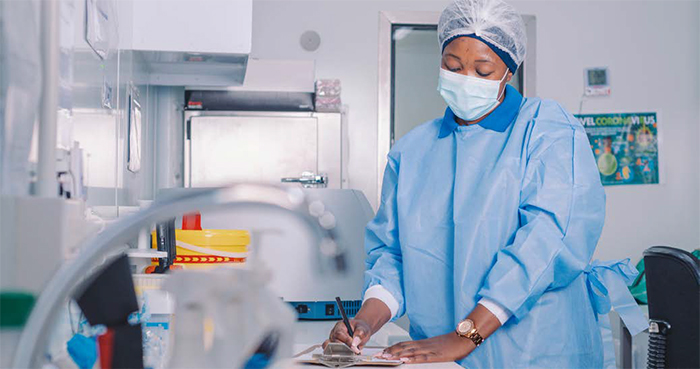 Accountability and responsibility
Our executive committee oversees health and wellness by delegating authority to mine managers and our sustainability managers.
How we performed
We focused on implementing our health and wellness strategy while encouraging employees to receive booster COVID-19 and flu vaccinations. We achieved a 90% COVID-19 vaccination rate against the industry target of 80%. We also progressed in addressing mental health issues brought to our attention during the pandemic.
Although we did not record health and wellness-related grievances (2021: zero), tuberculosis (TB) case reporting presented challenges. Our TB rate increased as infected employees who worked 200 shifts a year are considered occupational TB cases, particularly in Lephalale where government is addressing the high TB incidence rate and dust fallout exceeds the threshold. Through the Impact Catalyst we identified health facilities in communities where Exxaro operates that need support to make health services accessible and Right-to-Care was engaged to implement the programme.

Dust fallout
Occupational diseases
Occupational diseases contracted at work are classified as communicable and non-communicable. Communicable diseases, such as occupational TB, hepatitis B and influenza, are contagious and generally caused by bacteria, viruses or other pathogens.
We aim to meet mining industry targets set in 2014.
Non-communicable diseases, such as noise-induced hearing loss (NIHL), pneumoconiosis, silicosis, chronic obstructive airways disease and occupational asthma, are not contagious. We also monitor dermatitis, asbestosis and work-related limb disorders although legislation does not require reporting on these conditions.
Mitigation measures to prevent the spread of COVID-19 helped decrease occupational diseases to 23 (2021: 25). FiveRA occupational disease cases (demonstrably work-related) were accepted by Rand Mutual Assurance for compensation (2021: four). Of these, three were occupational TB cases (2021: three) and two were NIHL (2021: one).
Occupational diseases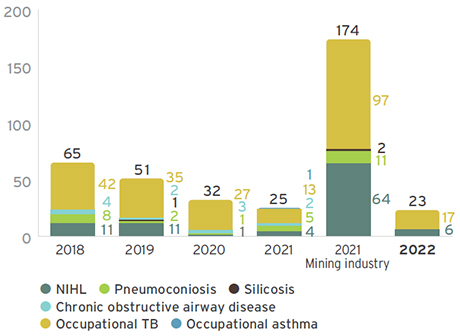 Performance against mining industry targets
Exxaro's performance

NIHL

Mining industry target

No employee's standard threshold shift will exceed 25dB from the baseline when averaged at 2 000Hz, 3 000Hz and 4 000Hz in one or both ears.

Due to an increase in NIHL cases over the past three years, we reviewed our hearing conservation programme. This included tyre deflation at Grootegeluk, guided by Mining Industry Occupational Safety and Health leading practice.

We provide noise and hearing induction to all Exxaro employees (permanent and contractor).

Silicosis

Mining industry target

By December 2024:

95% of exposure measurement results will be below the milestone level of 0.05mg/m3 for respirable crystalline silica (as individual readings and not average results)
Using current diagnostic techniques, no new cases of silicosis will occur among previously unexposed individuals

We have not recorded silicosis cases since 2019 due to dust control measures that reduce exposure.

Pneumoconiosis

Mining industry target

By December 2024:

95% of exposure measurement results will be below the milestone level of 1.5mg/m3 (<5% crystalline silica) for platinum dust respirable particulate (as individual readings not average results)
Using current diagnostic techniques, no new cases of pneumoconiosis will occur among previously unexposed individuals
95% of exposure measurement results for coal workers' pneumoconiosis will be below the milestone level of 1.5mg/m3 (<5% crystalline silica) for coal dust respirable particulate (as individual readings and not average results)
Using current diagnostic techniques, no new cases of coal workers' pneumoconiosis will occur among previously unexposed individuals*

| | |
| --- | --- |
| * | Previously unexposed individuals were not exposed to mining dust before December 2008 (equivalent to a new person entering the industry in 2009). |

Pneumoconiosis cases have decreased since 2014 due to investigations and actions taken when over-exposures are identified. This includes reviews of ventilation and dust suppression systems, and ensuring regular equipment maintenance (checking door seals and functioning of air-conditioners). Matla successfully adopted two Minerals Council Mining Occupational Safety and Health leading practices in 2022, namely the conveyor belt dust fogger system and the real-time dust monitoring system underground.
Non-occupational diseases
We also classify non-occupational (lifestyle) diseases as communicable and non-communicable. Communicable lifestyle diseases include cholera, malaria, typhoid, influenza and sexually transmitted infections such as HIV/Aids. Non-communicable lifestyle diseases are mainly diabetes, hypertension and cardiovascular ailments.
We provide preventive treatment to employees and contractors to manage global health issues, such as malaria, in affected areas.
We identified 24 new diabetes cases (2021: 39) and 92 hypertensive employees and contractors (2021: 290).
Performance against mining industry targets
Exxaro's performance

HIV/Aids and TB

Mining industry target

By December 2024:

Employees and contractors should receive annual HIV/Aids counselling and testing with eligible employees linked to an antiretroviral treatment programme (as per the National Strategic Plan)
At or below the national TB incidence rate

We report against the industry TB and HIV targets on the Minerals Council's Masoyise dashboard.

Identified HIV/Aids and opportunistic TB cases increased due to intensified focus during the COVID-19 pandemic even though contact tracing and active treatment management continued.

HIV/Aids awareness among employees is part of medical induction. Contractors attend awareness programmes during specific campaigns and medical inductions. These campaigns encourage voluntary counselling and testing. We also ensure HIV-positive employees can easily access medication at occupational health centres.

| | | | | |
| --- | --- | --- | --- | --- |
| HIV/Aids awareness (employees and contractors) | 2022 | 2021 | 2020 | 2019 |
| Attended information sessions | 14 585 | 10 927 | 17 693 | 30 403 |
| Total tested | 7 827 | 12 143 | 8 475 | 12 679 |
| % tested | 54 | 61 | 48 | 54 |
| Employees tested positive | 203 | 457 | 746 | 578 |
| Enrolled at December (cumulative) | 1 745 | 5 054 | 4 554 | 5 342 |
| Received antiretroviral treatment | 1 674 | 5 897 | 5 848 | 5 124 |

As part of annual induction training, 14 585 employees and contractors received HIV/Aids awareness training (2021: 10 927). The number of people who attended awareness sessions increased (as our workforce increased) to 17 166. The prevalence of HIV/Aids cases among full-time employees is 2.09%. The national prevalence rate is 13.7% (on 31 July 2022).
Our ongoing response to COVID-19

The South African government lifted the national state of disaster in April 2022 and remaining mandatory COVID-19 preventive measures by the end of June 2022. Nevertheless, we encourage employees to receive booster and flu vaccines through communication campaigns and digital masterclasses led by our medical practitioners.

On 31 December 2022, the group recorded 7 791 confirmed cases (2021: 6 816) – 13 active (2021: 310) and a recovery rate of 99% (2021: 95%).

Ongoing initiatives include:

Working from home where possible
Return-to-work procedures with screening and testing
EWP counselling services
Testing laboratories and vaccination centres at Grootegeluk and Matla
Public-private partnership with DoHs in Limpopo and Mpumalanga (vaccination drives)
Partnership with Dis-Chem to vaccinate Gauteng employees and their next of kin

| | | | |
| --- | --- | --- | --- |
| COVID-19 statistics | 2022 | 2021 | 2020 |
| Confirmed cases | | | |
| Exxaro | 1 804 | 5 929 | 976 |
| Cennergi | 1 | 6 | 13 |
| Mining industry | 66 113 | 62 519 | 21 183 |
| South Africa | 4 048 998 | 3 603 856 | 1 039 161 |
| Cases as percentage of workforce | | | |
| Exxaro | 11 | 47 | 44 |
| Cennergi | – | 21 | 14 |
| Mining industry | 15 | 13 | 4 |
| South Africa | 7 | 6 | 2 |
| Active cases on 31 December | | | |
| Exxaro | 13 | 310 | 113 |
| Cennergi | 1 | – | – |
| Mining industry | 177 | 408 | 208 |
| South Africa | 9 158 | 65 299 | 17 710 |
| Fatalities | | | |
| Exxaro | – | 33 | 3 |
| Cennergi | – | – | – |
| Mining industry | 750 | 744 | 199 |
| South Africa | 102 395 | 95 022 | 28 033 |
Future focus
In line with the outcomes of our 2022 sustainability summit, our annual gathering hosted by our CEO to reflect on the health, safety and environment performance and identifying emerging issues, which highlighted mental health concerns, we are developing a mental health policy to be introduced in 2023. The policy will address the leading causes of mental health issues. It will also empower supervisors to facilitate resources at BUs instead of calling on external service providers.
Our hearing conservation committee, chaired by mine general managers, is also investigating customised hearing protection and engineered interventions to address identified causes of NIHL. This will facilitate compensation by Rand Mutual Assurance.
Employee engagement
We maintain our employee value proposition, as an employer of choice, through meaningful engagement with the people we attract and retain for the sustainability of our business.
Our established engagement structures encourage communication, and keep employees adequately informed about key organisational changes, health, wellness, safety, and operational and financial performance. We also use insights from employee engagement initiatives to enhance our processes and workplaces.
Our values and culture are a foundation for behaviours, mindset and philosophy that gives our employees a sense of belonging in the workplace. We continue to embed our values and culture through various initiatives to ensure continued alignment with our organisational purpose and strategic objectives.
Our approach
Diversity, equity and inclusion are central in our approach to meaningful engagement with our employees. This approach to maintaining a representative workforce, with respect for the needs of our host communities, is defined in our diversity, equity and inclusion strategy.
Our diversity, equity and inclusion strategy
Our diversity, equity and inclusion strategy, aligned with our Sustainable Growth and Impact strategy, is informed by our purpose, values, vision, culture and strategic objectives. It is a journey that began before 2019, and our approach continues to evolve to increase the speed and scale of our impact.
The strategy enables our employees to achieve our goals by recognising that our focus on diversity, equity and inclusion is a business imperative. It encourages changes in attitude, behaviour and ways of working to address systemic barriers, creating a conducive environment for employees to thrive.
The strategy guides our implementation of appropriate internal processes, procedures and practices. We are thus able to play a leading role in our industry in complying with the spirit and intent of South African legislation.
Our diversity, equity and inclusion journey
Powering better lives through diversity, equity and inclusion has long been demonstrated in practice: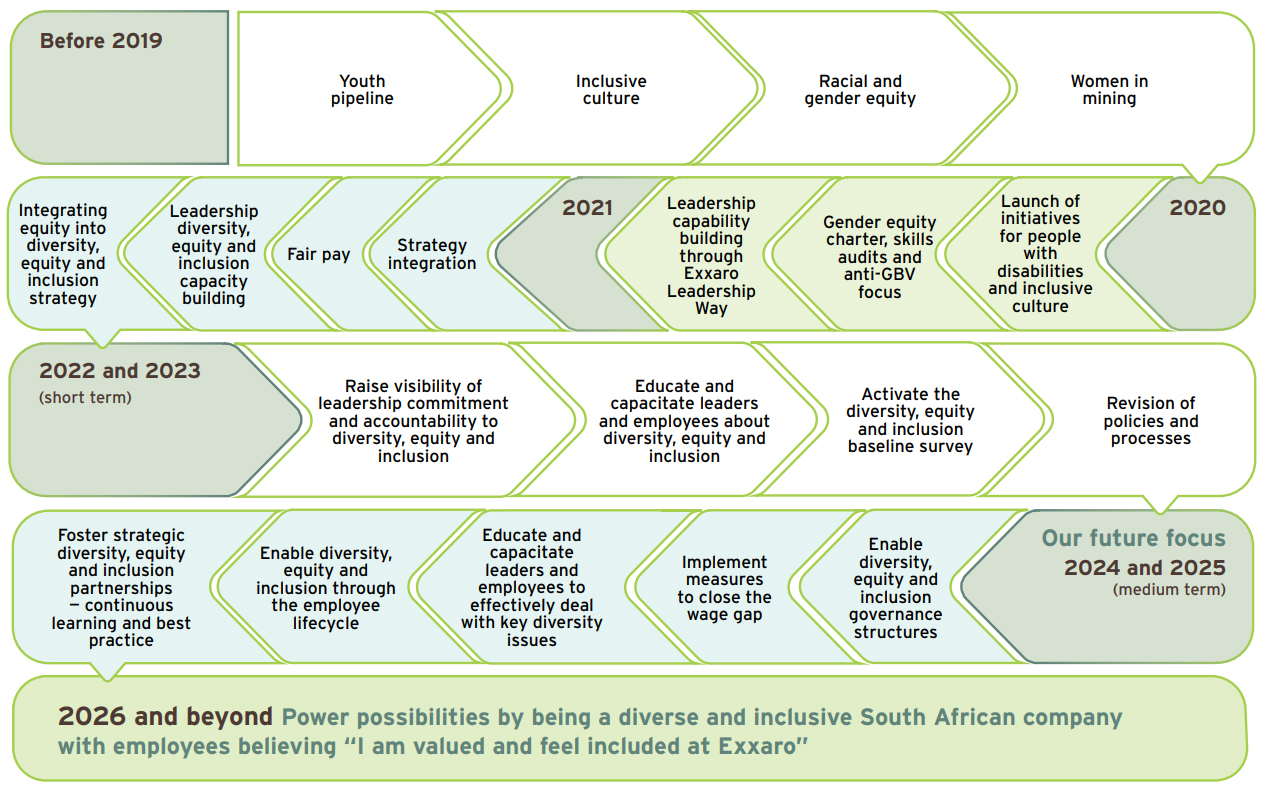 Diversity, equity and inclusion at Exxaro
Promote an environment of respect for all
Build an environment of trust
Establish processes free from prejudice
Zero tolerance of discrimination and harassment
Gender equity and identity
Disability awareness and understanding
〈 Courageous and accountable leadership 〉
〈 Ongoing communication 〉
Measuring our progress
We are exploring wellness and an enabling environment for minority groups while prioritising the implementation of policy review and wage gap closure.
To advance our diversity, equity and inclusion journey, we will track our progress in terms of the following measures and targets:
Metrics already tracked on our strategic dashboard
● Targets aligned with legislation (including employment equity and skills development compliance reporting)
● Socio-economic development
● Talent bench strength and pipeline of successors
Strategic measures
Progress economically active population targets by 2026
Percentage representation of African women per occupation level (junior to top management) by 2026
Percentage women at management and specialist level by 2025
Inclusive culture
Culture and engagement survey (culture, diversity, equity, inclusion and leadership) every two years
Capability building
Build internal diversity, equity and inclusion capabilities through awareness campaigns, education and training
More than 60% of initiatives emerging from wage gap analysis
Gender equality
Review and enable policies and processes to support diversity, equity and inclusion
● Top three survey initiatives
● Pulse survey every eight months
● Benchmark
>95%
of workforce (end-2024)
Diversity, equity and inclusion benchmarking performance
We conducted a benchmarking exercise with 58 targeted recipients. We benchmarked ourselves against four core areas: foundation (drive the strategy), internal (attract and retain people), external (listen and serve society) and bridging (align and connect), with our scores out of five reflected below.
| | | | | | | |
| --- | --- | --- | --- | --- | --- | --- |
| Foundation | Internal | Bridging | External | Exxaro'saverage score | Champion | Bottom quartile |
| (1) 2.5 | (4) 3.5 | (8) 3.0 | (12) 3.5 | 3.6 | 3.9 | 3.5 |
| (2) 3.1 | (5) 4.0 | (9) 3.5 | (13) 4.0 | | | |
| (3) 4.0 | (6) 4.0 | (10) 4.0 | (14) 4.0 | | | |
| | (7) 3.5 | (11) 4.0 | (15) 4.0 | | | |


Cennergi's employment equity plan, to be reviewed in 2024, aligns with legislation and the DEL Codes of Good Practice.
Equity categories, with contractual commitments, include employment secured for South African citizens and local communities. Hiring commitments for Amakhala Emoyeni are 97% South African citizens (77% black and 64% from local communities) and 80% South African citizens for Tsitsikamma community windfarm (50% black and 20% from local communities).
An implementation agreement with the DMRE stipulates that IPPs must provide proof of meeting job creation obligations quarterly to the DMRE. Based on quarterly performance, there are penalties and rewards. Underperformance could result in the DMRE terminating contracts. The DMRE thus ensures bidders are genuinely committed to enterprise development objectives.
Accountability and responsibility
The SERC oversees employee engagement. The executive head: human resources is responsible for implementing engagement initiatives. Culture is a leadership responsibility from executive level to employees. BU managers and teams drive culture at operations. Our CEO and executive head: human resources monitor diversity, equity and inclusion for the board.

Cennergi's employment equity committee oversees implementation of the employment equity plan and guides and monitors transformation and skills development.
The committee reviews the recruitment process, follows up on deviations in employment equity performance and ensures technical skills are available to achieve transformation goals.
Government's IPP office tracks Cennergi's employment opportunities in equity categories under the Renewable Energy IPP Programme (REIPP). These include employment secured for South African citizens and local communities.
How we performed
Our board approved a revised approach to our diversity, equity and inclusion strategy in 2022. In delivering on this revised approach, we reviewed our policies and practices as outlined below.
We aligned campaigns (in partnership with stakeholder affairs and communications) with strategic objectives.
We used electronic and hybrid platforms for employee engagements, such as mobile phones and LetsConnect, supported by our employee assistance programme (EAP) providing wellness sessions to manage mental health, COVID-19, GBV and stigmatisation.
Culture integration
Our culture themes demonstrate our commitment to achieving our strategic goals, purpose and vision - extending beyond our internal environment to external interactions and stakeholder partnerships.
Responsible
Ownership
Diverse
Open and connected
Adaptable
Make Exxaro a positive place to be
Acting ethically, with accountability and against misconduct, while treating others with dignity, fosters a safe and healthy work environment.
Success lies with each of us
Contributing to performance and innovation every day, building together, we can drive Exxaro to new heights.
Our potential is in our differences
Harnessing our unique individual skills and opinions enables us to achieve exceptional outcomes.
Working together will bring out the best in us all
Achieving organisational excellence in an open and evolving ecosystem requires collaboration and teamwork.
We cannot move forward by standing still
Succeeding in the ever-changing world around us requires agility as well as willingness to learn and improve.
Employee relationship management

Our approach to organised labour relations is defined by collaboration and constructive engagement. Trade union relationships are based on trust and integrity.

Our policies and procedures comply with best labour relations practices and relevant legislation. We manage individual and collective employee concerns with due respect.

We are reviewing our employee relations strategy to proactively maintain a healthy workplace through established engagement structures and dispute resolution mechanisms. These are based on fairness and adapted to address the impacts of COVID-19 on the workplace.

We continued providing skills workshops and training for employee relations managers and line managers to ensure that all parties are committed to building solid relationships.

We are also broadening our employee relations capacity building processes to understand recognition agreements and their purpose.

Trade union representation

We maintain good relations with employees in bargaining units by engaging with their representative trade unions through formal structures.

Wage negotiation processes are conducted at employer level. These engagements determine negotiated conditions of employment and enable labour stability.

In 2022, 5 276 employees (78.2%) (2021: 5 180) were represented by affiliated unions recognised by Exxaro (NUM, Solidarity, AMCU, FAWU and NUMSA).

| | |
| --- | --- |
| | Number of employees |
| AMCU | 431 |
| FAWU | 47 |
| NUMSA | 59 |
| NUM | 4 405 |
| Solidarity | 334 |
| Total | 5 276 |

The wage agreement signed in 2021 remains effective for three years at Exxaro Coal, Exxaro Coal Mpumalanga, FerroAlloys, Ferroland Grondtrust and Coastal Coal.

Share ownership

GreenShare, our employee share ownership plan, pays dividends during employment. It is open to employees not participating in a management share scheme.

When dividends are declared, participants in service receive a cash payment equal to 560 Exxaro shares minus dividend tax.

Participants do not have capital appreciation rights.

Payment date
Number of active beneficiaries
Number
of units
Payment
before tax
(R)
Payment
after tax
(R)
June 2022
6 336
3 548 160
41 690 880
33 352 704
November 2022
6 319
3 538 640
56 370 535
45 096 428

In 2022, each beneficiary in GreenShare received a cash payment of R12 400.64.

Workplace harassment policy

This policy provides guidance and awareness, and regulates the prevention of sexual and racial harassment in the workplace.

We reviewed this policy so that harassment and discrimination are not barriers to inclusion, and to ensure that it is aligned with the codes of good practice on prevention and elimination of harassment in the workplace.

Exxaro has a zero tolerance approach to any form of harassment in the workplace. We launched a GBV campaign this year to encourage employees to report all forms of harassment to the available reporting structures.

There were several harassment and sexual harassment cases reported, which were dealt with firmly by management. All sexual harassment cases reported and investigated resulted in perpetrators being found guilty and dismissed. This included senior managers who failed to act when victims reported allegations of sexual harassment.

Employment equity

Our policies and skills development enable us to meet our transformation objectives in support of the national imperative for a non-racial and transformed society. Appropriate affirmative action measures and human resource development programmes support our transformation processes and cultural engagements.

We measure our transformation profile against national economically active population statistics.

We have achieved our employment equity targets over the past five years, aligned with the Mining Charter III, except for our target for women in senior management. Our new employment equity plans for the next five years, aligned with our diversity, equity and inclusion strategy, will address this challenge.

Employment equity
Black male employees
All female employees
Historically disadvantaged people1
Mining Charter III
targets (%)
Management category
Number
%
Number
%
Number
%
Historically disadvantaged people
Women
Top management
1
33
1
33
2
66.67
50
20
Senior management
34
45.33
17
22.67
51
68
60
25
Middle management
252
39.94
262
41.52
514
81.46
60
25
Junior management
1 166
48.97
763
32.05
1 929
81.02
70
30
Disabled
Performance: 1.62% (target: 1.5%)

| | |
| --- | --- |
| 1 | Includes white female employees. |

BEE
Exxaro was certified as a level 3 BEE contributor, retaining our empowerment level and status as one of South Africa's largest and foremost black-empowered and diversified mining companies. Our ambition remains to be a level 1 contributor despite the negative decrease.
Employee turnover

The turnover rate for the year was 4.4% due to abscondment, death, medical incapacity, dismissal, resignation and retirement (2021: 3.7%).

We had 6 745 employees in 2022 (2021: 6 745) with 82.37% in bargaining units (2021: 81.93%) and 17.62% in management and specialist category (2021: 18.03%).

Refer to the databook for more detail.
Turnover by ethnicity
(%)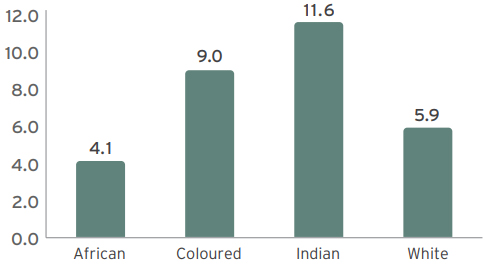 Turnover by gender
(%)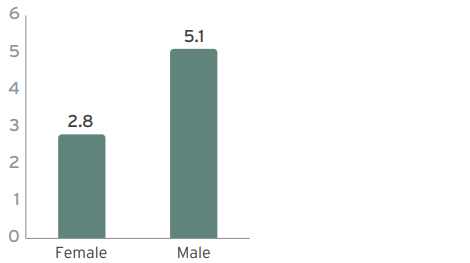 Turnover by category
(%)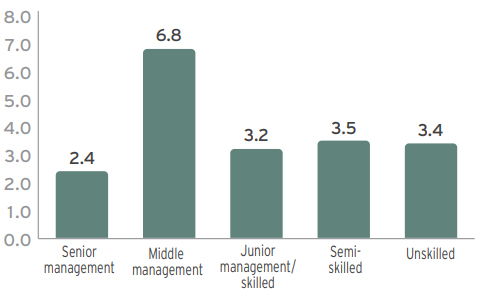 Turnover by ethnicity
(%)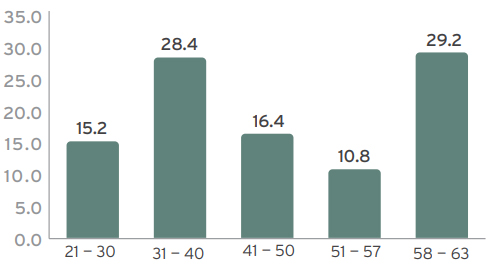 Reasons for termination
(%)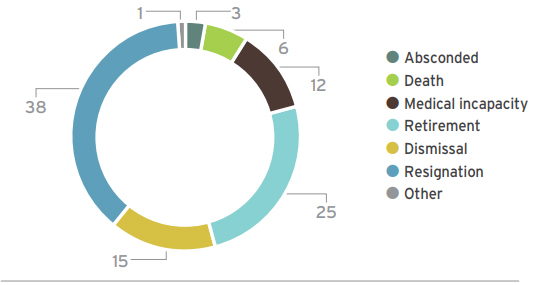 Case study:

Our GBV and femicide 100-day challenge
(media and insights, press releases tab)
We collaborated with government and the Minerals Council in encouraging employees and employers to create a safer environment for women.
Eliminating discrimination and resolving grievances

Guided by our values, we are committed to equal opportunity, irrespective of race, religion, gender, health status, sexual orientation or nationality. We believe that our diversity and differences strengthen our potential.

We embrace the diversity of our strengths and individual skills to enable exceptional outcomes and promote a culture of inclusivity. We therefore invest in upskilling and training managers and supervisors to appropriately apply necessary disciplinary measures.

No cases of alleged discrimination or grievances were filed (2021: zero).

Housing

In compliance with the Mining Charter III and to ensure our business sustainability, we will not support hostel residents after 2025. Our housing strategy therefore encourages employees to become home owners. In addition, bargaining unit employees receive a housing or living-out allowance.

Since 2017, 1 384 permanent employees have received a mortgage repayment subsidy for first-time home buyers. Capital assistance of R125 000 significantly reduces employees' mortgages and improves affordability.

Our converted hostels (single-quarter accommodation or family units) are not fully occupied, with 97 employees living in these facilities.

We paid a housing allowance to 2 272 employees with a registered bond (2021: 1 436) and a living-out allowance to 3 594 employees renting accommodation (2021: 3 329).