Waste management
We manage the impacts of our waste streams by aligning our policies and procedures with sustainability principles and leading practice. We are transforming our business into a circular mining economy so that the waste we produce is reused and recycled with sustainable benefits for host communities that depend on Exxaro for their livelihoods.
By recycling and reusing the waste we produce, we uphold our licence to operate with a cradle-to-cradle approach that minimises waste production.
Exxaro understands that our sustainability journey should embrace the cradle-to-cradle principle where we can attain zero waste operation. We are evaluating the opportunities presented by the circular economy concept which focuses effort on the management of material to eliminate the need to dispose of unused material. Cradle-to-cradle waste management is a closed cycle: waste from one process is used in other processes to encourage elimination or minimisation of waste.
Exxaro's BUs apply the "avoid, reduce, reuse and recycle" waste management hierarchy to prevent and avoid waste as much as reasonably practicable. Exxaro is working on initiatives such as:
Innovation and alternate treatment for integrated waste management
Evaluating cost effective options for recycling, reuse, reduction emissions and other end-of-life recovery option
Opportunities for cost saving and optimisation
Industrial symbiosis to stimulate green business effectively
Our approach
Exxaro's evolving environment policy and management standard for hazardous and non-hazardous waste governs our approach. We ensure prevention, minimisation, reuse, recycling, energy recovery and safe waste disposal in compliance with the National Environmental Management: Waste Act, 2008 (Act 59 of 2008) and supporting legislation.
We regularly review the policy and management standard to ensure relevance and alignment with legislation. As requested by our investors, we are set to release individual policies, separate from the overarching environment policy, for waste management and related disciplines in 2023.
Our management procedures include waste classification and efficiency reporting, as required by waste management licences, informed by sustainability KPIs aligned with ESG indices to drive continuous improvement.
Disclosure of working with others to reduce pollution, waste or resource use by participation in specific local or global initiatives as well as collaboration with other companies using the same waste streams as inputs such as industrial ecology

Ongoing Impact Catalyst initiatives

Disclosure of three years' hazardous waste generation in tonnes
Ongoing
Total costs of environmental fines and penalties during the financial year
December 2022
Policy or commitment statement to address, reduce or avoid the impact of waste or improve efficiency
December 2023
Independent verification of operations' environmental data using an international assurance standard and declaring assurance level
December 2024
Financial quantification of pollution, waste or resource use specifying costs associated with their impacts (including shadow costing) and investment in research and development on reducing or avoiding their impacts, including funding of research and development organisations
December 2024
Time-specific targets (unquantified and quantified) to reduce or avoid waste
December 2025
Disclosure of three years of non-recycled waste generation in tonnes
December 2025
Disclosure of three years of waste recycled in tonnes
December 2025
Progress against previously set targets (unquantified and quantified) to reduce or avoid waste
December 2028
In line with leading practice, Exxaro supports the proximity principle (treat and dispose of waste in reasonable proximity to the point of generation), duty of care (we are ethically responsible for waste management) and the precautionary principle (we are proactive in mitigating environmental risks).
BUs are responsible for managing their general and hazardous waste. General waste comprises:
Recyclable domestic waste (plastics, polymers, cardboards, metal cans and papers)
Non-hazardous recyclable industrial waste (rubber products such as waste tyres and conveyor belts, scrap metals and industrial products)
Inert, non-recyclable waste (rubble and demolition waste separated at source) collected, recycled or taken to safe disposal sites by specialist service providers
BUs manage hazardous waste and report volumes monthly. Examples of hazardous waste emanating from our operations include used oil, contaminated soil, medical waste, used personal protective equipment and sewage. In compliance with the South African Waste Information System, sites producing more than 20kg/day of waste are registered and maintain compliance certificates. As we do not have on-site waste treatment processes, we receive the certificates when certified contractors take hazardous waste (including used oil, hydrocarbons and sewage) to licensed facilities. Medical professionals manage waste produced by on-site clinics at Matla and Grootegeluk.

Material waste at Cennergi's facilities includes general waste, oil rags and used oil. Cennergi implements waste separation at source to increase recycling, where possible, and minimise waste sent to landfill.
We pursue innovative waste handling, transportation and disposal solutions at Grootegeluk where a waste tyre processing contractor assists in converting used tyres into reusable material in compliance with legislation and to reduce our liabilities.

Exxaro stores used off-the-road tyres in a facility with controlled access, stacking plans and fire prevention measures at Grootegeluk before removal by a specialist recycling contractor for beneficial reuse:

Exxaro has been working with government's Waste Bureau to dispose of waste tyres in compliance with the regulations since 2013
Part of government's R2.30/kg levy funds waste tyre recycling. Exxaro is in discussions with Waste Bureau to remove these tyres which were bought post 2013

The success of the Exxaro project elicited further corporate participation with all stakeholders such as government, local communities and other mining industries. This is the first time in the mining industry that such a project was conducted, giving Exxaro an opportunity to lead in waste tyre management. The project was rolled out at Leeuwpan to remove its waste tyres. The project also showed that while mining will impact an area, a responsible approach enables us to meet our commitment to sustainability and reduce long-term environmental liabilities while operating the mine.

To expand the Grootegeluk waste tyre management initiative with a service that will benefit South Africa's mining industry, we are evaluating proposals to establish an integrated waste management facility in Lephalale, Limpopo. The Impact Catalyst was appointed to conduct the prefeasibility study for the integrated waste management solution.
Further to this, we pursue responsible waste management through:
Our SLPs, which include recycling initiatives to empower and uplift local communities
Using our mining waste post-mining by collaborating with SMMEs to convert our waste to useful products, eg waste tyres and
discard dumps
Collaborating with government, research institutions and industrial partners in monitoring developments that address climate change and job creation through waste stream conversions
Our participation in Business Unity South Africa and Minerals Council discussions on waste-related issues
Being involved in the waste industry forum and waste management initiatives directed by the DFFE
Investing in waste management research and development to identify new technologies that ensure safe handling of materials
Incorporating post-mining sustainable economies into host communities in collaborative initiatives with partners such as the Impact Catalyst
Accountability and responsibility
Our sustainability managers, supported by on-site environmental specialists, under the leadership of the executive head: sustainability, oversee the implementation of our policy and practices at operations.
Initiatives
As part of Business Unity South Africa, we approached the DFFE to address our concerns about the definition of waste in the National Environmental Management Laws Amendment Act, 2022 (Act 2 of 2022). On 27 June 2022, the DFFE agreed to send an explanatory note with government's definitions that would assist proposed sectoral engagements.
How we performed
In its grievance register, Exxaro did not report any waste grievances, fines or penalties and did not receive any environmental fines and penalties related to non-compliance on waste management during the financial year.
General waste recycled decreased by 9% to 2 768t (2021: 3 018t) due to less ferrous and non-ferrous scrap produced at Grootegeluk.
Hazardous waste sent to landfill (t)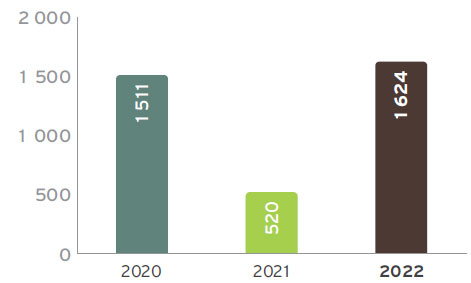 | | | | |
| --- | --- | --- | --- |
| General waste recycled (t) | 2022 | 2021 | 2020 |
| Ferrous and non-ferrous scrap | 2 620 | 2 950 | 2 860 |
| Paper | 46 | 28 | 22 |
| High-density polyethylene | 102 | 34 | 29 |
| Plastics | – | 6 | 3 |
| Total | 2 768 | 3 018 | 2 914 |
The total weight of hazardous waste generated at our managed coal operations and sent to landfills in 2022 increased by 68% to 1 624t (2021: 520t) due to clean-up operations in May, June and August at Grootegeluk. This resulted in a 30% increase in the amount of hazardous waste taken away and disposed of in a registered landfill.
Head office
Renewed contracts for recycling and general waste disposal at head office
Grootegeluk
Completed the fire protection system installation in the temporary waste tyre storage area and stacked tyres as per the approved layout at Grootegeluk

Renewed our hazardous waste handling contracts at Grootegeluk and Matla
Placed medical waste, including waste generated from COVID-19 preventive measures (masks, gloves and screening) at the Matla and Grootegeluk clinics, in specific containers

Matla
Began appointing a new service provider (currently TL Ideas, an ESD beneficiary) to manage our waste recycling station at Matla
Leeuwpan
Took ownership of the optimised sewage treatment plant at Leeuwpan
Belfast
Appointed Phambili Services, an ESD beneficiary, to manage general and hazardous waste

Cennergi's operation and maintenance contractors are responsible for waste management at both wind energy facilities. Cennergi did not report any waste grievance, fines and penalties during the year.
Future focus
We will optimise our 2023 reporting to set targets that will enable us to divert 80% to 85% of recyclable waste from landfill sites by 2025. We plan to use alternative waste reduction or avoidance technologies and opportunities to procure equipment that supports our commitment to the circular economy concept.
At Grootegeluk, we will continue the successful waste tyre reclamation project with a new service provider, establish partnerships with other NGOs and seek access to additional project funding.
As advised by FTSE Russell, we will include additional KPIs in our reporting.
Our new waste management policy will be approved and published in 2023. The policy outlines waste reporting, management and mitigation. Detailed procedures and KPIs will ensure we honour our commitments. The dashboard that tracks waste volumes generated, recycled and sent to registered landfills will include KPIs such as total costs of environmental fines and penalties, as recommended by FTSE Russell. This will enable us to improve our disclosure.
Assessments across our operations determined the scope of work needed to achieve these targets. Data collected on recyclable materials from the waste stream assessments will optimise our 2023 reporting.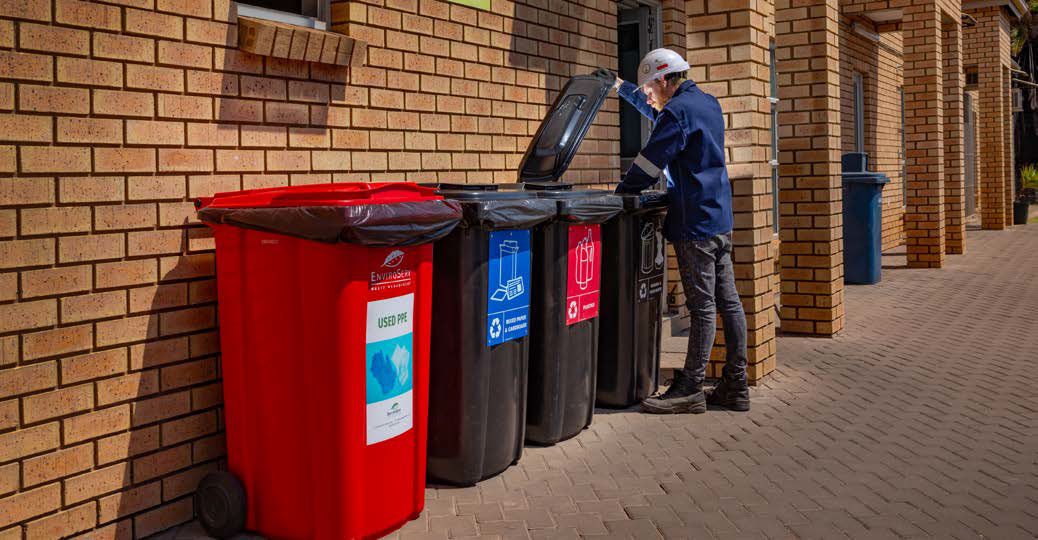 Waste management at FerroAlloys