Communities
"We know that there is a better place to be tomorrow than where we are today."
Dr Nombasa Tsengwa
Our approach
The board approved the Social Impact strategy in November 2022. The process undertaken to arrive at this point manifested the compliance approach to our community development and engagement and confirmed the need and drive to shift to a market-driven approach. While we can claim success, through implementing our SLPs, the compliance approach leaves very little evidence of the investment and development undertaken over a long term.
Compared to a market approach, a compliance focus to community development is short term in its inputs (investment horizon, resource allocation) and expected outcomes (avoid suspension or confiscation of a mining right). This perspective is held by all participants involved in the development and implementation of SLPs. As such, it is not surprising that, in an environment of increasing social distress, community unrest has increased despite a R6.4 billion (R4.0 billion in affirmative procurement) community investment. We limited the impact on business continuity and ensured safety of man and machinery. However, the potential for this negative community sentiment to escalate could negatively impact our ability to succeed with our growth strategies. Our Social Impact strategy is therefore a shift to a multidimensional approach to inputs and expected outcomes. We will continue to address compliance requirements with increased focus and on a larger scale, complemented by discretionary expenditure and collaboration.

Our Social Impact strategy is embedded in the objectives of our Sustainable Growth and Impact strategy
Six funding structures serve as conduits for community donations and sponsorships, namely the Exxaro Chairman's Fund and Foundation, Matla Setshabeng NPC, Amakhala Emoyeni Community Fund Trust (AECFT), Tsitsikamma Community Windfarm Trust (TWFT), Tsitsikamma Development Trust and ESD programme. These funding structures are collectively referred to as Exxaro Group Social Investment Structures, which are funded through various sources such as the revenue generated from BUs and dividends. Some funding is compliance driven, such as SLPs and the dtic scorecard, and others are value-add investments beyond compliance, such as funding from Matla Setshabeng NPC.
Social Impact strategy funding sources
| | |
| --- | --- |
| • | Exxaro receives contributions from BUs and co-investors (suppliers) for the implementation of SLP projects and CSI projects respectively |
| • | Matla Setshabeng NPC receives dividends from a 5% shareholding in Eyesizwe (30.52% BEE shareholder in Exxaro). Matla Setshabeng NPC is a broad-based benefit structure established to fulfil shareholder requirements during formation of the replacement BEE ownership transaction |
| • | AECFT and TWFT receive 2.1% of revenue generated by the windfarms, which must be spent quarterly on socio-economic upliftment and enterprise development projects within 50km of the windfarms |
| • | Tsitsikamma Development Trust, which owns AmaMfengu land where the Tsitsikamma community windfarm is located, has a 9% shareholding in the company and receives dividends distributed to beneficiaries |
| • | ESD programme receives funding from Exxaro, based on 3% of NPAT, as required by the B-BBEE codes. These funds are disbursed as interest-free loans and grants for supplier development (2% of funds in Exxaro's supply chain) and enterprise development (1% of funds outside Exxaro's supply chain) |
| • | Socio-economic development initiatives receive funding from Exxaro based on 1% of NPAT as required by the B-BBEE codes, designated expenditure by the Exxaro Chairman's Fund and Matla Setshabeng Development NPC, voluntary initiatives, and donations to charitable organisations |
| • | Exxaro Mountain Bike Academy receives annual funding from Exxaro to support youth in a programme that helps them complete schooling and develops knowledge and skills that provide employment opportunities in sports |
| • | Concessional land leases to emerging farmers on land rehabilitated or no longer required for mining activities and commercial purposes |
| • | Land packages donated to local government and SMMEs for, among others, human settlements and agricultural areas |
We are consolidating and simplifying our governance infrastructure to enable the pooling and application of internal resources and capabilities, and optimising financial management. This will also enhance the delivery of impact at scale.
The social challenges in our communities are vast and systemic, and require a long-term perspective to implement effective solutions. The Social Impact strategy is a proactive response to step up and shift our community engagement and development efforts aligned to our purpose and provide an operating context conducive to achieving our growth ambitions.
Our Social Impact strategy enables us to deliver impact at scale through the following key principles:
A market-based approach that integrates social, environment and economic outcomes
Long-term planning, aligned to the life of operations and incorporating post-mining livelihoods
Design for larger projects that will enable multiplier effects
Optimising existing resources and capabilities and recognising the power of partnerships
Future SLPs will be planned in terms of social impact principles and impact areas in consultation with communities and government when developing municipal IDPs. We are engaging with the DMRE on a similar approach for the REIPPP to adopt a longer-term investment in communities around Cennergi's windfarms. Future mining and renewable energy operations will incorporate social impact principles. Alongside regulatory expenditure, discretionary expenditure continues from the Exxaro Chairman's Fund and Matla Setshabeng Development (primarily directed at complementary projects developed through the SLPs and REIPPP) – for example, where SLP projects develop school infrastructure (as required by the DMRE), discretionary funding will complement teacher development and other related programmes.

Amakhala Emoyeni and Tsitsikamma focus on education and skills development, social welfare, healthcare, general administration, and enterprise development. To ensure transparency and community participation, Cennergi founded the AECFT and TWFT to disburse funds and manage programmes. Community projects outside a 50km radius of the windfarms are funded through Cennergi's CSI budget.
Social Impact strategy
Selected areas for investment and impact at scale, which will provide for sustainable livelihoods, are: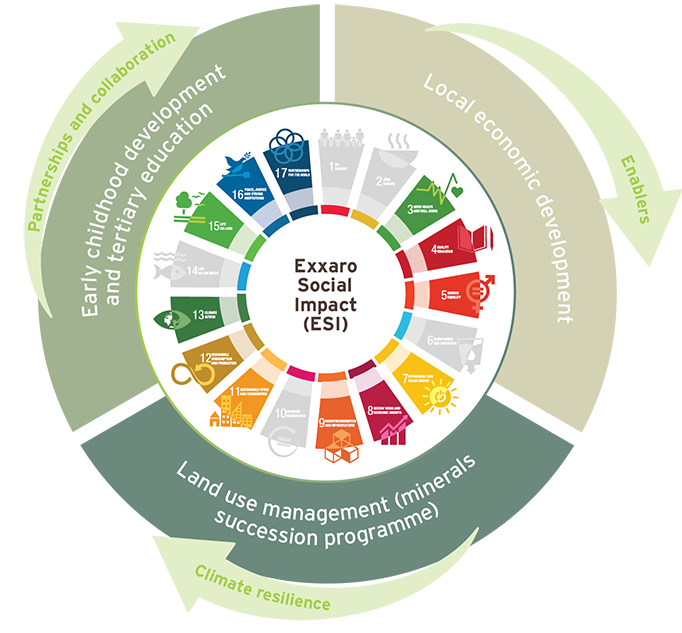 Accountability and responsibility
The SERC, through its statutory provisions, has oversight of community engagement and development. This committee will oversee the implementation of the Social Impact strategy.
The Social Impact strategy is an integrated approach of several executive functions, including human resources, sustainability, stakeholder affairs, and supply chain to maximise its development, impact and sustainability. The executive head: stakeholder affairs, has been delegated with the role and responsibility for integration and execution.

How we performed
While we developed the Social Impact strategy, we continued implementing prevailing five-year SLPs, REIPPP socio-economic and enterprise development, and other CSI initiatives across the business.
Although our implementation performance on existing SLPs was poor, REIPPP and other CSI expenditure was satisfactory.
The implementation of SLP projects at our coal operations was poor due to factors which were addressed, and which included interruptions to construction processes and poor execution capability. Consequently, the SLP implementation schedule was delayed by 16% compared to a target of 0% and the expenditure was 40% behind compared to a target of 0%. We are pleased with the improvement in the performance of both indicators in the first quarter of 2023.
| | | | |
| --- | --- | --- | --- |
| Community expenditure | 2022 | 2021 | 2020 |
| SLPs | R13.38 million (2.83%) | R56.44 million (23.38%) | R27.5 million (14%) |
| CSI (including disaster relief) | R167.93 million (35.54%) | R57.28 million (23.73%) | R79.8 million (40%) |
| ESD financial contribution | R291.2 million (61.63%) | R127.7 million (52.9%) | R55.4 million (28%) |
| Total | R472.51 million | R241.42 million | R198.64 million |
SLP project benefits include:
The GaNala ESD incubation hub built at Kriel in 2017 continued to train 17 entrepreneurs in 2022
Securing of Bonginhlanhla school infrastructure delivered in 2020
Preparation phase of an ECD resource centre at Lephalale supports 49 other centres with learning material and training
Electrical and road infrastructure as well as education projects approved for Matla 2020 to 2025 SLP with an anticipated positive impact for 22 000 beneficiaries in the Emalahleni local municipality
The non-operational Thabametsi mining right (2020 to 2024) SLP proposal reinforces 2015 to 2019 projects to ensure sustainable sanitation infrastructure for long-term impact
Grootegeluk 2023 to 2027 SLP proposal focuses on IT infrastructure, manufacturing, healthcare, sports, arts and recreation (as in the Marapong precinct)
Tshikondeni's 2023 to 2027 SLP proposal addresses agricultural irrigation infrastructure and skills development so that local farmers can grow into the commercial market
SLP project expenditure of R13.38 million (2021: R56.4 million) covered some projects in planning and implementation stages as outlined below.
| | | | | |
| --- | --- | --- | --- | --- |
| | Total spend to date | Beneficiaries | Jobs created | Status |
| Belfast roads rehabilitation project | R5.3 million | 48 000 | 25 | To be handed over to the Emakhazeni municipality |
| Kriel/GaNala ESD incubator hub | R2 million | 17 | 5 | Completed |
| Lephalale ECD centre | R324 000 | 2 000 | 0 | In progress |
| Bonginhlanhla school fence | R322 000 | 1 200 | 22 | Completed |
| Marapong sport, arts and culture precinct | R2 million | 36 227 | 0 | In progress |
| Marapong water reticulation project | R2.5 million | (21 720 youth) | 31 | Completed |
| Total | | 87 444 | 83 | |
The REIPPP expenditure activities at our renewable energy business performed better, despite the intensity of quarterly expenditure targets to maintain and fulfil licence to operate and related conditions. This business is required to spend 2.1% of quarterly revenue on socio-economic development (1.5%) and enterprise development (0.6%) activities in communities affected by its operations.
Powering Knowledge, Exxaro's learning platform for communities, expanded horizons for 56 learners around Grootegeluk and Belfast in 2022.
We are among South Africa's change agents, using lessons learned as a founding member of the Impact Catalyst, effecting
meaningful environmental and social transformation across the country.
| | |
| --- | --- |
| | Cennergi's socio-economic and enterprise development programmes |
TWFT
AECFT

Total: R10.7 million invested in host communities (2021: R10.6 million), reaching 3 185 people and creating 67 jobs

R1.8 million on ECD (2021: R1.06 million) at six crèches (2021: six) for 185 children (Early Inspiration, as implementation agent, created 26 jobs with training and capacitation for national qualifications framework level 2 ECD practitioners and cooks, and parental support and educational resources)
R189 000 on monthly stipends (2021: R89 000) for five teachers (2021: two) to fill vacant posts at Qhayiyalethu High School and Loerie Primary School in the Eastern Cape
R2.6 million on bursaries (2021: R2.1 million) coordinated by Masinyusane for 20 (2021: 20) students
R229 193 on coding and computer literacy training for 404 learners in grades R to 3 at Loerie Primary School (created two temporary jobs for local unemployed youth and assisted 16 teachers in partnership with professor Jean Greyling of Nelson Mandela University)
R88 879 on free internet connectivity for 654 AmaMfengu households (Wittekleibos, Snyklip and Ekuphumleni communities) in partnership with Herotel to access online procurement platforms, SMME funding, jobs, entrepreneurship workshops and seminars, among other opportunities
R3.5 million on renovating Wittekleibos community hall (2021: R1 million) to be completed in March 2023 (partnered with East Cape College to train 20 unemployed youth in bricklaying, carpentry and general construction, created 20 temporary jobs and empowered seven local SMMEs)

Total: R13.8 million (2021: R13.7 million) invested in host communities (reaching more than 10 people and creating 276 jobs)

R1.2 million on Adelaide and Bedford water solution project (2021: R0.9 million) (created 95 temporary jobs, supported four local SMMEs and delivered clean water to 3 295 households)
R4.6 million on construction (2021: R0.5 million) of Nceduluntu ECD centre in Adelaide (created 67 temporary jobs and supported five local SMMEs. More than 40 children have access to quality early childhood education)
R1.6 million on bursaries (2021: R1.4 million) for 15 students (2021: 15) from Cookhouse, Bedford, Adelaide and Somerset East to acquire scarce skills at South African universities and TVET colleges
R388 000 on monthly stipends (2021: R22 400) for six assistant teachers (2021: 10) and one administrative clerk (2021: one) at Nojoli Primary School, Templeton High School and William Oats High School (created eight temporary jobs benefiting more than 1 000 learners)
R91 258 on code 14 driver licence programme (2021: R398 638) for 20 unemployed youth (2021: 20) from Adelaide, Bedford, Cookhouse and Somerset East (three graduates to date)
R0.5 million on renovating and fencing (2021: R0.4 million) at Mzamohle Clinic in Bedford (created 32 temporary jobs and supported two local SMMEs)
R107 601 on construction (2021: R3.1 million) of a farmworker's house (2021: seven) at Varkeinskuil
R3.4 million to support agriculture, baking, sewing, waste recycling and general trading SMMEs (partnered with South African Institute of Chartered Accountants (SAICA) Enterprise Development) (2021: R3.9 million)
In comparison to 2021 expenditure of R113.72 million, R181.31 million was spent on socio-economic development initiatives, including education, welfare, agriculture development and health.
Case study:
Restoring community livelihoods
The Phumulani agri-village community is a resettled community that was relocated during the Belfast implementation project.
The Phumulani agri-village food garden is aiming to create sustainable employment, improve food security and stimulate the local economy with donations from Exxaro (R6.7 million in 2022).
A multi-stakeholder partnership between Exxaro, Siyakhana Growth and Development, the University of Johannesburg and Komatsu, the project is designed to share skills development, sustainable livelihoods, access to markets and social cohesion. Its long-term plan is to create an ecosystem of agricultural productivity for the village. Land donated by Exxaro will generate income streams within the community to help families sustain their livelihoods.
The project began in February 2022 with 10 unemployed community members (aged between 20 and 76) selected for professional knowledge and skills development to operate an organic food garden.
Community members are trained and mentored by the NPO Siyakhana Growth and Development in collaboration with the Centre for Ecological Intelligence at the University of Johannesburg. The NPO is the change agent addressing food security and nutrition while supporting sustainable smallholder enterprise development.
The beneficiaries receive AgriSETA accreditation for soil fertility and nutrition, operating hand tools and basic equipment, and infrastructure and natural resource management (including pest, weed and disease control). Certificates were presented at a ceremony in May 2022.
The project currently has two greenhouse tunnels using a drip irrigation system to conserve water for the food garden. Vegetables are grown organically with manure from the garden waste.
Invested in social investment projects for local economic
development (SLPs and CSI)
R181.31 million (2021: R113.72 million)
Jobs created
583 (2021: 205)
Number of community members benefited
1.26 million (2021: 53 000)
Invested in CSI
R167.93 million (2021: R57.28 million)
Beneficiaries
1.17 million, including university research chairs
and GBV campaigns (2021: 300 000)
Invested in SLP projects
R13.38 million (2021: R56.44 million)
Implementation of current five-year SLPs continues
at BUs until completion as per our mining right commitments
in Limpopo and Mpumalanga
A combined total investment contributed by Exxaro
and Cennergi in socio-economic and enterprise
development programmes: R205 million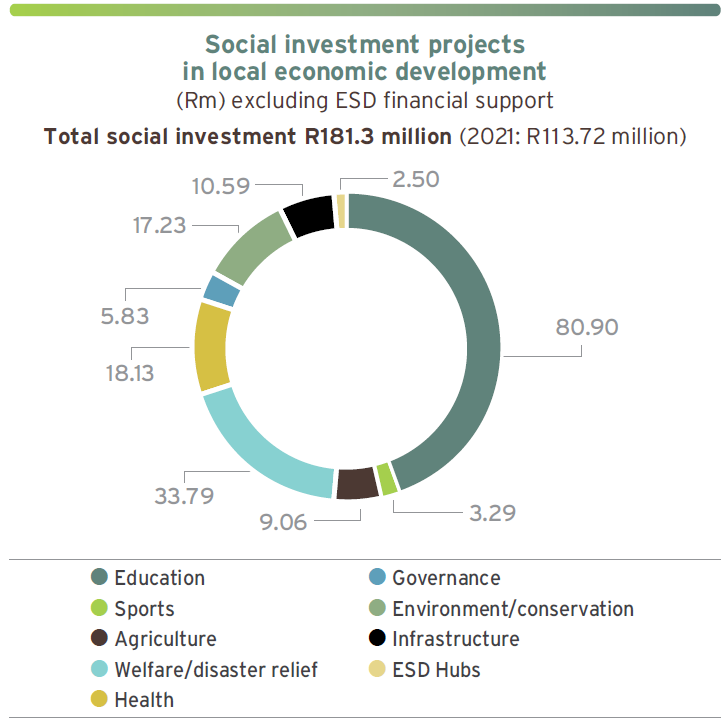 Education investments
R80.9 million invested in community education to benefit 41 000 learners
Lephalale local municipality
Emakhazeni local municipality

R8.1 million budgeted (R5.7 million for infrastructure) to benefit 49 ECD centres from 2022 to 2024
R11 million spent on laptops for 449 learners, teacher training programme, ongoing technical support, and hybrid maths and English education for 28 high schools until 2024
R372 000 spent on bursaries for 31 engineering students at TVET colleges
R500 000 spent to establish a food garden for 300 learners at Letupu Secondary School
R350 000 spent on a career expo to benefit 1 592 learners

R86 000 for recruitment and placement of 15 ECD practitioners in Hope Academic and Skills Centre for professional training
R36 000 on 10 laptops to promote 4IR at Imemeza Secondary School

Lephalale and Emakhazeni local municipalities
Waterberg, Nkangala and Mogalakwena district municipalities

R756 000 donation of school shoes and sanitary towels to 11 000 learners

R2.5 million spent on winter camps for 3 165 grade 12 learners

Nkangala district and Lephalale local municipalities
Nkangala district municipality

R30 million on phase 1 of WiFi connection for 37 schools, establishment of 20 school laboratories and 14 community hot spots
R1.3 million on Edumap bridging programme for 10 students
R64 million partnership with Curro through the Ruta Setshaba Foundation to provide underprivileged learners in Limpopo and Mpumalanga with access to quality education for the next nine years (R2 million invested in supporting 20 learners at Curro in 2023)

R400 300 was spent on audiology programme (screening, fitment of hearing aids by qualified audiologists and referrals) for 931 learners in grades 4 to 7 at four schools (nine received hearing aids and 326 specialist wax removal). In 2021, we focused on eye testing and the provision of prescription glasses to learners

Tshwane

R1.1 million on eye tests for 5 748 learners at seven schools (427 received prescription glasses)
R350 000 on career exhibition at head office for 322 grade 11 learners from Olievenhoutbosch Secondary School in Centurion
R300 000 on seedlings and gardening tools to establish food gardens at Matseke Primary School for 930 learners, Kgabo Primary School for 1 345 learners and Sefako Makgato Primary School for 1 542 learners
Case study:
Nceduluntu ECD centre
Cennergi's AECFT funded the construction of a new ECD centre in the Eastern Cape.
Children and their parents weren't comfortable in the original centre that needed extensive renovation after a storm.
Four local SMMEs created 57 temporary jobs during construction of the new centre.
Highlights and challenges of community initiatives
Municipal capacity building programme

The second phase of the programme, in partnership with the NBI's technical assistance, mentorship and development team and government's CoGTA, mentored permanent senior employees of the Waterberg district municipality. This three-year programme will end in March 2024.

The key successes in phase 2 include potential access to funding as financial management skills improve, enabling the pathway to improving service delivery.

Volunteerism
Our employees were involved in community volunteer projects during working hours. In some areas, we collaborated with the Siyakhana NPO to establish food gardens at schools, and at the Phumulani Agri Village (resettled Belfast community), responding to access to food and nutrition.
Matla Setshabeng NPC
Matla Setshabeng NPC delivered high-impact initiatives at a cost of R127 million (2021: R10 million) for 1 171 743 community members.

Lephalale and Mpumalanga spend

R30 million on an information and communications technology programme: The programme started in 2022 and will provide infrastructure for internet connectivity to 37 schools and 14 community centres reaching 42 000 users. The programme will be completed at the end of 2023
R64 million in partnership with Curro through the Ruta Setshaba Foundation to give underprivileged learners access to quality education for the next nine years (R2 million invested in supporting 20 learners at Curro in 2023)
R10 million through Gift of the Givers for emergency response to floods in KwaZulu-Natal and fires in the Western Cape
The Impact Catalyst also funded the feasibility for an integrated waste management study on waste coal ash, waste tyres, landfill waste and waste pickers. The outcome will inform the development of the waste circular economy plan and Lephalale IDP, which will align with Exxaro's decarbonisation plan. It is envisaged that 100 jobs will be created and 60 SMMEs will participate in the waste beneficiation economy in 2023

Tshikondeni spend

R350 000 in collaboration with the Industrial Development Corporation of South Africa for 100 community members to remove alien vegetation
R1.4 million on employment opportunities for 600 people developing 300ha of land for citrus farming with access to markets

National spend

Exxaro contributed R15 million towards R108 million raised in partnership with the
Gender-based Violence and Femicide response fund. These funds were used for GBV campaigns and establishing care centres/shelters across the country

Challenges
We experienced challenges in implementing our SLPs due to poor capacity of local service providers. This resulted in iterations to find replacement contractors, resulting in delays to execute projects. However, we successfully prepared and submitted new SLPs. This entailed extensive stakeholder engagements, calls for proposals from communities and local municipalities, feasibility studies and consultations to conclude applications for new SLPs to the DMRE. We also submitted proposals for Thabametsi (2020 to 2024), Grootegeluk and Tshikondeni (in closure) (2023 to 2027) SLPs at year end. The DMRE approved the Matla (2020 to 2025) SLP in 2022. The submitted SLPs align with our Social Impact strategy, which leverages the work done in the previous SLP cycle in an incremental, sustainable pattern to promote collaborative partnerships for greater impact.
Enterprise and supplier development
The ESD programme achieved record disbursements and played a role in the achievement of the procurement targets described from page 86. Driven by a higher group NPAT, the programme had to spend a much higher amount within the year to ensure compliance with the dtic B-BBEE codes. Given the high coal prices, the forecast NPAT was much higher than budgeted at the beginning of the year. All efforts were invested to achieve the higher target, however, there were fundamental constraints that prevented us from achieving our ESD compliance goal. Firstly, resource constraints to spend more money and secondly, increasing the volume of ESD funding applications does not improve the number of qualifying applicants. While we reached an annual increase and record disbursement of R291 million, we expect to achieve 9.75 points (65%) out of 15 compared to the target of 13.5 (90%) once the B-BBEE verification for 2022 has been finalised.
Our ESD programme creates wealth, employment and sustainable enterprises for host communities.
Exxaro's ESD initiatives are a crucial component of our socio-economic development response and critical to achieving our strategic objectives. The initiatives provide financial and non-financial support to small businesses in areas where we operate.
Spend: R291.2 million (2021: R127.7 million)
Beneficiaries:
Qualifying small enterprises (QSEs) and exempt micro-enterprises (EMEs): 30 (2021: 15)
Youth-owned: 16 (2021: four)
Women-owned: nine (2021: seven)
Jobs retained: 1 037 (2021: 243)

The TWFT established an agriculture mentorship programme to ensure the success of funded projects.
This programme helps emerging farmers transition into commercial farming by improving farm management skills and access to markets.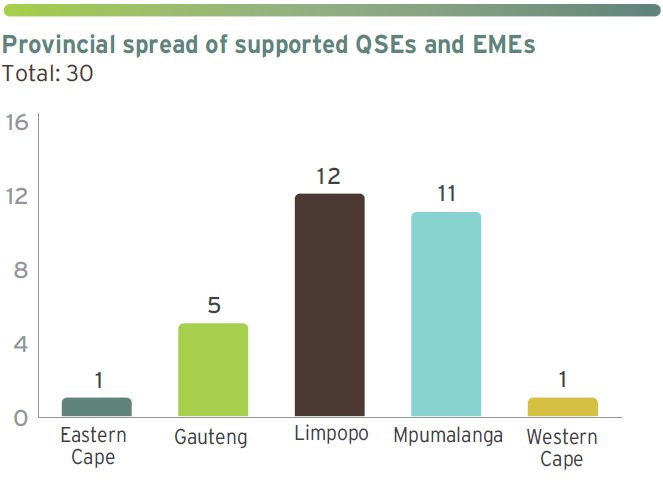 The provincial breakdown of the beneficiaries indicates the ESD programme's objective of focusing on beneficiaries from host communities.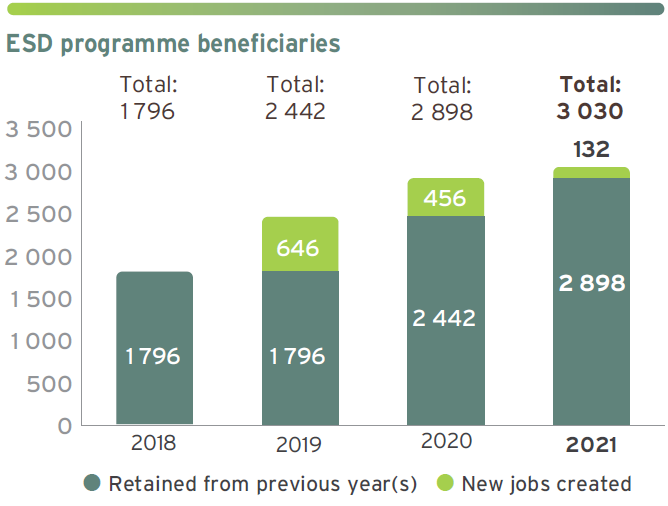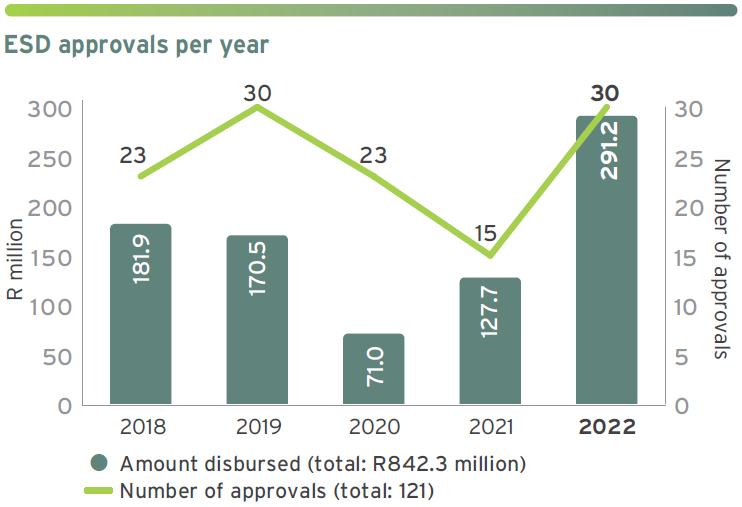 The ESD approvals since programme inception have been a blend between grants and loans, with focus in the earlier years on improving Exxaro's B-BBEE performance from level 5 to level 2. This was achieved and maintained until 2020, where there was a poor pipeline of funding applications due to challenges imposed on SMMEs by COVID-19 and a distressed economy.
ESD loan fund management

We support SMMEs in our host communities beyond compliance.

Tysys Capital Group, a National Credit Regulator licence holder, manages our ESD loan fund, which supports SMMEs in our communities. Tysys Fund Managers invests loan repayments and cash in hand in money markets.

Our investments consistently outperform the short-term fixed-interest (Stefi) benchmark (5.96% against Stefi's 5.65% in December 2022).

Total loans approved since 2018: R578.19 million (R249.21 million outstanding or future-dated repayments and R328.98 million recovered loan repayments)
Investment returns: R22.79 million (interest from invested funds)

ESD non-financial support

Our non-financial support programmes complement ESD loan fund management.

External service providers address entrepreneurs' challenges:

GIBS (business management)
SAICA Enterprise Development (financial management)

GIBS contractor development programme

69 graduates
Plans to enrol 60 in 2023

SAICA Enterprise Development financial excellence programme

29 graduates
Plans to enrol 60 in 2023

Incubator hubs

We deliver on our ESD strategy in each SLP area through incubator hubs, which provide three-year programmes for SMMEs.

Beneficiaries per operation:

Matla: 27
Tshikondeni: three
Case study:
NNT Women Poultry
Cennergi's TWFT supports NNT Women Poultry, a black women-owned enterprise in Wittekleibos.
With R3.1 million from TWFT as well as skills training, infrastructure, a vehicle, tools, equipment, land clearance and fencing, the enterprise supports four previously unemployed women delivering 2 300 eggs to Nulaid every second week.
TWFT plans to enable the business to expand from 1 620 egg layers to 4 000 by 2024.
Case study: Water solution
for Adelaide and Bedford
Cennergi's AECFT and the Amakhala Bedford Community Fund Trust have invested R5 million in a water solution for Adelaide and Bedford.
The solution includes water abstraction redesign, repair and servicing of existing pump stations, refurbishment of water-treatment plants, storage and pressure management, a centrifugal solids separator, leak management and groundwater augmentation.
Upon completion in March 2023, 5 871 households in the communities of Adelaide and Bedford will have much-needed water. The project also supports two local black-owned SMMEs who have created 26 temporary jobs.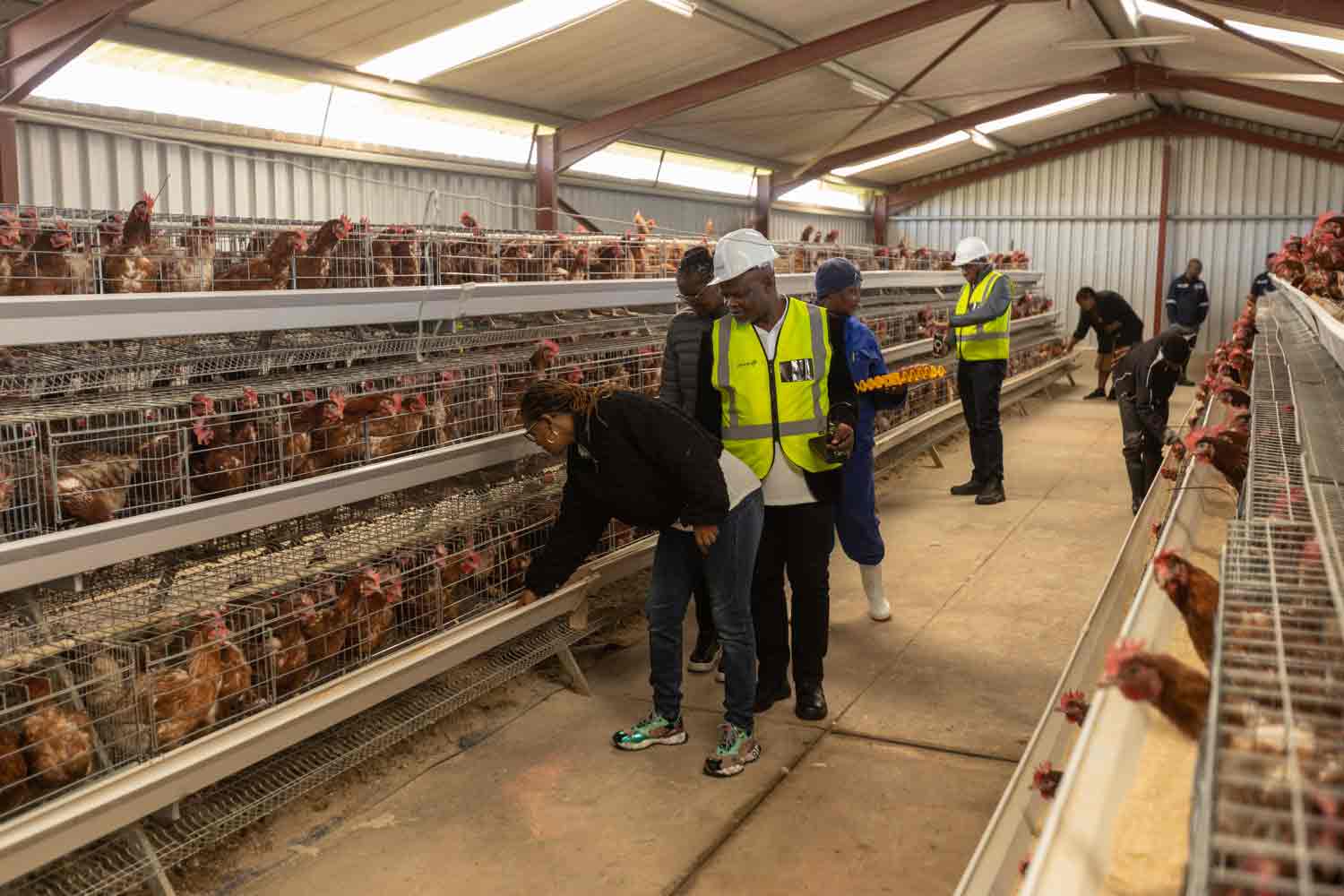 Supply chain sustainability
Our affirmative procurement initiatives at operating mines remain above target. We spent R1.1 billion (circa 11.4%) of discretionary procurement compared to a target of 10%, on local SMMEs, thus injecting significant value into the local communities. However, the challenge remains large and we will continue to pursue higher levels of this investment through targeted expenditure and skills development to increase both the volume of expenditure and value per expenditure.
We manage our procurement and supply chain processes in terms of our supply chain sustainability strategy and policy to satisfy the diverse expectations of customers, regulators and investors.
Our strategic objectives include:
Developing and reviewing policies that exceed compliance with legislation (B-BBEE Act, Mining Charter III and SLP commitments) and customer requirements
Tracking our performance to maintain our licence to operate
Promoting local economic development in host communities through policies that enable participation of historically disadvantaged suppliers (particularly black youth and women)
Fostering an accessible, equitable, transparent and responsive supply chain process based on leading governance standards

Cennergi's share of procurement sourced from B-BBEE suppliers, QSEs, EMEs and women-owned vendors is tracked against commitments and targeted percentages in the implementation agreement between Cennergi and the DMRE.
Tsitsikamma community windfarm and Amakhala Emoyeni are committed to 60% total procurement from B-BBEE suppliers, 10% from QSEs and EMEs, and 5% and 2.5% respectively from women-owned vendors.
Preferential procurement performance
Exxaro is fully compliant with the requirements of the B-BBEE codes for preferential procurement. We achieved an overall score of 26.9 (2021: 28.3) against a target of 24.2.
Green procurement
Green procurement means Exxaro aims to purchase products and services that have a minimal adverse impact on the environment. We spent R133 million on green procurement (0.8% of the total procurement spend). The graph below shows percentage spend per green procurement category.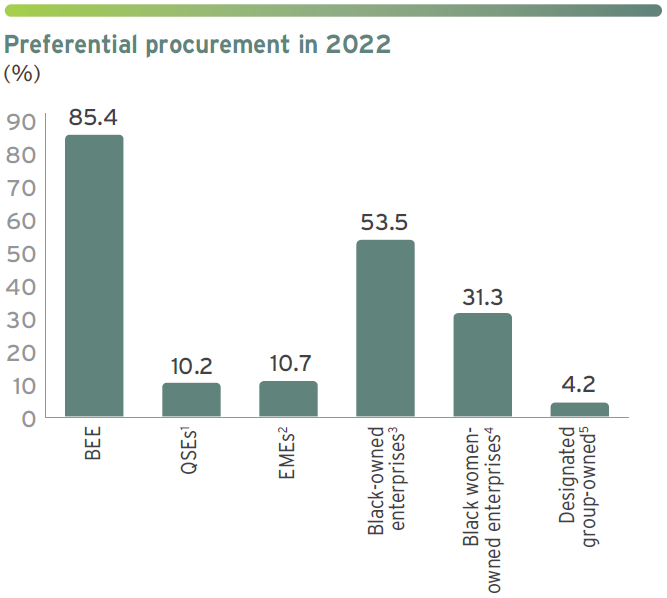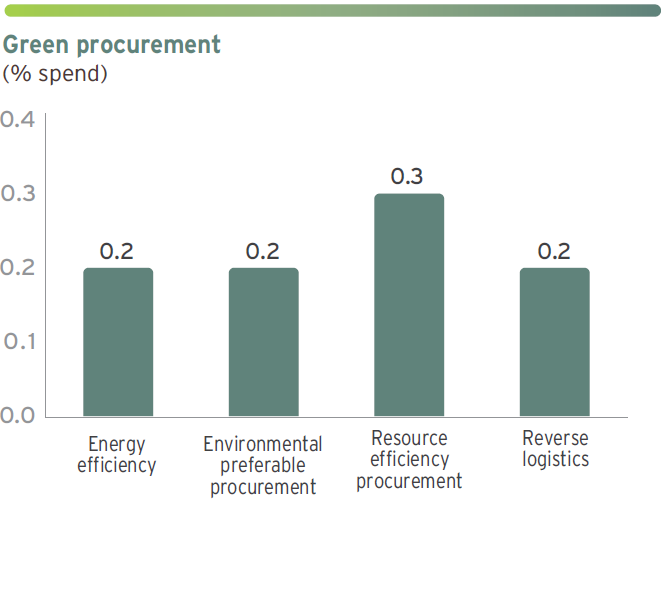 1
Procurement from entities with R10 million to R50 million annual turnover.
2
Procurement from entities with less than R10 million annual turnover.
3
Procurement from suppliers who are at least 51% black owned.
4
Procurement from suppliers who are at least 30% black women owned.
5
Procurement from suppliers who are at least 51% designated group owned (entities
owned by black youth, black military veterans, black disabled people and black people living in rural areas).
After appointing Khaman Security at Amakhala Emoyeni, Cennergi funded the establishment of a security control room as part of supplier development and the AECFT included the company in the SAICA Enterprise Development programme.
Mining Charter III
As a mining right holder, Exxaro must meet prescribed targets for procuring mining goods and services from preferred groups by 2023. Our inclusive procurement programme focuses on procuring mining services from black youth and black women-owned companies. We exceeded our target of 37.2 points (2021: 31.5) by scoring 40 points (2021: 40) on the Mining Charter III scorecard.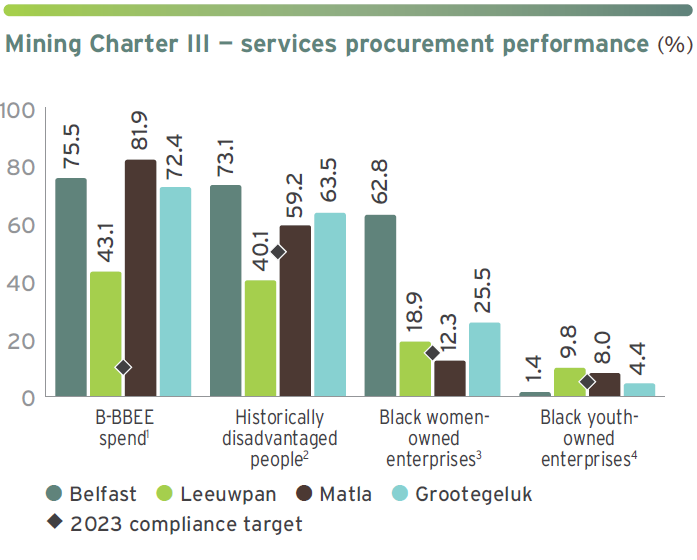 | | |
| --- | --- |
| 1 | Procurement from entities with more than 25% black ownership and at least level 4 on the B-BBEE scorecard. |
| 2 | Procurement from entities with historically disadvantaged people as majority owners. |
| 3 | Procurement from entities with black women as majority owners. |
| 4 | Procurement from entities with black youth as majority owners. |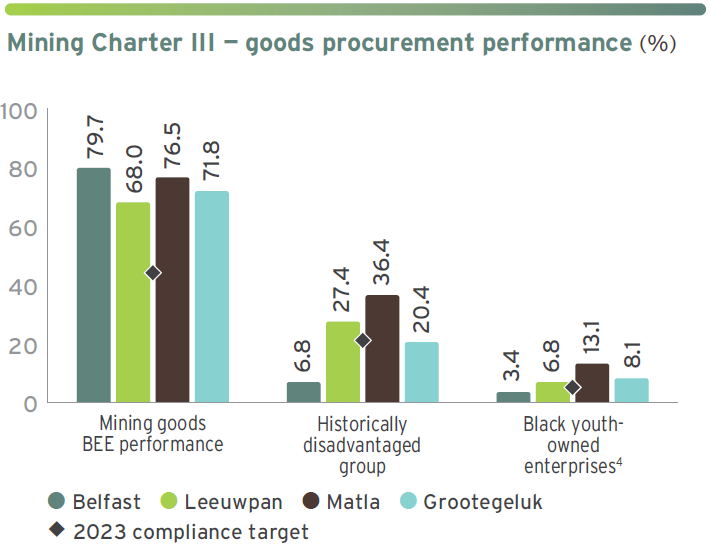 | | |
| --- | --- |
| 1 | Procurement from entities with historically disadvantaged people as majority owners. |
| 2 | Procurement from entities with black women as majority owners. |
| 3 | Procurement from entities with black youth as majority owners. |
Local procurement and localisation

Our supply chain sustainability policy ensures we increase beneficial participation of black youth-owned SMMEs, which is critical to mitigate youth unemployment in our host communities.

We direct over R1 billion of our procurement spend to local SMMEs. We spent R1 097 million (2021: R1.05 billion) with 246 local black-owned SMMEs (2021: 241).

Committed to improving our QSE and EME preferential procurement performance, we also reached the following milestones in our host communities:

Awarded local contracts worth R525 million (2021: R664 million) to 38 suppliers (2021: 71)
Procured over 15% (2021: 13.7%) of goods and services from local vendors
Developed support structures for black contractors
Simplified the contractor onboarding process with a supplier portal

Ethical procurement

We use e-procurement software (Coupa and Innoxico) to reduce the risk of fraud and maintain cost efficiency.

We continue driving ethical and sustainable procurement through our:

Supplier onboarding process ensuring suppliers are aligned with and understand our policies
Checks to ensure our suppliers comply with conflict of interest guidelines

Cennergi met its preferential procurement targets for 2022 and did not incur any termination points.
Trade-offs
Compliance costs are increasing annually. With business risks also escalating, planning for uncertainty requires a trade-off between various risks. Exxaro has a target to achieve a level 1 recognition level. However, the required level of expenditure to achieve this target competes with other interests within the business, such as seeking alternative logistics for our export coal to reach markets and business interruption risk, which also have a demand on available financial resources. Consequently, a decision was taken to maintain the current level 3 recognition level, which is still within compliance, to secure the business in the short term. The aspiration to achieve level 1 remains over the next two years.
Case study:
SAICA supports enterprise development
The SAICA Enterprise Development programme has achieved the following for Cennergi since appointment in 2021:
Six beneficiaries completed the programme
79% increase in sales
89% net profit increase
23 new jobs created by beneficiaries
Investments disbursed to qualifying SMMEs
Marketing and branding support packages for each SMME
The programme provides monthly access to a business and finance coach as well as accounting, back office, tax, human resource management, and Companies and Intellectual Property Commission compliance support.
Case study:
Women in community development
Recognising the lack of women representation in the community development trust and in marking women's day a celebration, Cennergi partnered with the Bedford Women Forum to host a women's dialogue workshop at Msobomvu Community Hall in Bedford.
Hosted under the theme "what is the role of women in community development", over 100 women and girls attended the event. Invitees included women from SAICA, the Eastern Cape Department of Economic Development and a guest speaker, Dr Tumi Vuyolwethu Nkohla, from CoGTA. Cennergi held another successful women's day event attended by young girls from Walmer high school in Port Elizabeth.
Both events encouraged women to raise their hands high in community development initiatives and every aspect of life.