Measuring our performance
Our ESG performance is benchmarked against our peers who exhibit the global best practice expected by responsible investors.
ESG performance ratings
Global ratings agencies evaluate our ESG performance using publicly available information (annual reports, websites and media) in line with various criteria requirements.
In 2022, we were rated by FTSE Russell, Institutional Shareholder Services ESG, Moody's, Vigeo Eiris, Sustainalytics, MSCI, Bloomberg Gender-Equality Index (GEI) and the TPI.
FTSE Russell ESG Index
The FTSE Russell ESG Index series measures our ESG risks and impact performance with a score out of a total of five rated in terms of themes relevant to our mining context.
The ESG report discloses performance against the following relevant themes:
Environment
Pollution and resources
Climate change
Water use
Biodiversity
Social
Labour standards
Health and safety
Human rights and community
Governance
Risk management
Corporate governance
Anti-corruption
Our risk exposure is classified as medium (orange) to high (red), determined by our business activities. The FTSE Russell ESG Index rating confirms our efficient and strategic response to this exposure.
Our performance
Exxaro's FTSE Russell ESG Index score continued to improve, achieving 4.0 out of 5.0 compared to 3.7 in the previous year. We remain ranked in the top quartile of global performers in the basic resources supersector. Our steady improvement since 2018 is shown below.
FTSE Russell ESG Index – Exxaro's historical performance (Score (out of 5))

We are currently the only basic resources company in level 4.0 among our peers. The biggest driver of our improvement is environment (4/5), specifically climate change. The social element is at 3.3 and governance leads all three elements at 4.7.
Exxaro
Global coal
sub-sector
FTSE Russell ESG score
4.0
2.2
Environment
4.0
1.9
Social
3.3
1.9
Governance
4.7
3.1
Institutional Shareholder Services ESG
Institutional Shareholder Services empowers investors and companies to build long-term and sustainable growth by providing high-quality data, analytics and insight.
Exxaro was ranked at C- with a very high transparency level and was counted among the industry leaders, which demonstrates our commitment to good corporate governance.
Areas of improvement include publication and disclosure of our human rights policy (our business, governance tab) and execution of our social impact plans, new areas of education and land use management.
TPI
Exxaro's TPI ranking was 4/4 in 2022, based on our commitment to managing GHG emissions, which shows stakeholders that Exxaro is well positioned to benefit from opportunities presented by the low-carbon transition.
The TPI compares companies' expected future carbon emissions with local and international targets as part of the Paris Agreement. It is used as a benchmark to determine commitment to corporate climate action. A high TPI ranking demonstrates that a company is strategically mitigating climate change and its effects.
Sustainalytics
The Sustainalytics ESG rating measures exposure to industry- specific material risks (including company-specific factors such as the business model) and the company's management of those risks. Exxaro's exposure was rated high and management was rated strong, which indicates the robustness of our ESG programmes, practices and policies.
We continue assessing feedback from other ratings agencies to identify common assessment areas and opportunities for improvement.
Green Revenues Factor
Exxaro received a Green Revenues Factor rating of 3.64% for the first time. FTSE Russell's Green Revenues data model is designed to measure the revenue exposure of public companies engaged in the transition to the green economy. Capturing these shifts allows investors to quantify the pace and scale of a company's transition to the green economy. We hope to improve our green revenue rating as we expand our renewable energy business.
Looking ahead
We are dedicated to improving our resource stewardship, minimising our environmental impact and being socially responsible with maximum positive impact.
We are particularly focused on a just transition to cleaner energy while maintaining the best possible ESG performance.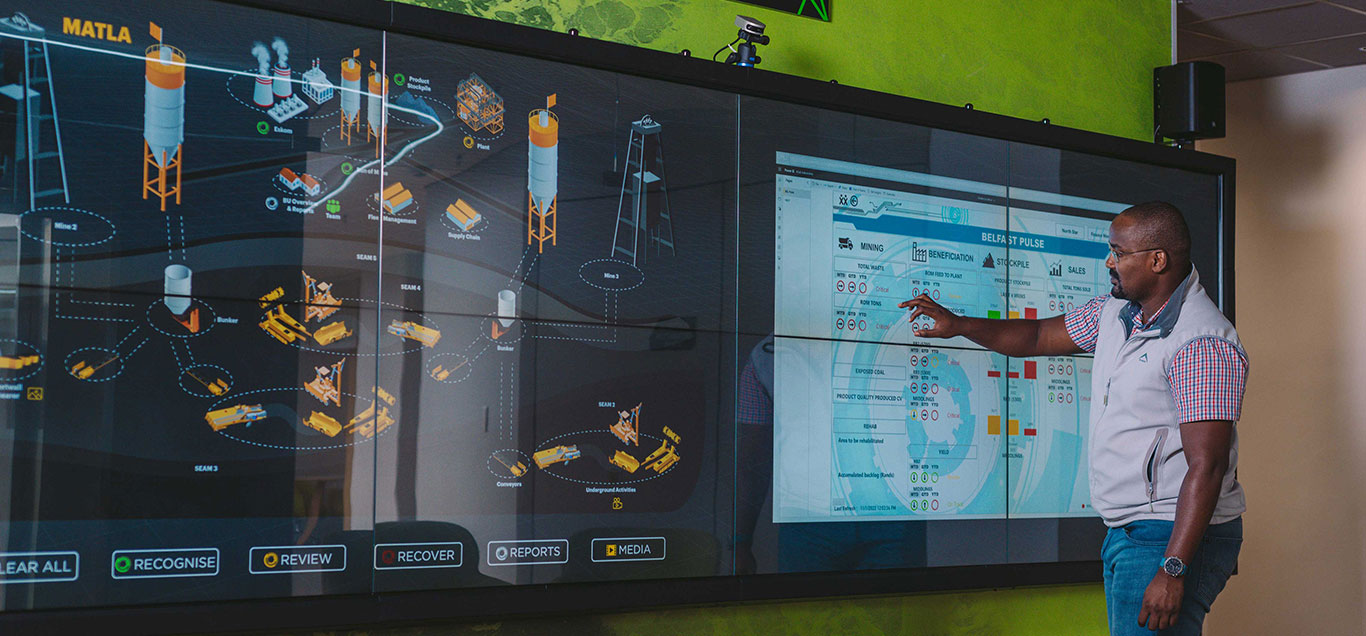 Monitoring performance in real time at The conneXXion