Remuneration committee report
Dear shareholders,
We are pleased to present the remuneration committee report for the year ended 31 December 2022. The committee recognises the value of its people in powering possibility, and strives to balance stakeholder interests in its work.
2022 key highlights
The committee launched 2022 with approval of the group's new STI scheme (GIS and line of sight (LOS)), effective from 1 January 2022, in line with the agreed implementation date and rules. The committee also reviewed the plan for communication, socialisation and embedment of the scorecard as part of a broader performance-linked remuneration process. This campaign is driven annually, against the backdrop of the people strategy and alignment of behaviours with business objectives, stakeholder interests and a culture of powering possibility. This includes approval and integration of the energy business, and an approved variable pay offering comprising the STI and long-term incentive (LTI) for Cennergi.
In accordance with reward for performance against measured critical business indicators, as per our company strategy, the committee, as usual, determined relevant performance targets, weightings of required outcomes and vesting conditions for share-based rewards.
The committee's work included the review of non-executive director remuneration for shareholder approval, to support the proposal in treatment of disparities in fees. We used the Willis Towers Watson comparative ratio and other benchmarked comparator groups for JSE-listed companies.
Dr Phumla Mnganga
Remuneration
committee
chairperson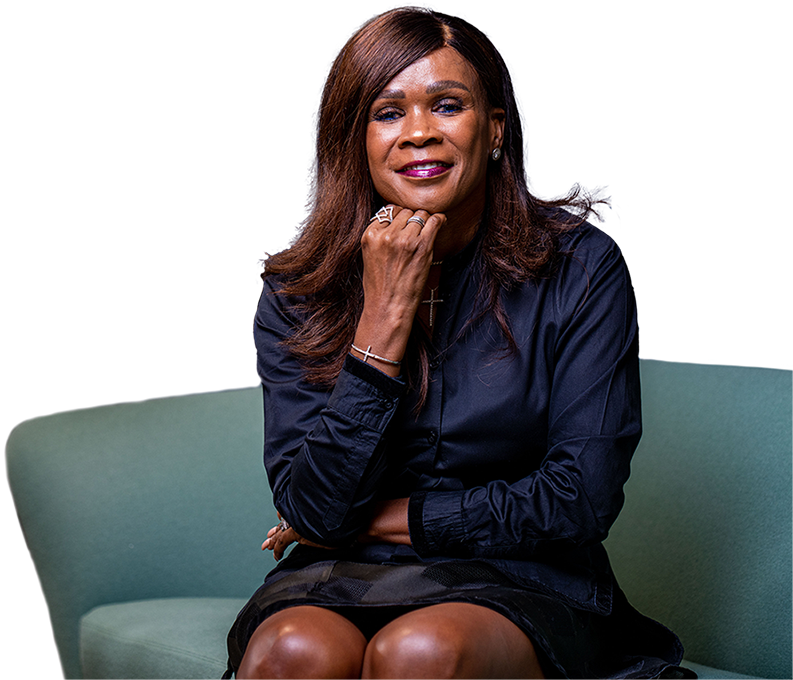 King IV's "say on pay" recommendations became mandatory by incorporation in the JSE Listings Requirements. Companies listed on the JSE are required to table non-binding advisory shareholder votes on remuneration at AGMs. The JSE Listings Requirements paragraph 3.84(j) requires listed companies to engage with dissenting shareholders and the manner and timing of such engagements must be disclosed. In September 2022, a proactive governance roadshow took place. Engagement was proactive as opposed to compulsory as shareholders' non‒binding advisory vote for the remuneration report and remuneration implementation plan on 25 May 2022 was 94% in favour of both.
Gender and racial diversity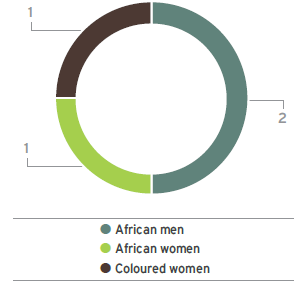 Non-binding advisory vote number 1: Approval of the Exxaro remuneration policy
94.03%
5.97%
Non-binding advisory vote number 2: Endorse the implementation of the Exxaro remuneration policy
94.04%
5.96%
We continue to take our shareholders along with us in responsible remuneration practices. The board is therefore committed, in the event that either the remuneration policy or the implementation report, or both, are voted against by 25% or more of the votes exercised at the AGM, to invite dissenting shareholders to engage with Exxaro and provide the manner and timing of such engagement in the voting results announcement.
Role and purpose
The committee's terms of reference leverage the benefit of cross-membership for fulfilment of remuneration matters as well as board governance and nomination matters.
The committee is accountable to the board for execution of its independent and objective oversight set out below.
Remuneration governance
Oversee development and regular review of the remuneration policy that articulates and gives effect to the board's direction on fair, responsible and transparent remuneration
Oversee implementation and execution of the remuneration policy
Exercise any power or discretion vested in the board under any remuneration scheme established for the benefit of employees of the group
Review executive and senior management remuneration and performance measurement
Oversee fees for non-executive members for services as directors, as approved by shareholders
Provide mandates for non-bargaining and bargaining unit employees' salary negotiations
Governance of performance management
The committee does not assume the functions of management, which remain the responsibility of executive directors, prescribed officers and other members of senior management. It also does not assume accountability for the functions performed by other committees of the board.
Where board committee focus areas dovetail or overlap with this committee's oversight, there is seamless collaboration between committees to execute the broader effectiveness objective of the board - for example, in support of the diversity, equity and inclusion strategy execution, as it applies to fair pay or application of mechanisms to achieve and exceed employment equity.
Composition
The board ensures committee members have a suitably balanced blend of skills and experience to enable the committee to discharge its functions.
When Ras retired at the 2022 AGM, committee members expressed heartfelt gratitude and accolades for his years of service and committed leadership. Phumla was subsequently appointed as chairperson of the remuneration committee.
Committee members are independent non-executive directors: Dr Phumla Mnganga (chairperson), Dr Geraldine Fraser-Moleketi, Zwelibanzi Mntambo and board chairperson Mvuleni Geoffrey Qhena. Ras Myburgh retired as chairperson of the committee and board member. His successor, Dr PhumlaMnganga, was appointed in line with succession planning of the nomination committee.
The CEO, FD and executive head: human resources attend meetings by standing invitation to make submissions and provide information required by the committee from time to time.
The committee comprises a majority of independent non-executive directors.

Refer to board of directors for members' qualifications and experience.
Meetings
The committee met formally seven times during the financial year in review at four quarterly meetings and three special or ad hoc meetings.
Dr Phumla Mnganga
Independent non-executive director and remuneration committee chairperson
4/4
3/3
Mvuleni Geoffrey Qhena
Independent non-executive director and nomination committee chairperson
3/4
2/3
Dr Geraldine Fraser-Moleketi
Lead independent non-executive director
4/4
3/3
Zwelibanzi Mntambo
Non-executive director
4/4
2/3
Ras Myburgh*
Independent non-executive director
2/2*
1/1*
Terms of reference
The committee's terms of reference were reviewed in 2022 and amendments were approved by the board. The terms of reference continue to be aligned with legislation, regulations and King IV.
2022 in review
Remuneration implementation
The committee oversaw implementation of the remuneration philosophy and supporting policies and schemes such as the detailed STI scorecard implementation, incorporating malus and clawback and minimum shareholding requirements (MSRs).

Remuneration report
One of the highlights of the period under review was the crafting and policy approval of the energy business STI and LTI variable pay offering. Alignment of the energy business strategy with remuneration governance objectives and commitment to fair and responsible remuneration was thus clarified as a committee goal.
Coupled with this was the review of the nature and adequacy of the performance measurement methodology applied throughout the group. A new revised approach to performance review, better crafted and linked to core strategic business objectives, was undertaken throughout the group. Performance tracking against revised processes provided management with insight into the achievement of required performance criteria. Improvement of the process continues.
Transformation imperative
The committee's employment equity plan review (ensuring diversity in talent and leadership), in support of the overall diversity, equity and inclusion strategy, formed part of the normal course of business during the period under review. This imperative is fundamental to the identity and legitimacy of Exxaro as a proudly South African black resources business. Efforts focused on including disabled people, sensitivity training as well as training and development of black people with disabilities to normalise enabling workplace environments. The company's people strategy embraces workplace diversity as an enabling lever that powers possibility.
The committee continued to address inequality, including gender-based disparity in remuneration adequacy. An interesting and recurring conversation is the implementation of measures and their effectiveness in redressing historical pay disparity where identified. A conscious decision was taken to allocate a discretionary budgeted amount to redress identified inequities. On a motivated basis, the committee approved the discretionary mandate to this end. The committee is pleased with progress and has set a roadmap for deeper and more challenging debate as a future focus area, aligned to the company's diversity, equity and inclusion strategy objectives.
Governance
A key value creation activity of the committee remains group governance of human capital and our ethical culture, as demonstrated in employment equity. In a climate of growing unemployment and economic uncertainty, access to job opportunities and transparent, fair recruitment practices prompted revision and innovation in this regard. A sharp increase in job scams were evident in the committee's reputation risk management through periodic communication campaigns of proper processes. It is imperative that stakeholders are aware that the company would never elicit money for any part of the search, recruitment or appointment process. Such scams should be avoided and brought to management's attention using the appropriate reporting hotline.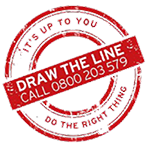 Exxaro fraud hotline
Free call: 0800 203 3579
Fax: 0800 007 788
E-mail: exxaro@tip-offs.com
Website: www.tip-offs.com
Skilled and ethical leaders are in high demand. It remains important to retain top talent and reward correct behaviour as part of our ethical culture. At the core of protecting value, and as a lever of business resilience and sustainability, employee motivation is stimulated by leadership and training initiatives. In the context of remote work, the company retains a hybrid model (three days in office) as a trial, which contributes to employee motivation. Retaining and motivating our people is critical to delivering on our strategic outcomes.
Finally, as part of value creation responsibilities, the committee reviewed its terms of reference and annual work plan for relevance and accuracy. In pursuit of remuneration best practice and informed decision-making, the committee also obtained independent advice from PwC and Vasdex on a range of remuneration policy and implementation matters as well as independent remuneration benchmark analyses from a range of service providers.
Key focus areas for 2023
Alignment of People Management and Talent Management strategy to business strategy
Continued oversight of the implementation of pay parity in support of fair and responsible remuneration
Address the wage gap across vertical levels and implement measures to narrow the wage gap
Review the total reward framework and any additional enhancements including monitoring and approving all STI/LTI scheme share awards in accordance with shareholder approved rules
Monitor compliance with the revised MSR policy for all executives
Review leadership continuity plans, and the senior talent pipeline for the group
Monitor progress against employment equity and diversity, equity and inclusion strategic objectives and milestones
Ongoing consideration of shareholder feedback
Highlights
1 Approval of Cennergi's organisational structure and appointment of head distributed generation
2 Revised group remuneration policy and reward framework
3 Implemented incentives and scorecards: group STI, LTI and production incentive schemes
4 Revised performance management processes aligned to strategic objectives
5 Board committee composition review and board and executive management succession planning including appointment of managing director: minerals
6 Executive officer transition
7 Policy improvements: Employee leave conditions and parental leave policy
8 Policy improvements: Employee leave conditions and parental leave policy
9 Committee work plan and terms of reference review
10 Board continuing professional development
Conclusion
The committee is satisfied that its ongoing work aims to align remuneration with the organisation's values of fairness and equity. The company continues to strive towards remuneration of employees in accordance with market-related salaries and equitable awards across the organisation.
The committee is also satisfied that employees are invested in achieving the company's strategic goals through a remuneration philosophy and policies that incentivise short-term and long-term performance awards with sufficient stretch built into targets.
Dr Phumla Mnganga
Remuneration committee chairperson
14 April 2023