We maintained our leadership position in the FTSE Russell ESG Index driven by exemplary governance, record safety performance, economic empowerment of people and contributing to social progress through infrastructure development.
Delivering these outcomes required Exxaro to exercise strong leadership, teamwork and accountability. Delivery is supported by our board, guided by our strategy and measured through our strategic key performance indicators (KPIs). This was possible through the commitment of every Exxaro employee. When I took the helm as chief executive officer (CEO) during 2022, I invited our employees to "get on the bus" with me as we drive to achieve our mutually beneficial objectives. I invite all our other stakeholders to join us on this journey as well.
I am confident that we are steering our business in the right direction with our Sustainable Growth and Impact strategy. Our capital allocation model is an equitable balance between:
The sustainability of our existing business through safe operations and prudent risk management
Return of dividends to shareholders and other benefits to stakeholders
Growth to ensure our future
Dr Nombasa Tsengwa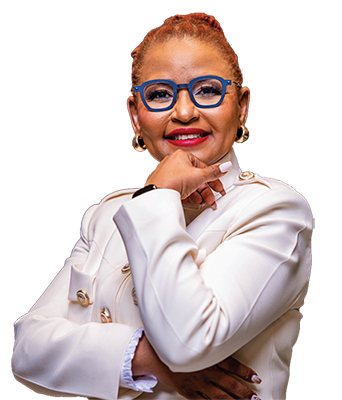 We completed the first year of our new remuneration programme, which aligns with management, shareholder and business needs. We are pleased with the outcome for the year despite the need for future refinements to the remuneration structure following engagements with shareholders.
Realising value creation through integrated thinking and sustainability
Exxaro Resources Limited (Exxaro, the company or the group) is a South African diversified resources company with an existing coal and renewable energy business and acquisitive growth prospects in minerals and renewable energy solutions.
Purpose

In line with Exxaro' purpose of powering better lives in Africa and beyond, our ambition is to provide resources (energy, commodities, capital and people) critical to ensuring a low-carbon world.
Vision

We understand that we cannot grow sustainably without creating a positive impact in the environment and communities we serve. We are committed to responsibly maximising the value of our coal assets by reducing stranded assets, and playing an active role in creating a future that realises our vision: resources powering a clean world.
Values
Our success lies in the strength of our culture and values, which strengthen our resilience and ensure we deliver stakeholder value. Our values are:
Empowered to grow and contribute
Teamwork
Committed to excellence
Honest responsibility
Sustainable Growth and Impact strategy
The Sustainable Growth and Impact strategy is an integrated, multi-stakeholder approach to positioning the business for a resilient and sustainable future.
Integrated thinking
Our belief in sustainable value creation is inspired by the careful consideration of the relationship between the resources we use and affect, and potential trade-offs inherent in strategic decision making. We integrate the six capitals into our business model and strategy, and continuously strive to positively contribute to, and negate any adverse impact on, these capitals.
Our approach to integrated thinking is translated into the value creation message, content and structure of this report.