Climate change resilience
COP27 highlighted the need for action to address the risks of climate change as the top global agenda. Response actions include urgently reducing GHG emissions, building resilience, adapting to the inevitable impacts of climate change, and enabling climate action in developing countries.
Climate adaptation, resilience and transition refer to our capacity to adjust to current and anticipated climate change-related risks, and capitalise on strategic opportunities presented by a low-carbon and resource-constrained economy.
Exxaro's response to climate change emphasises the sustainability imperative through environmental, social, financial and legislative aspects. Our strategic objectives support our efforts to contribute to a just transition. Delivering on this requires a systemic and institutional approach, with all aspects of our business involved in this transition.
Our TCFD disclosure is embedded throughout our reporting suite and our online publications.

TCFD index
Our approach
Two of Exxaro's strategic objectives – to transition at speed and scale and to be carbon neutral by 2050 – outline our goals and commitment to fundamentally change our business to positively respond to the climate change agenda. Our Climate Change Response strategy, decarbonisation plan, alignment with TCFD recommendations and linked STI scheme across the business support the achievement of these objectives. The STI scheme incentivises carbon and energy reductions across the group. The principles and mechanisms to respond to climate change are integrated throughout our business, and are central to our thinking and actions.
We mitigate climate change and its impacts through:
Reducing our carbon footprint, guided by our Climate Change Response strategy and decarbonisation plan. In the short term, our operational energy efficiency projects, renewable energy self-generation and potential divestment, will result in emissions reduction of 40% by 2026 for scope 1 and 2, based on a revised 2022 baseline. We are developing the medium and long-term elements of our decarbonisation plan, including the capital alignment implications
Measuring, monitoring and reporting data and performance
Incentivising performance through the STI scheme
Prioritising adaptation and resilience of our operations and host communities
Creating awareness during regular stakeholder engagements
Supporting research and development
Carbon emissions reduction approach and management
Carbon emissions reductions are driven by our efforts in energy management and the implementation of cleaner energy sources at our operations. South Africa has revised its nationally determined contribution (NDC) target range for 2025 to 398MtCO2e to 510MtCO2e and for 2030 to 350MtCO2e to 420MtCO2e compared to 398MtCO2e to 614MtCO2e between 2025 and 2030 as communicated in the first NDC. The revised NDC requires us to do more to support the country's transition to a low-carbon economy
To ensure comparability, Exxaro measures, manages and reports energy and carbon data in terms of the GHG Protocol's Corporate Accounting and Reporting Standard. Our scope 1, 2 and 3 emissions are monitored and reported annually.
| | |
| --- | --- |
| Scope 1 | Direct GHG emissions (measured in tCO2e) from sources owned or controlled by Exxaro using diesel, petrol, gas, explosives and limestone. Production-related fugitive methane emissions are also included. |
| Scope 2 | GHG emissions from electricity generated by utility Eskom and purchased by Exxaro |
| Scope 3 | Emissions outside our control but emanating from our products or value chain activities such as customers burning coal supplied by Exxaro |
Internal performance measures

External performance measures

We monitor performance closely through monthly energy and carbon data reporting at all levels

Monitor and report on scope 1, 2 and 3 emissions annually using the operating control accounting approach

Our 2022 STI scheme tracks carbon and energy reductions at group and BU levels to inform employee and executive reward performance

We continue to investigate data solutions that will give us real-time feedback, which we believe will allow us to respond quickly to emerging issues and opportunities to reduce our emissions

We have participated in the CDP climate change programme since 2008 and the CDP water programme since 2010, and supplier engagement since 2019

Our CDP climate change inputs provide information on our energy consumption and intensity, carbon emissions measurement and cost performance at BU and group levels. This information is audited and assured externally every year

The CDP water and supplier engagement programmes help us ensure that we align water security and supply chain risks to impacts of climate change
In the 2022 CDP climate report, Exxaro is ranked in the management category (B score), which is higher than the coal mining sector average of C.
Carbon tax compliance
Promulgation of South Africa's Carbon Tax Act, 2019 (Act 15 of 2019) contributed to GHG emissions reduction being a business imperative as this could affect our financial and sustainability performance.
Governed by the Carbon Tax Act, the current carbon tax rate is R144/tCO2e with several tax-free allowances. Exxaro's carbon tax liability for 2022 was R2.6 million for production-related emissions, ie fugitive methane emissions associated with the coal seam.
Accountability and responsibility
The RBR committee manages climate change risks and opportunities. The SERC ensures we align with just transition principles. The ESG steering committee's role is to support Exxaro's ongoing commitment to environmental, health and safety, corporate social responsibility, corporate governance, sustainability, and other relevant public policy matters.
Becoming carbon neutral through our decarbonisation plan
Current decarbonisation initiatives
Our decarbonisation plan includes a range of projects to reduce our emissions. These include self-generation solar PV projects and ongoing operational efficiency programmes, primarily focused on reducing diesel and electricity consumption. While it is critical to reduce our direct emissions, we are also focusing on reducing our indirect emissions. The largest contributor to our indirect emissions profile is our scope 3 emissions. It is also imperative for our stakeholders to understand the impact and importance of climate change mitigation, adaptation, and resilience. We have several ongoing educational and awareness initiatives with stakeholders across our value chain. While the impact of these initiatives cannot be measured in terms of tCO2e saved, they are critical to ensuring that we take everyone along with us on our journey and that our transition is just. We have already seen changes in behaviour by our employees, with increasing interest in reducing their personal carbon footprints.
Priority
Low High
Quick wins
Scope 1
Scope 2
Scope 3
Carbon credits
Enablers

Feasibility on green energy potential at operations

Solar PV at Tshikondeni



We are engaging strategically and taking targeted measures with our key suppliers with the view of partnering and collaborating on value chain emissions reduction

Our approach of aligning our portfolio towards low-carbon transition minerals will be key in dealing with scope 3 emissions

We are supporting industry and government efforts of developing low carbon technologies such as carbon capture and storage, which are critical for the removal of carbon emissions


Community waste management/SLP

Exxaro decarbonisation training and employee participation

Energy and water efficiency programmes (linked to performance incentives)

Solar PV at Solar PV at

Land management projects

Decarbonisation and communication plan

Compliance focus: pollution prevention plans for operations
Renewable energy consumption in all our operations

Rehabilitation opportunities

Leadership-driven process
Roadmap to become carbon neutral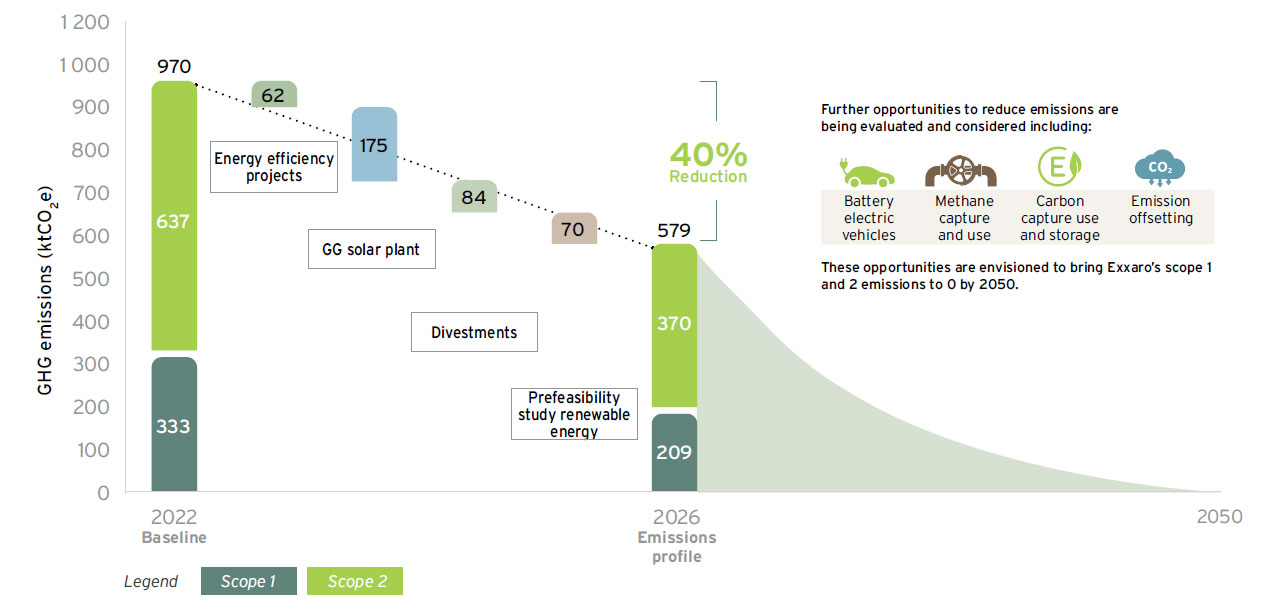 Carbon intensity baseline assessment boundary for operational BUs and not mines in closure
Rebased carbon intensity baseline
Established decarbonisation portfolio management office and interconnected workstreams
Total carbon intensity: 4.9tCO2e/kTTM
Electricity intensity: 13MWh/kt
Diesel intensity: 2 042L/kt
Reduced carbon intensity by more than 8% against the 2018 baseline with focus on managing electricity and diesel consumption
Decarbonisation baseline:

Scope 1: 327ktCO2e
Scope 2: 503ktCO2e
Total: 830ktCO2e

September 2021: ECC divestment

Scope 1: 59.2ktCO2e
Scope 2: 25.5ktCO2e
Total: 84.7ktCO2e

Total carbon intensity: 5.51tCO2e/kTTM (13% increase due to fewer tonnes of material moved)
Electricity intensity: 14.18MWh/kt (10% increase mainly due to production challenges)
Diesel intensity: 2 000L/kt (2.05% increase mainly due to production challenges)
Implemented STI scheme to track water and energy security and efficiency targets (related to diesel and electricity consumption)
Delivered on targets set for first half of year (BUs on or beyond targets)
Scope 2: 637ktCO2e
Scope 1: 333ktCO2e
Energy efficiency projects (13ktCO2e reduction)
Total carbon intensity: 5.54tCO2e/kTTM (0.5% increase due to increased levels of electricity consumption associated with the ramp up of the GG6 plant)
Electricity intensity: 3.37MWh/kt (3.9% increase mainly due to an increase in electricity consumption at the GG6 plant area
Diesel intensity: 4.88MWh/kt (7% decrease mainly due to low production figures in some BUs, eg Belfast, and energy efficiency initiatives targeted at reducing diesel consumption)
Actively reduce scope 1 and 2 emissions by at least 40% through energy efficiency projects, self-generation and consumption of renewable energy at our operations and potential divestment. We will also continue working with our value chain partners to reduce scope 3 emissions and contribute to implementation of renewable energy projects by our value chain partners.
Carbon neutral for scope 1 and 2 emissions. Our objective is to also contribute to carbon neutral value chains.
How we performed
As our decarbonisation journey moved into implementation, we included climate change metrics in scorecards across the business and finalised our

capital allocation model (integrated report), supported by analytics tools that informed strategic decision making. These tools enabled incremental steps towards emissions reductions against significant logistics constraints for our vehicle fleet, at our Grootegeluk operation. We addressed these constraints by implementing optimisation solutions that rectified higher carbon intensity per tonne of product mined due to sub-optimal equipment use. The optimisation solutions include:
Mine digitalisation
Dispatch and fleet allocation optimisation
Truck payload management
Shovel and truck cycle variability management
Road condition and construction opportunities
Out-of-cycle waste reduction
Total carbon intensity was 5.54tCO2e/kTTM (2021: 5.51tCO2e/kTTM) with scope 1* at 1.90tCO2e/kTTMRA (2021: 1.91tCO2e/kTTM) and scope 2* at 3.64tCO2e/kTTMRA (2021: 3.6tCO2e/kTTM). This translates to a 0.5% increase in carbon intensity due to the ramp-up of operations at Grootegeluk plant 6. Based on production tonnages in 2022, electricity intensity increased by 3.9% to 3.37MWh/kt (2021: 3.24MWh/kt) and diesel intensity decreased by 7% to 4.88MWh/kt (2021: 5.25MWh/kt). While our intensity increased, absolute GHG emissions decreased.
GHG emissions (ktCO2e)
Year-on-year
change
(%)
2022
Year-on-year
change
(%)
2021
Year-on-year
change
(%)
2020
(baseline)
Target: Actual for previous year less 5%
Scope 1
-3.5
333
11.6
345
10
385
Scope 21
2
637
-0.8
650
0
650
Total scope 1 and 2
-2.5
971
-4
995
4
1 035
Scope 32
+5.0
74 488RA
+2.5
70 931
2
69 220
| | |
| --- | --- |
| 1 | Scope 2: Electricity-based emissions are derived from the grid emission factor for South Africa, which is 1.08tCO2e per MWh. |
| 2 | Scope 3: Reported emissions based on the use of product sold by Exxaro (representing over 98% of Exxaro's scope 3 emissions). |
Exxaro has several operational efficiency programmes that aim to reduce scope 1 and 2 (direct) emissions by 62ktCO2e. These programmes focus on reducing diesel consumption. The solar PV project at Grootegeluk is designed to reduce emissions by 175ktCO2e upon commissioning.
Scope 1 and 2 GHG emissions (ktCO2e)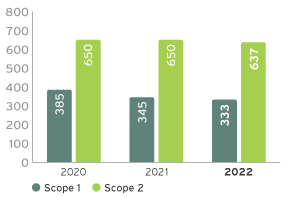 Scope 3 GHG emissions (ktCO2e)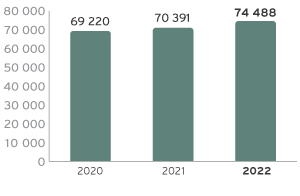 Carbon emissions by source(ktCO2e)
Year-on-year
change
(%)
2022
Year-on-year
change
(%)
2021
Year-on-year
change
(%)
2020
(baseline)
Electricity
-1.9
637
65.6%*
-0.8
649
65.3%*
3
650
63%*
Diesel
-2.2
225
23.2%*
-11.8
230
23.1%*
3
261
25%*
Fugitive emissions
-7
107
11%*
-2
115
11.6%*
14
117
11%*
Other sources*
-20
0.4
0.04%*
-93.8
0.5
0.1%*
11
8
1%*
| | |
| --- | --- |
| | Refer to the databook for more detail on our scope 1, 2 and 3 GHG emissions. |
Pollution prevention plans
Our 2021 to 2025 pollution prevention plans, as required by the National Environmental Management: Air Quality Act, include CO2 emissions reduction projects that aim to reduce diesel consumption and carbon emissions at our operations.
Project
Implementation
2021
2022
2023
2024
2025
Total
Grootegeluk in-pit crushing and conveying project
Ongoing
6 053
6 503
6 250
6 104
6 050
30 960
Road management and improvement
Ongoing
3 563
3 827
3 678
3 592
3 561
18 222
Pantograph utilisation optimisation
2021
684
735
707
690
684
3 500
Out-of-cycle time reduction
2021
1 605
1 724
1 657
1 618
1 604
8 208
Autonomous drilling
2021
193
208
200
195
193
989
Total
12 098
12 997
12 491
12 199
12 093
61 879
Leading the way
Exxaro participated in COP27 climate change deliberations and sponsored the South African COP pavilion. Key developments that Exxaro benefited from include decarbonisation and associated technologies, carbon pricing and the EU Carbon Border Adjustment Mechanism, carbon offsets and trading, policy and investment implications, human rights and sustainable supply chains, loss and damages due to climate impacts, sustainability reporting standards, phasing out of fossil fuels and value chain data management (scope 3 emissions).
Supporting research and development
We invested R8.9 million in research and development in 2022 (2021: R9.5 million). To date, we have invested R63 million in three university chairs (detailed below) whose work contributed substantially to our Climate Change Response strategy.
We are investing extensively in developing knowledge of climate change, renewable energy and sustainability. We prioritise innovation, research and development, and collaboration on sustainability issues with value chain stakeholders.
Wits Global Change Institute
Enhancing climate change adaptation and resilience for industry and government

Adaptation pathways for a changing world
Alignment of global climate change adaptation and mitigation with the SDGs
Minimising the impact of extractive industries
Maximising post-extractive landscapes for sustainable communities

Unisa Business and Climate Change
Publications on the coal mining sector's response to climate change and a decision-making framework for corporate climate change response

Innovation
Advocacy-oriented community engagement
Climate governance
SDG domestication
Climate change mitigation and adaptation
Green buildings

University of Pretoria Energy, Water and Food
Two toolkits on motor resizing and multi-drive conveyor belt design and simulation to save energy as well as technical reports on energy efficiency in South Africa

Energy efficiency improvements to Exxaro's operations
High-quality related services for our business

We have engaged extensively with a range of stakeholders on climate change issues. For more information, refer to the integrated report
Future focus
Our primary focus areas in 2023 will include climate adaptation (at our operations and host communities), using climate-related data to predict the impacts of extreme weather events on our operations, communities and social impact programmes. In addition, we will intensify energy efficiency and mitigation efforts at BUs. We are evaluating various opportunities to reduce emissions, including biofuels, compressed natural gas, electric vehicles, carbon and methane capture and storage, solar farms, green hydrogen and emissions offsets.
Case study: Hlobane implements nature-based solution for climate change mitigation
We are planting trees as part of our mine closure process at Hlobane in KwaZulu-Natal to address climate change. This cost-effective nature-based solution enables carbon sequestration by absorbing carbon dioxide in the atmosphere while mitigating the impacts of climate change on people and the environment. It also addresses biodiversity management and land degradation by sustainably managing, protecting or restoring natural ecosystems. The project provides employment opportunities for local communities and forestry entrepreneurs.
We are investigating an evidence-based approach to quantifying, measuring and managing carbon sequestration results from this afforestation and reforestation initiative.