Our people
| | |
| --- | --- |
| | Our human capital is central to the success of our business. |
Our human capital impact comprises:

Attracting and retaining the right employees with the skills we need now and in the future within a competitive market
Investing in, upskilling and offering existing and potential employees (including our host communities) an attractive employee value proposition to ensure we have the right people
Employees striving to achieve zero harm through collective responsibility, commitment and risk awareness as we are mindful of the health and safety of our employees and host communities

We strive to positively impact our human capital through:

Our commitment to achieving zero harm
Working with employees and contractors to avoid safety incidents
Continuously investing in our employees' growth and development
Respecting the human rights of our workforce and other people who may be affected by our operations (do no harm)
Investing in community development through our SLPs and ESD programmes

Helping our people thrive

Health, safety and wellness
Workforce: culture, capability, diversity, inclusion and innovation
Labour relations

Make our minerals and energy businesses thrive
Empower people to create impact
Become a catalyst for economic growth and environmental stewardship
People strategy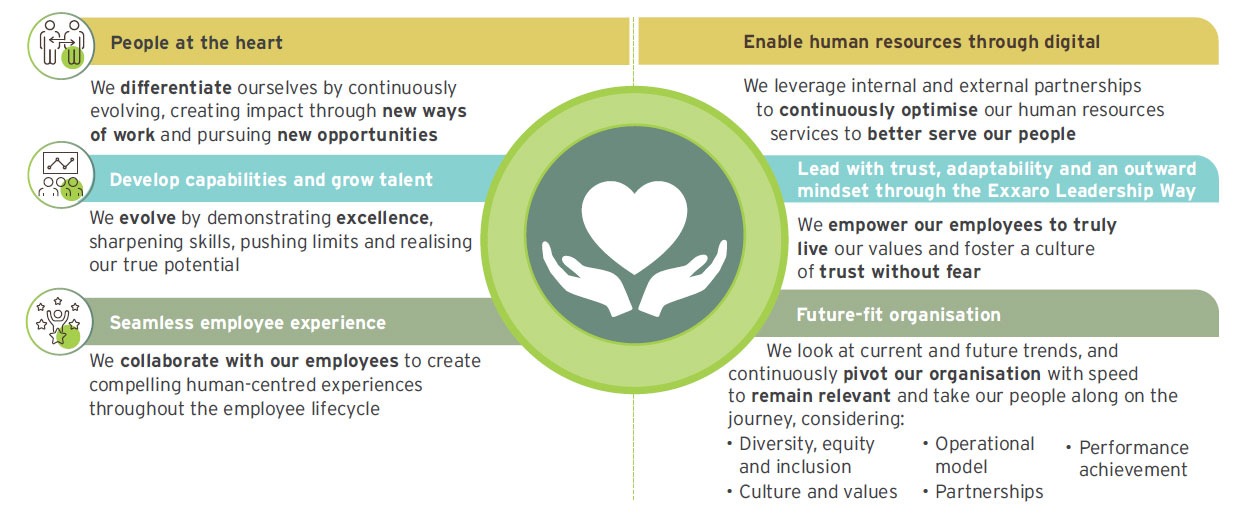 Catalyst for the five Sustainable Growth and Impact strategic objectives
| | |
| --- | --- |
| | People in our 2022 ESG report details our human capital approach and performance. |
How we will achieve this
Our people and partners have the skills, capabilities, mindset and passion to achieve our purpose. Empowered to create impact, we build our resilience as a company on each other's strengths.
The SERC oversees people's health, safety, engagement and development. Our executive head: human resources, supported by various management departments, is responsible for developing and implementing employee-related strategies.
Snapshot of our workforce
19 242 people employed
(2021: 18 813)
35% full-time employees
(2021: 35.84%)
64.9% contractors
(2021: 64.13%)

Cennergi: 21 full-time employees
Operation and maintenance contractors employ:
Amakhala Emoyeni windfarm: 44
Tsitsikamma community windfarm: 38
Cennergi Holdings: eight full-time employees, and in the process of recruiting a further 10 permanent employees.
Our future focus is on building internal capabilities and reskilling the workforce to support transitioning the organisation into new commodities. Addressing pay equity is also a continued focus. Diversity, equity and inclusion will continue to be a top focus area over the next two years, while leadership accountability and communication will be the key enablers to unlock the diversity, equity and inclusion strategy.
The five safety pillars
| | |
| --- | --- |
| Safety | |
| Our unwavering focus on zero harm has enabled us to achieve our record LTIFR performance of 0.05. We focus on identifying and managing inherent processes, external risks with a hierarchy of controls, and stakeholder involvement on our journey. We believe that we can achieve zero harm through continuous improvement and proactive measures. | Safety is crucial to achieving our strategic objectives for our business to thrive. In our aim to manage safety-related risks and prevent repeat incidents, we are guided by our safety strategy supported by the five pillars. |
Incredible leadership
To demonstrate sustainable commitment to our employees' safety, our CEO leads an annual leadership safety day and the sustainability summit. The 2022 sustainability summit was hosted by Belfast Coal on 7 April 2022. The leadership safety day affords the executive committee:
An opportunity to engage with employees on health and safety issues
A platform to demonstrate our commitment to our zero harm vision
Events to congratulate employees and contractors for safety excellence
Communication

We continuously communicate our safety performance which covers incidents and learnings from incidents as well as actions to be taken to address emerging risks. Messages are broadcast on virtual platforms across the group:

Our Khetha Ukuphepha (isiZulu for "choose safety") campaign encourages personal responsibility for safety
BUs host annual safety indabas to drive the critical importance of safety

Consequence management

We set simple non-negotiable safety rules to promote life-saving behaviours
Incidents are analysed in terms of zero tolerance rules
Consequence management on safety-related contraventions is applied fairly across BUs in line with our cultural values

Training

We provide comprehensive training to address safety risks. In 2022, these included:

The course for managers in risk management programme
Safety management training for line supervisors
Visible felt leadership champions training
Safety representatives training
On-the-job training for our employees
Risk management
The course for managers in risk management programme trains leaders and employees on a structured approach with guidelines and strategies to establish and maintain a multidimensional risk management framework. We aim to embed the course's principles in our daily risk management processes and improve our understanding of safety risk assessment processes.
Since implementation in 2009, we review our safety strategy annually to ensure focus areas are appropriate. We also review our safety targets every year, based on prior performance, and apply stringent management protocols, programmes and systems. We launched the Khetha Ukuphepha campaign in 2019 with the main objective to reinforce our zero harm vision and reiterate our philosophy that every life counts.
| | |
| --- | --- |
| | Safety in our 2022 ESG report details our approach and performance. |
Snapshot of our performance
Zero fatalities

Five-year fatality-free milestone achieved in March 2022

Grootegeluk: 10 years fatality-free milestone in October 2022
Leeuwpan: 32 years fatality-free milestone in March 2022

One fatality at Belfast in August 2022

Zero HPIs
Five HPIs (2021: one)
LTIFR of 0.06
Below target: 0.05 (2021: 0.08)
Zero LTIs
Seven LTIs (2021: 12)
Zero DMRE notices

Seven section 54s (mining activity stopped) (2021: two)
No section 55s (mining in affected area stopped) (2021: two)

Zero safety-related grievances
No safety-related grievances (2021: zero)

Cennergi
No fatalities at both windfarms for six consecutive years
No reportable LTIs (2021: zero)
No reportable health and safety incidents (2021: two)
More than 50% of serious incidents recorded in 2022 were repeats, which prompted a call to action from the CEO. The leading causes of incidents included:
Poor risk awareness and assessment
Inadequate hazard awareness and identification
Non-adherence to procedures
Unsatisfactory supervision, change management and task planning
In collaboration with our stakeholders, we are addressing the increase in the number of HPIs by revising our incident management process to enhance the quality of our incident investigations and enable meaningful learning from incidents and appropriate mitigation across the group. We will continue to aim for zero fatalities and the reduction of all other work-related incidents by:
Eliminating repeat incidents
Implementing stringent risk management processes across the group
| | |
| --- | --- |
| Health and wellness | |
| We improve quality of life, morale, productivity and safety of our employees and communities through a health and wellness strategy that extends beyond compliance with regulations to the sustainability of our industry. | Our integrated health and wellness strategy incorporates legislated basic conditions of employment. It is a preventive, employee-driven, holistic approach that identifies occupational and non-occupational health risks and their causes. It presents solutions to mitigate these risks and their impacts on the business within an empowering environment. |
Integrated health and wellness strategy

Prevent
Preventive programmes (mandatory awareness campaigns and healthy lifestyle coaching) cover eight dimensions of employee health and wellness.

Diagnose
We improve medical surveillance by extending clinical tests (heart disease and risk-based cancer screening) and DNA analysis from middle management upward.

Manage
We improve healthcare management by ensuring all employees with occupational and non-occupational health risks are included in a disease management programme.
| | |
| --- | --- |
| | Our integrated health and wellness strategy is supported by our cultural pillars (ESG report) |
Snapshot of our performance
We focused on implementing our health and wellness strategy while encouraging employees to receive booster COVID-19 and flu vaccinations. We achieved a 90% COVID-19 vaccination rate against the industry target of 80%. We also progressed in addressing mental health issues brought to our attention during the pandemic.
Non-occupational diseases
54.9% reduction in reportable occupational health incidents (2019 to 2022)
Occupational tuberculosis (TB) cases increased (including infected employees who worked 200 shifts a year)
Dust fallout (ESG report)
7 791 COVID-19 cases (2021: 6 816)
23 occupational diseases (reduced by COVID-19 mitigation measures) (2021: 25)
24 new diabetes cases (2021: 39)
92 hypertensive employees and contractors (2021: 290)
Although we did not record health and wellness-related grievances (2021: zero), tuberculosis (TB) case reporting presented challenges. Our TB rate increased as infected employees who worked 200 shifts a year are considered occupational TB cases, particularly in Lephalale where government is addressing the high TB incidence rate and dust fallout exceeds the threshold. Through the Impact Catalyst we identified health facilities in communities where Exxaro operates that need support to make health services accessible and Right-to-Care was engaged to implement the programme.
Occupational diseases

In line with the outcomes of our 2022 sustainability summit, which highlighted mental health concerns, we are developing a mental health policy to be introduced in 2023. The policy will address the leading causes of mental health issues. It will also empower supervisors to facilitate resources at BUs instead of calling on external service providers.
Our hearing conservation committee, chaired by mine general managers, is also investigating customised hearing protection and engineered interventions to address identified causes of noise-induced hearing loss. This will facilitate compensation by Rand Mutual Assurance.
Prevention initiatives
Managed by our human resources and sustainability departments, our external counselling service has addressed psychosocial, legal, financial, emotional, family, work-related and substance abuse issues since January 2021.
Awareness:
We advertise the EWP on LetsConnect, LCD screens at our operations, screensavers and the intranet
Mental health masterclasses on Microsoft Teams every second Friday educate employees and present practical self-diagnosis and coping techniques
Daily inspirational messages via SMS provide EWP contact details
#You'reNotAlone:
Voice notes and videos share employees' struggles with mental health and the relief offered by counsellors or therapists
Certificate of fitness:
The EWP is part of induction and physical fitness tests
Utilisation:
12.68%
(2021: 15.82%)
Life Employee Health Solutions benchmark:
10.74%
(2021: 9.47%)
Demographics:
Majority men
(14 to 50 years old) as in 2021
Mining industry:
9.32%
(2021: 7.67%)
Services accessed:
Face-to-face counselling preferred
Counselling mainly in English
Mental health*
Our approach to mental health is informed by World Health Organization principles and the impacts of COVID-19 at each BU (disruptions to regular working routines, fear of loved ones contracting the virus and uncertainty about the future). Mental health was the top category presented to the EWP.


1 in 3
employees has mental health related challenges

37%
are 25 to 34 years old

Stress
is the leading cause of mental health issues

Employee engagement

We maintain our employee value proposition, as an employer of choice, through meaningful engagement with the people we attract and retain for the sustainability of our business.

Our established engagement structures encourage communication, and keep employees adequately informed about key organisational changes, health, wellness, safety, and operational and financial performance. We also use insights from employee engagement initiatives to enhance our processes and workplaces.

Our values and culture are a foundation for behaviours, mindset and philosophy that gives our employees a sense of belonging in the workplace. We continue to embed our values and culture through various initiatives to ensure continued alignment with our organisational purpose and strategic objectives.
Diversity, equity and inclusion are central in our approach to meaningful engagement with our employees.
Diversity, equity and inclusion strategy
The strategy, aligned with our Sustainable Growth and Impact strategy, is informed by our purpose, values, vision, culture and strategic objectives. It is a journey that began before 2019, and our approach continues to evolve to increase the speed and scale of our impact.

Employee engagement in our 2022 ESG report details our approach and performance.
Snapshot of our performance
The board approved a revised approach to our diversity,

equity and inclusion strategy (ESG report) in 2022. In delivering on this revised approach, we reviewed our policies and practices, as outlined in our 2022 ESG report. Our approach to maintaining a representative workforce, with respect for the needs of our host communities, is defined in this strategy.
Strategic priorities

Revised diversity, equity and inclusion approach

Benchmarking performance measured against foundation (drive the strategy), internal (attract and retain people), external (listen and serve society) and bridging (align and connect)

Reviewed policies and practices

Workplace harassment policy aligned with codes of good practice
Implemented new STI scheme
Introduced parental leave policy
Approved disability policy
Employee relations strategy review based on fairness and addressing COVID-19 impacts
Wellness sessions managed mental health, COVID-19, GBV and stigmatisation (supported by employee assistance programme)
Continued skills workshops and training for employee relations managers and line managers
Broadening employee relations capacity building processes to understand recognition agreements

Aligned stakeholder communication campaigns with strategic objectives on electronic and hybrid platforms (mobile phones and LetsConnect intranet)

Trade union representation

5 276 employees (78.2%) (2021: 5 180) represented by affiliated trade unions recognised by Exxaro (National Union of Mineworkers, Solidarity, Association of Mineworkers and Construction Union, Food and Allied Workers Union and National Union of Metalworkers South Africa)
Three-year wage agreement signed in 2021 remained effective

Share ownership

Each GreenShare beneficiary received a R12 400.64 cash payment

Workplace harassment

Several harassment and sexual harassment cases reported, which were dealt with firmly by management
All sexual harassment cases reported and investigated resulted in perpetrators being found guilty and dismissed. This included senior managers who failed to act when victims reported allegations of sexual harassment
Launched a GBV campaign this year to encourage employees to report all forms of harassment to the available reporting structures

Employment equity

Achieved employment equity targets over the past five years (aligned with Mining Charter III)
Addressing women in senior management targets with new employment equity plans for the next five years (aligned with diversity, equity and inclusion strategy)
Certified level 3 BEE contributor

Employee turnover

Average rate of 4.4% due to abscondment, death, medical incapacity, dismissal, resignation and retirement (2021: 3.7%)
82.37% of employees in bargaining units (2021: 81.93%)
17.62% in management and specialist category (2021: 18.03%)

Eliminating discrimination and resolving grievances

No alleged discrimination cases or grievances were filed (2021: zero)

Housing

1 384 permanent employees received mortgage repayment subsidy for first-time home buyers since 2017
97 employees live in converted hostels (single-quarter accommodation or family units)
Housing allowance paid to 2 272 employees with a registered bond (2021: 1 436)
Living-out allowance to 3 594 employees renting accommodation (2021: 3 329)

Cennergi
Consistently met job creation targets
No contract termination points or penalties from DMRE
The Cennergi Holdings structure was approved during 2022, including its diversity and inclusion plan
We plan to complete another baseline culture and engagement survey to track the efficacy and progress of culture integration. This will also highlight areas needing improvement while we continuously improve our employment experience as we live our values with leadership support.
Managing our talent

To deliver on strategic objectives and ensure business continuity, we need to attract, develop and retain skilled people whose fulfilling careers enable them to contribute to socio-economic development.

We encourage continuous professional development so that we have the right skills, at the right time, in the right place.

Talent management is a critical sustainability indicator. We annually identify and measure KPIs as part of the strategic dashboard for talent management and human resources. The talent management and review processes, combined with succession planning, aim to identify and prepare suitable internal candidates for positions while building a leadership pipeline to address skills shortages.
Talent management evolves with our strategy to support capability development, new ways of working, and succession planning for management and specialist roles, supported by our diversity, equity and inclusion and Social Impact strategies.

Strategic workforce planning

Market data informs talent sourcing and development to align our evolving capability framework with our strategic direction (minerals and energy businesses)
Stakeholder engagement determines workforce requirements, and learning and development interventions to build competencies that deliver on our business strategy
Our digitalised environment enables efficient talent management

Talent planning

Development with focus on our employment equity candidates
Proactively addresses talent and critical skills shortage and changes when employees are promoted, rotated, resign or retire
30.8% D band (2021: 26.3%) and 35.4% E band (2021: 30.8%) clusters prepare black employees to occupy higher level positions immediately or for medium-term occupation

Leadership and capability development

Leadership programmes were updated in 2022 to include latest capability developments in support of our strategic direction
Various leadership programmes (leading, leadership in the connection economy, essential leadership, leadership workshops and launchpad) are aligned with the Exxaro Leadership Way Capability development and preparation for the changing world of work include topics on diversity, equity and inclusion, change management, the fifth industrial revolution and sustainability
We continue expanding initiatives to facilitate continuous learning for compliance and personal development to maintain our competitive advantage
Our new capability and capacity building framework continues to be developed to reflect changes to business strategy requirements and priorities towards developing employees holistically with greater emphasis on on-the-job training and coaching
83 employees attended various leadership programmes (2021: 121) and 181 enrolled in management programmes (2021: 201)
21 employees enrolled in the University of Cape Town Graduate School of Business Women in Leadership programme

Create a learning culture

Creating a culture of self-learning is important to empower our employees to prepare for future roles
E-learning and classroom-based training offer:

Leadership and management development
Soft skills training
Occupational programmes and technical training by academic institutions, service providers and our Grootegeluk and Matla training centres (accredited by the Quality Council for Trades and Occupations)

Ongoing employee development guided by internal processes such as performance achievement, career and succession planning, culture and leadership initiatives, and SLP commitments

Individual development plans ensure a healthy pipeline of core and critical skills

592 employees registered for open-source online courses (LinkedIn, Udemy, Coursera, Open Sesame and OTT University)
There were 96 665 training interventions on the MyNexxt e-learning platform (2021: 80 303) as part of our Digital@Exxaro strategy. Courses included:

Anti-bribery and anti-corruption: 3 560
Implicit and unconscious bias: 822
Adapt to 4IR: 769
Exxaro Leadership Way: 235
Cybersecurity: 2 318
Microsoft Office: 503
Confidentiality courses: 707

Skills development and training

Annual submission of workplace skills plans and training reports to the Mining Qualifications Authority, Mining Charter compliance to the DMRE and B-BBEE scores to the dtic includes employee information, spend, training and development programmes

Compliance training

Ensuring safety, health and environmental compliance, 83 104 induction compliance interventions were completed through MyNexxt

Talent pipeline and feeder schemes

Comply with employment equity targets and address shortages in critical skills

Address engineering (mechanical, electrical and mining) and geology skills shortages with bursaries (second and third-year full-time students in host communities) and our PIT programme

Learnerships and feeder schemes training and developing youth with formal qualifications (artisans, miners, trackless mobile machinery and plant operation, and administration)
Employment opportunities for local youth through formal programmes that ensure a feeder line of trained and skilled candidates

Internships establish a feeder scheme for C band positions (graduates receive work experience within a structured training programme that improves employability)

Adult education and training help employees reach national qualification framework level 1 (grade 9) with functional literacy for health and safety communication, further development, and access to higher level jobs
Our three-year PIT programme blends academic theory with hands-on workplace experience to prepare employees for current and future business needs (each graduate has a technical coach who supervises exposure to various operations as well as technical, leadership and management training for three years before we guide trainees who meet accreditation requirements to become professional engineers)

Talent acquisition

Our talent acquisition team encourages sharing of job advertisements on platforms such as LinkedIn to reach a wide audience of suitable candidates
Most candidates are sourced internally, which indicates that our internal pipeline is healthy
The majority of positions are filled by black female employees to improve our employment equity profile in senior roles
Our talent management strategy includes strategic workforce planning, talent planning, leadership and capability development, compliance training and reporting, and talent pipeline development activities.
Snapshot of our performance
No talent management-related grievances were lodged in 2022 (2021: zero).

Developing our talent

We spent R331 million or 6.0% of our payroll (2021: R276 million or 5.8%) on training and development, including:

Job-related skills development (functional and technical training): R198 million (2021: R157 million)
Bursaries, training professionals, internships, learnerships and skills programmes: R101 million (2021: R104 million)
Developing targeted employees in management programmes, leadership roles, postgraduate studies and support functions: R7.4 million (2021: R5 million)
Community development such as portable skills training: R10.5 million
Support for Youth Employment Service partners training and developing youth from our host communities: R12.6 million

Supporting historically disadvantaged people

Women

Female employees represent 29% of our workforce (2021: 26%)
50% female PIT graduates (2021: 41%)
63% black women full-time bursars in engineering and mining disciplines*
56% women in learnership and internship feeder schemes (2021: 51%)
31 black women sponsored at technical and vocational education and training colleges to improve access to formal learnerships such as artisan training (2021: 23)

Training professionals

PIT programme graduates in our talent pipeline: 89 (89% black South Africans) (2021: 85) at a cost of R42.6 million (2021: R45.4 million)
Full-time bursars in engineering and mining disciplines*: 52 (2021: 28)
Invested in bursaries to address engineering skills shortages: R3.8 million (2021: R2.4 million)
Matriculants supported in Edumap maths and science bridging programme: 10 (2021: 10)

People with disabilities

Black South Africans with disabilities supported at local tertiary institutions: 20 (55% black women) (2021: 10)
Bursars and interns supported: 40 (2021: 19)

Adult education and training

Invested R1.57 million (2021: R1.02 million)
Four employees (2021: three)

52 community members (2021: 89)

Developing talent bench strength

Employees in 24-month mentoring programme: 40 (77% black people and 32% black women) (2021: 32)
Employees who attended mentee training: 35 (12 trained as mentors)
Candidates in fast-tracking programme: 52 (95% black people and 69% black women) (2021: 64)

Talent acquisition

Paterson D band (middle management) candidates appointed:

External: 16 (100% black people and 69% black women) (2021: 25)
Internal: 40 (80% black people and 38% black women) (2021: 48)

Paterson E band (senior management) candidates appointed:

External black: One (100% black women) (2021: two)
Internal black: Three (2021: three)

Appropriate learning interventions

Enrolled employees in formal studies to improve capabilities (traditional programmes and others supporting renewable energy, digitalisation and the new world of work)

Postgraduate1: Nine (six black people and four black women)
Undergraduate1: 17 (16 black people and five black women)
New skills short courses2: 44 (33 black people and 20 black women)

Cennergi has commenced with recruitment of key skills and will aim to further the objectives of diversity and inclusion in the renewable energy sector.
Cennergi Holdings is recruiting for skills and will look both internally and externally.
We will address our out-of-appetite B-BBEE score for spend on bursaries awarded to black people with initiatives that will reach more students who have not already received funding from the National Student Financial Aid Scheme.
In addition, we will focus on finding solutions to recruit qualified black women, particularly in our Lephalale labour-sending area where there is a shortage of suitable candidates with engineering qualifications.
Our planned interventions will develop relevant core and functional capabilities for current and future businesses.
Human rights

Human rights are basic freedoms based on dignity, fairness, equality and respect.

Exxaro strives to be a responsible steward of natural assets and social capital to uplift host communities. Acknowledging that our operations could negatively impact human rights, we have developed a policy and are committed to implementing processes that align with South African legislation and corporate governance guidelines.

Our renewed policy provides guidelines to ensure that we adhere to human rights principles. It is aligned with our purpose because we believe that all people have inherent fundamental human rights regardless of their differences. As such, we are committed to investing in and developing areas within our sphere of influence for the benefit of our stakeholders.
| | |
| --- | --- |
| | Human rights in our 2022 ESG report details our approach and performance. |
Snapshot of our performance
We redeveloped our human rights policy, which outlines our expectations of employees, suppliers, business partners and other parties directly linked to our operations, products and services.
No human rights-related grievances were lodged against Exxaro in 2022 (2021: zero).
Governance and ethics

Of the 64 (2021: 54) corruption cases reported against employees, 55 resulted in further action such as disciplinary inquiries, cases registered with South African Police Service and arrests
Completed disciplinary investigations returned a guilty verdict and resulted in 41 (2021: nine) dismissal cases. None of the cases involving dismissal went to the Commission for Conciliation, Mediation and Arbitration (2021: one)

Fraud and ethics hotline (ESG report)

Equal opportunities/non-discrimination and transformation

Aligned with South African Constitution and other legislation, National Gender Policy Framework and UN Convention on the Elimination of all Forms of Discrimination against Women

Diversity, equity and inclusion strategy (ESG report)

Human rights in the workplace

Never use, cause, demand or impose forced or compulsory labour on any person
No child labour (no employees under legal minimum age of 18)
Support legitimate workplace apprenticeships, internships and similar programmes complying with applicable laws and regulations
Safeguard employees' physical and mental health with reasonable working hours, leave and holidays
Fair discipline in accordance with transparent disciplinary and grievance mechanisms

Employee engagement (ESG report)

Freedom of association and the right to collective bargaining

Respect employees' rights to join or form labour unions without fear of reprisal, intimidation or harassment
Committed to establishing constructive dialogue with freely chosen representatives of legally recognised unions
Support collective bargaining principle
Engage in good faith with union representatives

Employee engagement (ESG report)

Health and safety in the work environment

Stringent management protocols, programmes and systems maintain zero harm

Safety (ESG report) and health and wellness (ESG report)

Respect for all communities

Respect cultural values of host communities (specifically self-sufficiency, sustainability, health, safety and natural environment)
Uphold communities' fundamental rights to access quality water, affordable electricity, and protection from noise, air pollution and hazardous materials
Guided by the International Finance Corporation's Performance Standard 5 and comply with DMRE's mine community resettlement guidelines (effective 30 March 2022)

Communities (ESG report)

Security

Guided by Regulation of Gatherings Act, 1993 (Act 205 of 1993), stakeholder management and human rights policies, and security strategy, aligned with Voluntary Principles on Security and Human Rights during protest action affecting operations
Ensure continuous training of employees in human rights principles

Environmental management and conservation

Social impact framework addresses mine closure through mineral succession planning programme
Closure planning and mine rehabilitation protect environment, society and community upliftment
Committed to responsible mining, climate change mitigation and adaptation beyond compliance

Climate Change Response strategy (2020 investor tab)

Human resources policies manage and address human rights considerations
Guided by code of conduct and grievance procedure aligned with South African human rights legislation
Committed to the International Finance Corporation's Performance Standard 2 on labour and working conditions

Treat workers fairly
Safe and healthy working conditions
No child or forced labour
Identify related risks in primary supply chain
We will continue to embed human rights practices within our business and business conduct and further align these to our renewed policy. We acknowledge that our mining activities could cause conflict with communities and other interested and affected groups and are in the process of appointing a partner to conduct due diligence on our processes and address gaps. We also aim to train our employees in human rights.