Our business risks and opportunities
The mining industry has faced numerous challenges in the last three years. In an uncertain and volatile environment, we rely on our mature risk management strategies to make agile and effective decisions to mitigate risk exposure and leverage opportunities.
Our risk management approach and governance
In a volatile political and economic environment characterised by change and uncertainty, risk management is a critical success factor for us to achieve strategic and business objectives to remain sustainable and protect shareholder value. Embedding risk management into our daily activities and processes is key to making informed decisions and proactively planning for possible future unwanted events stemming from internal and external sources.
Our enterprise risk management (ERM) process is a strategic initiative fully supported by the board and executive management. The ERM framework provides a proactive, systematic and integrated approach to risk management. The principles outlined in the framework form the foundation for our risk management philosophy, mission and vision. The ERM framework and process illustrated below are based on principles published by the Committee of Sponsoring Organisations of the Treadway Commission, the ISO 31000 international guideline on risk management and King IV. It also considered applicable codes of best practice such as ISO 9001, 14001 and 18001. The ERM framework is regularly reviewed to ensure it remains relevant and effective.
Risk management process
Environment (internal and external)

We follow a cascade approach by identifying risk events at the organisation's strategic, tactical and operational layers. Significant risks from the strategic layer are filtered down to the tactical and operational layers and are supplemented by the identification of risks that have an impact across the organisation. Significant risks originating at an operational layer will also be elevated to a strategic or tactical layer if the residual risk and residual risk gap exceed certain thresholds. In this way, the process incorporates a top-down/bottom-up view of risks within the organisation.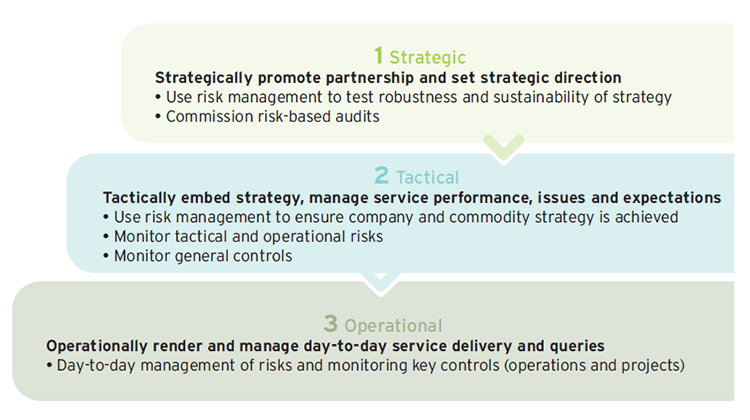 Risk appetite and thresholds
Exxaro's risk management philosophy identifies risk management as a strategic enabler rather than being compliance-driven. This ensures that we think and act proactively at every layer to pursue the company's strategic objectives.
The board and executive committee monitor KPIs quarterly to ensure all risks and key metrics are within Exxaro's risk appetite. The risk appetite framework is updated annually or when deemed necessary as part of the strategic planning process.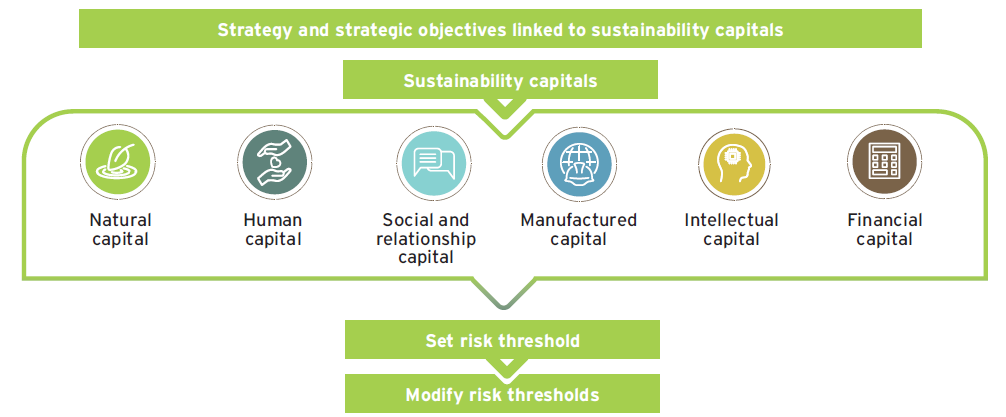 Opportunities
We use the ERM framework to identify and realise opportunities – for example, early value coal extraction to maximise value in the short to medium term in view of the climate change risk. We believe that, for Exxaro to remain sustainable in the short term, it is important to adapt the minerals business to change and identify and pursue possible opportunities that ultimately create value, such as reducing stranded high-value Coal Reserve risk.
The opportunities we identified in 2022 informed our Sustainable Growth and Impact strategy.
The drive for future-facing minerals presents opportunities to invest in exploration projects at various stages through our balanced portfolio approach towards capital allocation and managing risk and returns
Transition at speed and scale
Private-public participation in local rail operations is an opportunity for value unlock and vertical integration. We are currently investigating this opportunity
Make our minerals and energy businesses thrive
The multidimensional poverty index highlights the drivers of poverty and inequality in our communities, allowing us to focus our social impact efforts towards sustainable impact. We will focus on education, land use and local economic development
Become a catalyst for economic growth and environmental stewardship
The early value coal strategy and our ability to maximise resource to market opportunities by leveraging the low cost and flexibility of our coal assets and reserves
Make our minerals and energy businesses thrive
Accelerated expansion into renewable energy will support our low-carbon transition
Be carbon neutral by 2050
Make our minerals and energy businesses thrive
Impact investments provide an opportunity for Exxaro to leverage this financing market to support our just transition ambitions and align with our Sustainable Growth and Impact strategy
Empower people to create impact
The hydrogen economy was identified as a strengthening signal through our foresight process and market analysis conducted in 2021. Following this analysis, we concluded that hydrogen provides tailwind opportunities for our energy business and is not of significant interest to necessitate a horizon 2 shift at this stage
Make our minerals and energy businesses thrive
Nature-based solutions to mitigate the impacts of climate change were identified as an opportunity, especially in lieu of the vast amount of viable land that Exxaro has at our disposal. We intend to maximise this opportunity through our Sustainable Growth and Impact strategy
Be carbon neutral by 2050

Investing in self-generation facilities is an opportunity we are leveraging, which aligns with our renewable energy growth strategy.

Exxaro will develop a 68MW photovoltaic farm, near Grootegeluk, through its SPV, Lephalale Solar Proprietary Limited. This is our first self-generation project to expand and diversify within the renewable energy space, supporting low-carbon emissions, and long-term savings on electricity usage at Grootegeluk
Make our minerals and energy businesses thriveBe carbon neutral by 2050
The global energy transition provides an opportunity to mine and supply the minerals that support green technologies. Through a rigorous screening process, Exxaro identified copper, manganese and bauxite as being most aligned to our experience, capabilities and market forecast
Make our minerals and energy businesses thrive
2022 risk trend
The trend report indicates changes in the residual risk score when comparing the 2022 and 2023 financial years. Our risk scores are derived from the product of the likelihood and the impact of the unwanted event*. The top 10 risks are arranged from highest to lowest risk score.
The 2023 ranking represents the key possible unwanted events we anticipate having a potential impact on our ability to achieve our strategic imperatives in 2023. These risks are reviewed on a quarterly basis and could change significantly depending on the internal and external root causes that drive these risks to materialise. These risks are prioritised and treatment strategies have been designed and implemented. The effectiveness of these treatments will be monitored on an ongoing basis to ensure the risks are managed down to acceptable risk levels.
Unavailability of rail capacity
1
Unavailability of rail capacity
TFR productivity remains a new challenge. Closing the gap initiatives implemented to reduce impact of TFR performance on exports (other optionalities and Free Carrier sales). High level engagements with TFR continue with view to find solutions to current challenges and improve train availability.
Eskom systemic risk
2
Key dependency on Eskom as a key customer
The utility continues to have operational challenges. Some of the challenges experienced by Eskom require additional funding which will place the utility under financial strain.
Community unrest
3
Cybersecurity attacks impacting business
The risk of cyberattacks remains high. Following an incident in October 2022 and the outstanding items on the cybersecurity score, a comprehensive list of actions was compiled to lower the residual risk. There are two categories of actions: (a) actions from the forensic report received from the Microsoft Detection and Response Team and (b) a list of actions identified internally with service providers.
Cybersecurity threats
4
Fatal risk incidents
Exxaro's focus will be on our five strategic pillars:

Incredible leadership
Safety communication
Risk management
Safety training
Consequence management

Health and safety concerns
5
Not achieving growth objectives
The primary growth lever for the organisation is inorganic growth through acquisition. Possible contributing factors could also include:

Core merger and acquisition capabilities
Ability to structure and execute a deal
Risk appetite associated with making deals
Access to possible deals (beyond publicly listed)
Competition for assets
Speed at which we are able to process deals

Cost competitiveness of products
6
Inflationary pressures
Higher than inflation increases in the cost of consumables (eg oil prices, logistical costs, etc) and lower production volumes result into an increase in unit cost.
Climate change concerns
7
Country risk (geopolitical)
The current political environment, slow economic recovery, deteriorating state infrastructure and other macro-economic factors have an adverse effect on the country risk assessment.
Loss of social licence to operate
8
Loss of licence to operate
Ongoing monitoring of compliance with specific focus on licence to operate.
Unable to secure sufficient insurance cover
9
Legal and regulatory non-compliance
Changes to regulatory framework in mining and energy are constantly monitored. Awareness and training on compliance matters are planned for 2023. Ongoing monitoring of legal and regulatory compliance.
Country risk (geopolitical)
10
Water scarcity (medium to long term)

Additional augmentation of the Mokolo Crocodile Water Augmentation Project (MCWAP) scheme through sourcing additional water from Crocodile River system (MCWAP2) will strengthen the yield of the overall system and alleviate the medium to long-term risk at our Grootegeluk operation.

Our Mpumalanga operations are less vulnerable to water scarcity as they have an overall positive water balance.

Exxaro will set an internal price of water in 2023 to further drive water conservation awareness at our operations.
| | |
| --- | --- |
| | Ranking in the top 10 is higher compared to previous year |
| | Ranking in the top 10 remained unchanged compared to previous year |
| | Ranking in the top 10 reduced compared to previous year |
Top 10 heat map
Exxaro's top 10 risks are plotted inherently (before controls) and residually (after controls) on the heat maps below, followed by an outline of our key identified risks, the main drivers, their potential impacts and mitigating treatments. We have considered internal and external risks. Our mitigation strategies depend on the severity of impact and likelihood of occurrence.
Inherent risk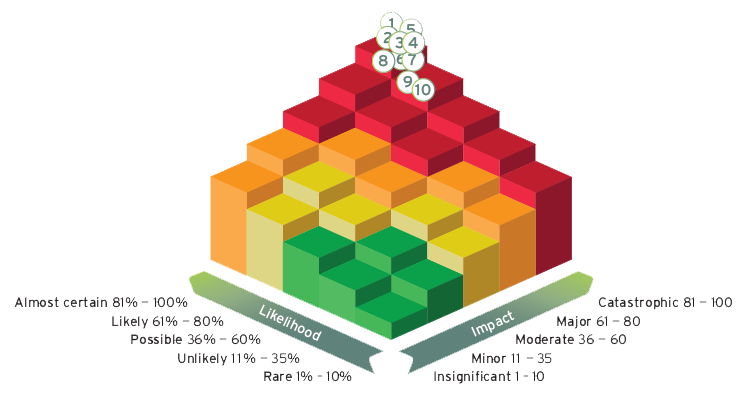 Residual risk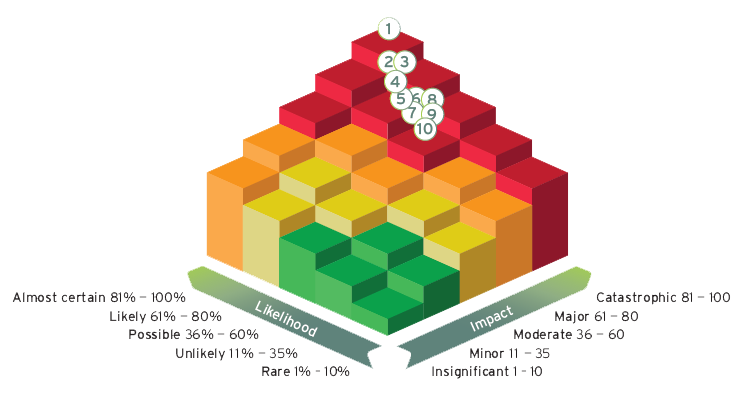 Managing our risks
Various risk treatment strategies are evaluated, including risk avoidance, reduction, sharing, acceptance or transferring. When selecting risk treatment options, we consider the values and perceptions of stakeholders and the most appropriate ways to communicate them.
The decision to implement a treatment is based on risk tolerances, the effect the treatment will have on the impact and likelihood ratings, and the results of the cost versus benefit evaluation. Once a risk treatment is implemented, Exxaro develops ongoing mechanisms to monitor the implementation and effectiveness of the risk treatment.
1
Management of risk (risk owner)
2
Management support and oversight
3
Independent assurance
Residual risk increased compared to previous year
Residual risk decreased compared to previous year
Residual risk remained unchanged compared to previous year
New
Drivers
Impacts

Material theme

Capitals impacted

Line of defence

1

Risk ranking trend

Cable theft and derailments
Transnet's locomotive availability
Inadequate fleet maintenance due to lack of spares at TFR
Financial viability of Transnet
TFR skills shortage to maintain operations

Operational stoppages
Financial loss
Unable to meet contractual agreements and 2022/23 budget
Unable to grow and execute the value extraction strategy
Shareholder dissatisfaction on lower returns
Impairment of RBCT investments

Treatments
Outlook

Marketing and logistics team exploring options to evacuate export-bound coal
Continuous engagement with TFR to understand issues and provide assistance
Engage Transnet Port Terminals for a possible contracting to export via Richards Bay Transnet Port Terminals
Implement a logistics solution (alternative options)

Operational and maintenance challenges are expected to continue to have a significant impact on Exxaro. Sustainable solutions to current challenges will be explored through proactive engagement with Transnet and the industry.
Strategic KPIs
Strategic objective impacted

Core operating margin
Annualised ROCE
Annual core HEPS and net debt to annualised EBITDA

Make our minerals and energy businesses thrive
Drivers
Impacts

Material theme

Capital impacted

Lines of defence

1 and 2

Risk ranking trend

Inadequate environmental financial provision at tied operations
Environmental rehabilitation fund shortfall at Matla
Realisation of approved funding for capital requirements (Matla capital project programme)
Further delays in Eskom's Medupi power station operating at full capacity
Eskom not honouring commercial rights and obligations as per coal supply agreements (Eskom liquidity)
Eskom liquidity risk
Commercial risk attached to long-term contracts

Cost of coal production becomes uncompetitive at Matla (lack of capital)
Loss of revenue
Reputational damage
Operational constraints
National grid failure
Eskom declares force majeure

Treatments
Outlook

Enforce coal supply agreements and award arbitration in terms of environmental funding
Stakeholder engagement
Ongoing discussions on coal supply agreements

Eskom's financial challenges will remain a concern in the short to medium term as government continues to reform South Africa's electricity sector and Eskom implements its turnaround strategy and restructuring.
Strategic KPIs
Strategic objective impacted

Adjusted operating margin
Annualised ROCE
Annual adjusted HEPS and net debt to core EBITDA

Make our minerals and energy businesses thrive
Drivers
Impacts

Material theme

Capitals impacted

Lines of defence

1, 2 and 3

Risk ranking trend

Large number of devices connected (especially in operations) to the corporate network that requires to be managed (security updates)
Vulnerability due to lack of awareness. People exposing Exxaro to cyberattacks
Most employees working remotely

Production loss and ransom resulting in financial loss
Loss of information
Business interruption
Legal and regulatory impacts (Protection of Personal Information, 2013 (Act 4 of 2013) (POPIA) implications)

Treatments
Outlook

Ensure we have monitored security governance in place
Data loss prevention strategy
Stricter security practices
Ensure regular and ongoing security awareness
Monitor compliance with POPIA
Business continuity management plan and disaster recovery testing

The prevalence of cybersecurity attacks, specifically ransomware the most prevalent, is expected to increase. We will continue to improve the robustness of the cybersecurity posture.

Exxaro continues to benchmark its cybersecurity profile to enhance our efforts on vulnerability identification and management.
Strategic KPIs
Strategic objective impacted

Make our minerals and energy businesses thrive
Drivers
Impacts

Material theme

Capitals impacted

Lines of defence

1, 2 and 3

Risk ranking trend

Lack of fatal risk ownership and leadership support
Under-classification of critical controls to manage fatal risk
Inadequate resource allocation to implement and manage critical control management programme

Fatal health and safety incidents
Operational stoppages
High insurance premiums
Loss of licence to operate
Decrease in quality of life
Section 54 by the Department of Mineral Resources and Energy (DMRE)
Loss of productivity (deaths, medical incapacity or sick leave)

Treatments
Outlook

Implementation of critical control management programme with strong emphases placed on the effectiveness of preventive controls
Evaluate the effectiveness of the critical controls through compulsory quarterly verifications
Identification of the critical control performance trigger for shutdown, critical control review or investigation

Our employees' safety remains a top priority. Although good safety performance (LTIFR) has been demonstrated in the recent past, we continue to implement our safety strategy with a focus on safety improvement in our quest for zero harm.
Strategic KPIs
Strategic objective impacted

Fatalities
LTIFR
OHIFR
Number of health and safety stoppage directives in terms of section 54 of the Mine Health and Safety Act, 1996 (Act 29 of 1996)

Make our minerals and energy businesses thrive
Drivers
Impacts

Material themes

Capitals impacted

Lines of defence

1, 2 and 3

Risk ranking trend

Volatile economic and market conditions
Perceived increased business risk
Regulatory uncertainty in South Africa
Speed at which we are able to process deals
Competition for assets
Access to possible deals
No risk appetite associated with making deals
Unavailability of skills

Reputational damage
Unable to transition from coal to other minerals

Treatments
Outlook

Regular communication on strategy, capital allocation and returns against targets
Disclosure of target and performance against strategy and capital allocation
Build critical skills and capacity to achieve strategy
Clarity of transition strategy to low-carbon future and expected returns

The primary growth lever for the organisation is inorganic growth through acquisition. We will continue to pursue opportunities for growth through mergers and acquisitions.
Strategic KPIs
Strategic objective impacted

Transition at speed and scale
Make our minerals and energy businesses thrive
Empower people to create impact
Be carbon neutral by 2050
Become a catalyst for economic growth and environmental stewardship
Drivers
Impacts

Material theme

Capitals impacted

Lines of defence

1, 2 and 3

Risk ranking trend

Not achieving productivity indices (benchmark standards)
Cost containment discipline not uniform
Deteriorating mining conditions (decreasing yield and increasing stripping ratio)
Not meeting production volumes
Exchange rate volatility
Commodity price decline
Inaccurate financial modelling
Higher fixed costs (corporate office costs charged to business units (BUs))
South African geographical constraints

Financial loss
Margin squeeze
Premature mine closure and allocation of costs to other operations
Reduced earnings will impact approval of capital projects

Treatments
Outlook

Embrace technology and innovation initiatives to improve productivity performance
Optimise operating model and avoid duplicated activities
Create strategic partnership to leverage economies of scale
Ensure balance between capital optimisation and prioritisation
Investigate and divest non-core and non-robust assets
Review and monitor performance of suppliers and service providers
Increased awareness of cost management
Focus on sustainable cost reduction programmes and business improvement initiatives
Planned reviews by coal operating company
Rebalancing product chains for better use of infrastructure

Inflationary pressure is expected to continue given challenges in the global economy exacerbated by the Russia-Ukraine conflict.

We continue tracking and monitoring production efficiency initiatives to manage ongoing volatile conditions and cost pressures, focusing on reducing consulting costs and continued focus on production efficiencies.
Strategic KPIs
Strategic objective impacted

Adjusted operating margin
Annualised ROCE
Annual adjusted HEPS and net debt to annualised EBITDA

Make our minerals and energy businesses thrive
Drivers
Impacts

Material theme

Capitals impacted

Line of defence

1

Risk ranking trend

Lack of investment and low employment creation
Uncertainty about land ownership and security of tenure
Limited local government capacity to deliver services
Potential for nationalisation sentiment
Continued poor economic performance will influence policy and political outcomes
Slow implementation of required reforms
Corrupt practices (private and public sector)
Rating agencies downgrade South Africa to junk status
South Africa's real GDP growth forecast to be 0.6% for 2023
Limited fiscal capacity
National party leadership elections every five years
Nature of influence of opposition parties
Political instability
Policy uncertainty

Possibility of community unrest for political support
Stakeholder dissatisfaction
Potential regulatory penalties/oversight
Increased compliance burden
Potential increase in royalties/taxes
Reduced investment opportunities (increase in cost of capital)
Increased cost of doing business (due to increased compliance burden)
Fewer opportunities for co-investment with government in community development
Breakdown in government relationships with Exxaro
Higher expectation from society and government for more social investment
Potential for junk status rating and/or downgrade of Exxaro's credit status due to link to Eskom
Pressure on revenue

Treatments
Outlook

Align our purpose with governance and ethics
Continuously monitor independent country risk assessment report
Engage with shareholders on minerals business and capital allocation for new strategy
Establish and participate in collaborative regional development platforms for community impact
Develop renewables strategy that could result in new investment and electricity security
Long-term investment perspective for growth, development and impact
Municipal capacity building
Ongoing engagement with Minerals Council and provincial and local governments
Strive for full compliance with relevant legislation for business continuity
Continued support of relevant business lobby groups to engage business and government
Increased and improved analysis of dynamic political landscape and impacts on stakeholders
Increased focus on provincial and local players and intensified engagement across local stakeholder networks to mitigate shocks "from above"

Socio-political risks, policy uncertainty and sluggish South African economy are expected to continue influencing this risk.
Strategic KPIs
Strategic objectives impacted

Transition at speed and scale
Make our minerals and energy businesses thrive
Empower people to create impact
Be carbon neutral by 2050
Become a catalyst for economic growth and environmental stewardship
Drivers
Impacts

Material themes

Capitals impacted

Lines of defence

1, 2 and 3

Risk ranking trend

Delays in approval of licences and authorisations
Increased state interventions in the mining sector: expectations to invest and transform
Unable to achieve SLP targets as approved (annual and five-year projects)
Unable to meet legislative targets, eg Mining Charter and B-BBEE
Lack of understanding of collaboration principles by other stakeholders
Increased social activism

Directives issued by DMRE to remedy
Reputational damage
Penalties and fines
Financial loss
Community unrest
Production stoppages

Treatments
Outlook

Adherence to commitments in the SLP as a minimum
Implementation of human resource development programme
Pursue identified initiatives to progressively improve Exxaro's B-BBEE rating
Compliance performance management
Conduct SLP audits

We will continue focusing on delivery of our commitments to our licence to operate. Furthermore, the implementation of the Social Impact strategy is expected to deliver greater impact on the communities where we operate
Strategic KPIs
Strategic objective impacted

B-BBEE level
Mining Charter III KPIs
Compliance KPIs (safety, health and environmental)

Make our minerals and energy businesses thrive
Drivers
Impacts

Material theme

Capitals impacted

Lines of defence

1, 2 and 3

Risk ranking trend

Inability to influence legislative changes
Lack of awareness/knowledge around regulatory requirement
Culture of non-compliance in South Africa
New laws and regulation enacted with high frequency in South Africa and globally
Uncertainty around energy legislation

Operational stoppage
Reputational damage
Stoppage directives
Penalties and fines
Potential civil and criminal liability
Delays in licence approvals

Treatments
Outlook

Conduct compliance awareness training on licence to operate requirements
Early alerts on prospective changes in legislation
Compliance programme
Legal industry engagement through the Minerals Council about prospective changes
Perform consequence management on deviations
Internal and external compliance audits

Changes to regulatory framework in mining and energy are constantly monitored.

Ongoing awareness and training on legal and regulatory requirements

Strategic KPIs
Strategic objective impacted
Make our minerals and energy businesses thrive
Drivers
Impacts

Material themes

Capitals impacted

Lines of defence

1, 2 and 3

Risk ranking trend

Drought exacerbated by climate change
Limited water resources in South Africa
Delays in the building of water infrastructure by government
Competing demands of agriculture, mining and general population
Traditional areas of operation have little water especially in the Waterberg
Mismatch of what is approved and what is required on the water use licence (WUL)

Operational stoppage
Escalation of cost of water
Legal and health impacts
Opportunity loss of starting a new venture
Net present value

Treatments
Outlook

Implement a water security and management strategy
Board approved MCWAP2
Recycling of water
Water treatment plant ensuring water efficiency and treatment
Liaison with government via the Chamber of Mines
Engaging in industry forums for catchment management planning
Establishment of public-private partnerships

Additional augmentation of the MCWAP scheme through sourcing additional water from MCWAP2 will strengthen the yield of the overall system and alleviate the medium to long-term risk at our Grootegeluk operation.Our Mpumalanga operations are less vulnerable to water scarcity as they have an overall positive water balance.Exxaro will set an internal price of water in 2023 to further drive water conservation awareness at our operations
Strategic KPIs
Strategic objective impacted

Make our mineral and energy business thrive
Become a catalyst for economic growth and environmental stewardship

Matla pollution control dam