Chairperson's statement
Through the persistent tough macro-economic background that included global inflationary challenges and ongoing logistical constraints, Exxaro continued to deliver excellent results, displaying our agility to navigate the obstacles we faced.


Mvuleni Geoffrey Qhena
Chairperson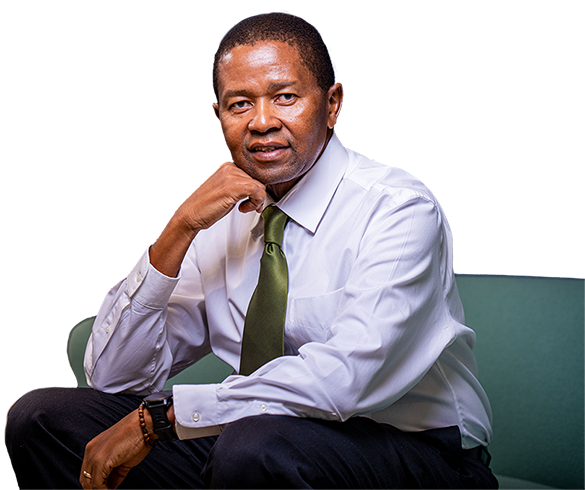 In 2022, we reported a record 78% increase in EBITDA* to R19 002 million and a 28% increase in headline earnings per share (HEPS) at R60.16. This resilient performance was mainly due to the exceptional performance of our coal, driven by high-quality product mix, and increases in export and domestic sales prices. These results reflect that our early value coal strategy is once again delivering results, and the importance of our continuing efforts to deliver on our commitments to stakeholders through the Sustainable Growth and Impact strategy.
Reflecting on Exxaro's strategic progress
Our strategy of transforming Exxaro into a diversified company that thrives in a low-carbon future requires responsibly extracting maximum value from existing coal assets while transitioning from a coal base to a minerals and renewable energy business. The strategy further recognises the important role Exxaro must play in the just energy transition, which considers South Africa's growth and development needs. While balancing these needs can be challenging, we believe that this transition offers opportunities for our organisation to embrace the context and evolve with it.
The board reviewed and recommitted to the strategy, and oversaw several drivers that strengthen, enable and enhance its successful implementation. These included:
Approving a revised capital allocation model to assist the business in balancing acceptable value distribution to shareholders with long-term investments
Approving the new Social Impact and diversity, equity and inclusion strategies and human rights policy, which outline Exxaro's commitment to sustainable growth and impact that benefits communities and broader society, and Exxaro's commitment to protecting human rights throughout our value chain
Setting and monitoring performance and culture expectations for the group through the remuneration-linked short-term incentive (STI) scheme, with the inclusion of new targets for water security and efficiency and energy efficiency to strengthen our greenhouse gas (GHG) mitigation and business resilience efforts
The appointment of Leon Groenewald as managing director of the renewable energy business in March 2023, further demonstrating our commitment to succession planning
Overseeing the establishment of the executive ESG steering committee which is mandated to coordinate the integration of the ESG risks and opportunities and ensure outcomes-based measurements and assurance
| | |
| --- | --- |
| * | Net operating profit before interest, tax, depreciation, amortisation, impairment charges or impairment reversals and net losses or gains on the disposal of assets and investments (including transaction differences recycled to profit or loss). |
In line with our diversification commitments, Exxaro developed a pipeline of renewable and new minerals projects for consideration and performed due diligence on several of these. However, we have not been able to conclude the projects at this stage due to, among other factors, deferring value expectation on those assets.
The development of the Lephalale self-generated solar plant is progressing well with the necessary regulatory approvals being obtained. This further displays our commitment to responsibly transitioning into a low-carbon business.
Embracing good governance
The board is the custodian of the group's strategy and governance and we believe that robust governance practices provide the foundation for value creation.
Critical to the successful execution of any strategy is the team that leads its delivery. This includes having the right skills, structure and rigour at board level to support decision making. The board is committed to striving for the appropriate size, balance of power, independence, diversity, skills, knowledge and experience to enable it to discharge its governance role and responsibilities objectively and effectively. In line with this commitment, the board adopted a policy that includes a broader definition of board diversity and inclusion, with revised targets, as well as a nomination and appointment policy. The changes made to the board in 2021 and 2022 aimed to strengthen our skills and diversity.
Dr Nombasa Tsengwa has succeeded Mxolisi Mgojo who retired on 31 July 2022. Since taking the helm, Nombasa has skilfully steered the ship, delivering on our strategic promise to stakeholders. We once more thank Mxolisi, who received a Business Leader of the Year award in 2022, for his invaluable contribution to Exxaro.
Nondumiso Medupe was appointed as an independent non-executive director on 3 January 2023. Nondumiso brings a wealth of experience in governance, accounting, risk management and sustainability.
We will bid farewell to three longstanding board members. Ras Myburgh retired by rotation this year, and Vuyisa Nkonyeni and Isaac Mophatlane will retire by rotation at the AGM. On behalf of the board, I would like to thank Ras, Vuyisa and Isaac for their valuable and outstanding contributions to Exxaro over the years.
Prioritising engagements with our stakeholders
In line with King IV, Exxaro embraces a stakeholder-inclusive approach to governance. As part of this process, the board actively balances the needs, interests and expectations of our stakeholders with the organisation's best interest over time. In 2022, several key engagements took place to enhance our relationships through meaningful dialogue.
After two years of COVID-19 restrictions, Exxaro held a three-day governance roadshow with shareholders in September 2022. The roadshow provided a platform for shareholders to meet our leadership and for Exxaro to share insights and progress on issues such as delivering on our strategy, our revised capital allocation model, our shareholder structure and returns, remuneration and our ESG performance, among others. This engagement also allowed us to receive shareholder feedback, which informs our decision making.
We held a stakeholder day at Grootegeluk, with the board, social, ethics and responsibility committee (SERC) and management in attendance, to share our progress and performance, and receive the community's feedback on Exxaro's social performance and impact. Engagements were scheduled over three days with enterprise and supplier development (ESD) and socio-economic development stakeholders in Limpopo and Mpumalanga. Participants included national, district and local government, community leaders, union representatives, ESD programme implementation partners and social and labour plan (SLP), ESD and mega-project beneficiaries.
These engagements highlight the board's belief that effective stakeholder engagement leads to improved relationships founded on respect and trust, and better informed decision making.
Closing
We expect that the operating environment will remain challenging, with global macro-economic drivers likely to shape the operating context once again. However, I am confident that the work undertaken to date has positioned the business to respond swiftly and with agility.
Safety is one of Exxaro's key priorities. Management continues to lead in this regard and this is also reflected in their performance contracts. Sadly, and after over a five-year fatality-free period, we lost Mathews Moanalo at the Belfast mine. We pass our deepest condolences to his family, friends and colleagues. Exxaro will continue to strive to achieve and maintain our zero-fatality approach in our activities.
My deepest gratitude to my colleagues on the board, the management team, under the leadership of Nombasa and our employees across the business. As we look ahead to 2023, it is thanks to your continued commitment and dedication that we are delivering on our purpose - to power better lives in Africa and beyond.
Mvuleni Geoffrey Qhena
Chairperson
14 April 2023