About Exxaro
Exxaro has two decades of experience in mining, energy and ESG.
We have a diversified asset portfolio comprising interests primarily in coal, a growing renewable energy solutions business and equity-accounted investments in ferrous (iron ore) and zinc. We have plans to invest and diversify into manganese, bauxite and copper.
ASSETS:
R75.7 billion
at 31 December 2021
(2020: R78.6 billion)
30.81%
Black-empowered
COAL PRODUCTION:
42.5Mt
in 2021
(2020: 47.4Mt), including buy-ins of 0.2Mt (2020: 0.3Mt), reflecting contributions from our expanded flagship Grootegeluk mine
Constituent of the JSE Top 40 Index
RENEWABLE ENERGY GENERATION:
724GWh
MARKET CAPITALISATION:
R53.4 billion/
US$3.4 billion
in 2021
(2020: R50 billion/US$3.4 billion)
Among the top 30 in the FTSE/JSE Socially Responsible Investment Index
We are among the top five coal producers in South Africa. Hence, we understand the importance and ambition of being carbon neutral and achieving net zero carbon by 2050, and strive to be an active participant in the just transition to a low-carbon economy. We have started incorporating renewable energy solutions into our business portfolio, as evidenced by our 100% ownership of Cennergi since 1 April 2020. Exxaro is also proud to embrace the principles of the Task Force on Climate-related Financial Disclosures (TCFD).
We also have business interests in Europe (comprising a marketing and logistics office in Switzerland) and Australia (comprising a joint operation with Anglo Coal (Grosvenor Proprietary Limited) in the Moranbah South project).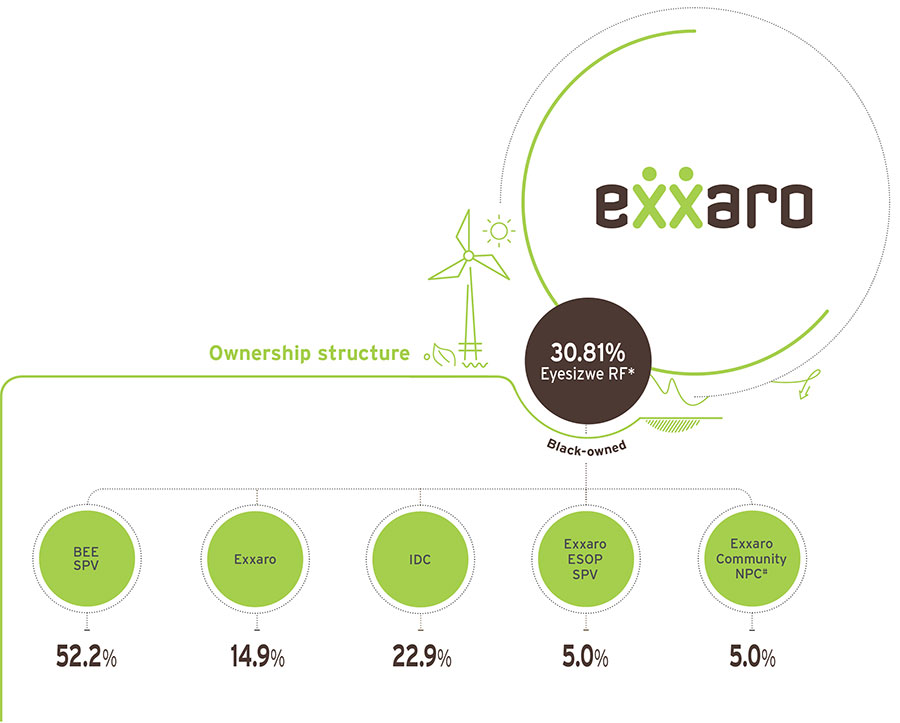 Our company is rooted in South Africa and respected by our peers for innovation, ethics and integrity.
Minerals
100%* ownership: Coal
Our core operation is thermal, semi-soft coking and metallurgical coal mining, supplying Eskom, other domestic markets and offshore markets
Our coal mining business (including Reductants) is structured under five legal entities, all managed and operated by Exxaro, supplemented by a joint venture for the Mafube operation and an equity interest in Richards Bay Coal Terminal Proprietary Limited (RBCT)
Base metals
26% equity interest: Black Mountain
Black Mountain operates two underground mines and a processing plant in the Northern Cape producing zinc and other minerals
We continue evaluating our options to dispose of our shareholding in Black Mountain following the suspension of the sale in December 2020
Ferrous
20.62% equity interest: SIOC
SIOC is a leading supplier of high-quality iron ore to the global steel industry and a subsidiary of Kumba Iron Ore
Renewable energy
Our renewable energy business consists of 239MW of wind generation assets in the Eastern Cape that contribute to national energy supply
100% ownership
Cennergi
Our renewable energy business
OUR ASSET LOCATIONS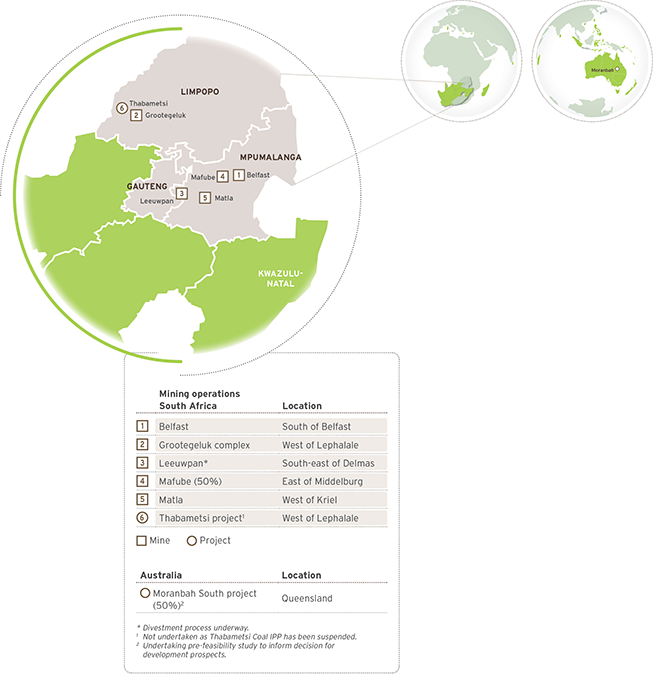 Our coal asset base is a key differentiator and critical part of how we create value for our stakeholders.

MINERALS BUSINESS
Our minerals business comprises coal operations and investments are iron ore and zinc. We have deep roots in mining with a track record of operational excellence and delivering value.
MINERAL ASSETS
Coal mining is our primary business, structured under five legal entities that we manage and operate. We also have a:
50% joint venture with Thungela Resources Limited in the Mafube operation
10.26% effective equity interest in RBCT
26% effective equity interest in Black Mountain
20.62% effective equity interest in SIOC
Largest high-quality Coal Reserves remaining in the country, providing a platform for early value returns
Largest supplier of energy coal to Eskom and ArcelorMittal South Africa Limited (AMSA)
Five managed coal operations (including 50% share of Mafube) produced 42.5Mt of thermal and metallurgical coal (2020: 47.4Mt), down 10% in 2021 – the majority of power station coal is supplied to Eskom
Grootegeluk is acknowledged as one of the largest integrated mining and beneficiation operations globally, running the world's largest coal beneficiation complex, and the only producing mine in the coal-rich Waterberg, adjacent to Eskom's Matimba and Medupi power stations – Grootegeluk's capacity is expanding by 7% (1.7Mtpa) with the double-stage beneficiation plant, Grootegeluk 6 (GG6) and new rapid load-out station to enhance the growth of our export sales volumes
As at 31 December 2021, 82% of the R17.5 billion capital expenditure was spent on greenfield and brownfield expansion and sustaining projects (2020: 74%)
Only mineral assets with Measured and Indicated Resources are listed. Inferred Resources are reported in the supplementary CMRR report.