Chairperson's statement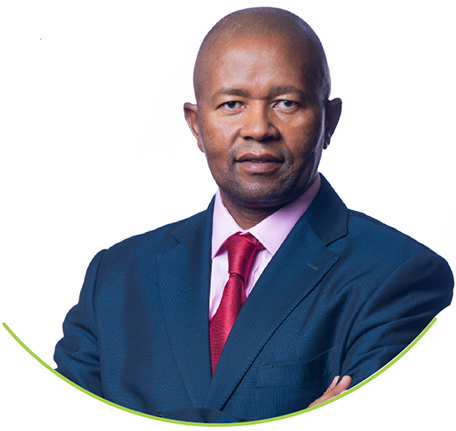 Geoffrey Qhena Chairperson
Final dividend declared
1 175 cents
per share
Total ordinary dividends for 2021
3 252 cents
per share
When I was appointed to Exxaro's board on 19 April 2021, I joined a visionary company with a board dedicated to powering better lives in Africa and beyond. I thank my predecessor, Jeff van Rooyen, for the governance tone and framework he established, and look forward to working with my fellow board members who are committed to sharing their knowledge, skills and experience for the sustainability of the business.
The performance of the business in 2021 was particularly robust against a tough macro-economic context, subdued growth prospects, the ongoing pandemic, logistics constraints and global climate change concerns from a physical and transitional perspective. As we head into 2022, the operating environment continues to be challenging. However, as an organisation, Exxaro embraces these challenges as an opportunity to better reflect on how we do business and support our stakeholders. In this way, we can address their concerns and position ourselves for the future, ensuring we continue to deliver long-term value.
POSITIONED FOR A RESPONSIBLE TRANSITION
Through our Sustainable Growth and Impact strategy, Exxaro is committed to supporting the just transition to a lower-carbon economy. Our strategy is designed to transform Exxaro into a diversified company that will transition from a coal base to a minerals and renewable energy business while maximising the value of our coal assets. Integral to our strategy is the understanding that we must create sustainable impact in the communities where we operate by leveraging Exxaro's Impact at Scale model, which seeks to lead better and bigger development initiatives.
Over the past two years, these goals have materialised with the acquisition of Cennergi – which forms the foundation of our energy business as we seek to become a leading renewable energy solutions provider locally and internationally.
FROM STRATEGIC OVERSIGHT TO IMPLEMENTATION
As a board, we support the strategic direction of the organisation and recognise our role in providing oversight and insight while assuming accountability. The process to develop Exxaro's strategy was robust and involved thorough engagement with leading experts and relevant stakeholders. As we move into the implementation phase, we have reviewed and updated the governance structures that support the delivery of our strategy.
Our board committees' terms of reference and delegation of authority framework were revised to enable agile decision making in the minerals and energy businesses while maintaining decentralised decision making in the coal business. Going forward, we will implement key performance indicators (KPIs) that ensure transparent reporting of measurable outcomes.
True to our commitment to transition at speed and scale, and in accordance with our capital allocation framework, specific actions in 2021 included disposing of our shares in Tronox and our equity interest in Exxaro Coal Central Proprietary Limited (ECC*) to fund our investment in renewable energy projects, to repay debt and return value to shareholders. In addition, we concluded a share buyback of R1.5 billion.
PURPOSE-DRIVEN BOARD
A key enabler of the delivery of our strategy is having the right skills, structure and rigour at board level to support decision making. As such, the board reviewed the focus areas of its committees and subsequently updated their terms of reference and names to reflect their responsibilities more accurately. The sustainability, risk and compliance committee was renamed the risk and business resilience (RBR) committee to include oversight of strategic, financial and operational business resilience. The social and ethics committee was renamed the social, ethics and responsibility committee (SERC) to ensure ESG-related issues receive the appropriate level of focus.
The structure and diversity of our board supports engagement and decision making, and we have succession strategies that address continuity, skills and diversity gaps. With this in mind, we made several changes to our board during the year. On 1 February 2021, we appointed Chanda Nxumalo as an independent non-executive director. Chanda brings 15 years' experience in the renewable energy and power sectors. Mandlesilo (Mandla) Msimang – a seasoned executive with experience in governance, information and communications technology regulations and policy – was appointed as a non-executive director on 15 March 2021. Isaac Malevu, appointed as a non-executive director on 22 June 2021, is a chartered accountant, the current chief financial officer of the Industrial Development Corporation (IDC) and brings a wealth of experience to the board.
Post-year end, we appointed Phumla Mnganga, Karin Ireton, Billy Mawasha and Ben Magara to the board as independent non-executive directors with effect from 7 February 2022. Phumla is experienced in human resource development and change management, and sits on various South African boards. Karin is an international sustainability specialist with exposure to coal power generation, mining and the banking sector. Billy comes with strong operational and technical leadership experience in the mining sector as well as strategic investment and technical leadership skills he shares with other companies. Ben is a highly skilled mining veteran who has led large companies with skills in underground and surface operations management. We look forward to the diversity of thinking and rigour they will bring.
To see our board's detailed curricula vitae, refer to our ESG.
SUCCESSION WITH INTENT
Any changes in leadership can often be challenging for a business, and transitions must always be done in a way that is measured and meaningful. The responsible approach Exxaro followed in our CEO succession is designed to ensure smooth progression and continuity of our strategic goals.
We are grateful for the invaluable leadership of Mxolisi Mgojo, our CEO, who has driven the development of our Sustainable Growth and Impact strategy in a challenging time, and ensured the operational success of Exxaro with remarkable resilience.
As part of our carefully considered succession planning, our CEO designate, Nombasa Tsengwa, will assume the CEO role effective 1 August 2022, having headed our coal operations since 2016 and serving as managing director of our minerals business since July 2020, ensuring a smooth and phased handover of duties and responsibilities.
CLOSING
I would like to express my appreciation to our board, management and employees who make Exxaro a leading mining and energy solutions company, especially in the fields of decarbonisation and renewable energy. I would like to thank Mark Moffett, who resigned from the board in May 2021, and Ras Myburgh who retires in 2022. Both Mark and Ras have made an enormous contribution to the Exxaro board, and we wish them well in their future endeavours.
Our board remains committed to implementing Exxaro's Sustainable Growth and Impact strategy, and responsibly managing our transition and expansion into other minerals sectors, commodity markets and territories with our purpose to power better lives in Africa and beyond without value destruction.
Geoffrey Qhena
Chairperson
4 April 2022