Our strategy: Positioning Exxaro for enduring success
The Sustainable Growth and Impact strategy, which we introduced in the 2020 integrated report, is Exxaro's approach to transforming our business at scale. We intend to evolve into a diversified company that will transition from a coal-based business into a minerals and renewable energy solutions business that thrives in and contributes to a low-carbon future.
Given the rapidly changing macro-economic environment, we further progressed in shaping, measuring and delivering our strategy in 2021. We refined our strategy from the Business of Tomorrow perspective through broad consultation and used the latest industry market and economic research to inform this process. Exxaro engaged with key stakeholders to ensure we consider their legitimate needs and concerns. As part of our robust strategic process, the strategy was submitted to the board for input, supported by a clear implementation plan and measurement criteria.
At the heart of our strategy is the need to transition responsibly. We have established a clear understanding of our operating context, wherein our coal operations contribute vast value to the communities we operate in and the country we serve. Exxaro remains committed to responsibly maximising the value of the coal assets and minimising stranded assets. We are also determined to play an active role in creating a future that enables our new vision: resources powering a clean world, as we transform the business. Striking this delicate balance is top of mind when crafting and delivering our strategy.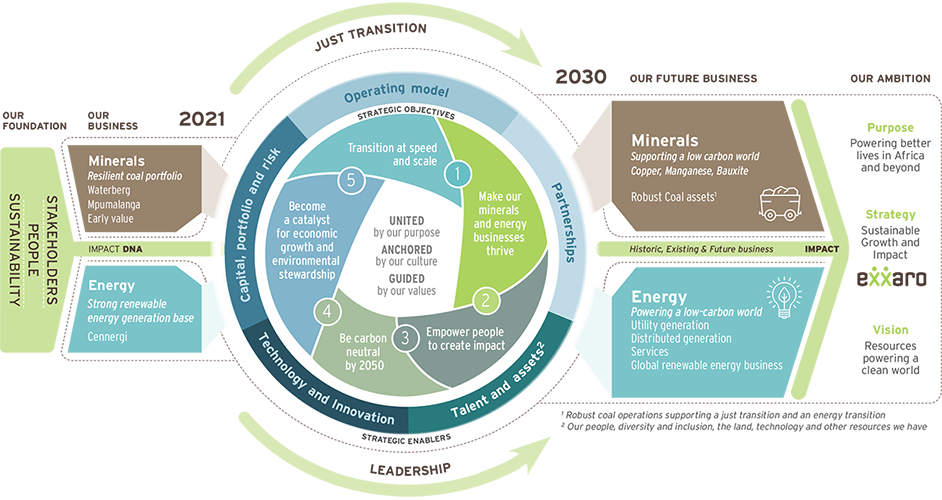 We have set five broad strategic objectives supported by measurable outcomes to deliver our strategy:
Transition at speed and scale: Transition our business with measured urgency given the growing need for the low-carbon transition. We will do this while creating positive social impact. We will leverage our innovation, organisational intelligence and learning culture to navigate this transition
Make our minerals and energy businesses thrive: Enhance focus on our core delivery areas, minerals and energy, by increasing our footprint in these areas, divesting of non-robust assets and ensuring continued operational and digital excellence
Empower people to create impact: Ensure our people and partners have the capabilities, mindset, environment and passion to achieve our purpose
Be carbon neutral by 2050: Reduce our carbon footprint and become carbon neutral by 2050. We will achieve this through our focused decarbonisation and social impact initiatives
Become a catalyst for economic growth and environmental stewardship: Positively impact our ecosystem during and after our operations in minerals and energy, building community projects and businesses into investable impact programmes, which can lead to sustainable, scaleable economic upliftment and prosperity, independent of our continued operations in those environments
THE DETAILS OF OUR STRATEGY
We intend to deliver our long-term strategic objectives by aligning our resources to the following areas:
Continuing to deliver value in the existing coal assets (categorised and described under minerals)
Growing our renewable energy solutions business
Providing minerals that support a low-carbon world
Our energy business
To be a leading international renewable energy solutions provider by 2030
What

RENEWABLE ENERGY

A significant contributor of renewable energy solutions (renewable assets and services)
Servicing the public and private sectors in South African and other markets

Focus on three renewable energy areas:

Distributed generation: Our growth in renewables will be internally led by providing our existing operations with self-generation. We have nine operating assets, two of which (Belfast and Grootegeluk) are under development. We will then look to providing generation for customers in mining and select markets
Utility generation: We intend to provide utility generation in select markets. We will determine markets for focus through selection criteria
Services: We will build our energy services business by growing our existing renewable energy business and augmenting our generation business. We will potentially also offer asset management, energy management, digital services and virtual power

Why

Transition Exxaro to a carbon-neutral future
Provide diversification and long-term sustainability to Exxaro's cash flow
Become an anchor of energy security in South Africa as a longstanding player in this space in a business environment with significant growth prospects

How

Leverage Exxaro's unique network and skills sets to expand our existing renewable energy business
Make renewable energy investments in select markets with an acceptable risk profile targeting a portfolio return of 15% equity internal rate of return over a period of time

Competitive
advantage

Renewable pedigree: We have the second largest local IPP in South Africa and have had exposure to the renewables business since 2009
Perfectly positioned: We are at the nexus of mining and renewables with our exposure to multiple mining operations and our Cennergi business. We have past and current partnerships or investments with multiple mining firms that require renewable solutions
History of delivery: We have delivered multiple complex capital projects that will serve to build our renewable energy business. To list a few: new Belfast digital mine, KZN Sands, titanium dioxide (TiO2) mine and smelter, GG6 brownfields expansion and Matla Shaft Mine 1
Adjacency advantage: All our operations require decarbonisation. Operations are often located in clusters with other mining peers also requiring solutions
Innovation competence: Through our growing competence in innovation, we have built multiple products and capabilities across our business that position us to meet our energy business targets. Our RRODA digital renewables tool combines mining and renewable datasets to optimise site selection and high-level design parameters with quantification of tariffs and savings
Our minerals business
To utilise Exxaro's mining skills to supply minerals that power a clean world and provide our shareholders with superior returns while driving decarbonisation ambitions
What

COAL
NEW MINERALS

Our coal business continues to deliver value for Exxaro and is key in providing the country's primary energy source

Diversify into new mineral assets (manganese, copper and bauxite) that are vital to a low-carbon future

Why

We understand that the coal assets under our care do not belong to us. Therefore, we have a responsibility to manage them in a way that benefits the people who depend on them for their immediate energy needs.

To do this, we must ensure that, on our way to a low-carbon future, we do not leave high-value assets sterilised and stranded.

There is no better time to build from a position of strength and to align with Exxaro's ambition.

We have proven our ability to outperform our value creation targets and we are in a healthy position to leverage growth.

We have deep-rooted competencies to grow from.

How

Ensure a robust coal asset portfolio, which includes divestment from resources that do not suit our future portfolio
Optimise our mine to resource journey
Digitalise our operations with a focus on value creation
Optimise capital allocation
Minimise emissions at our existing operations

Exxaro has developed a minerals business approach that enables a just transition to a low-carbon world while leveraging our core competencies as a bulk miner
Robust screening criteria enable us to continuously review and identify the minerals we should be focusing on for our future growth
Our initial targeted minerals (manganese, copper and bauxite) offer the best risk to reward ratios to:
Deliver our bold EBITDA target
Support our ambition to power a clean world
Benefit from the decarbonisation tailwinds that will drive world economies into the future

Competitive
advantage

Specialised skills: We have roots as a diversified miner with recognised specialised skills in mining. This includes open-pit and bulk commodity experience, base metals, mineral sands and industrial minerals
Project execution excellence: Through expansion successes, delivering digital innovation through our Digital@Exxaro programme and continued operational excellence from our high-performing coal operations
Recognised for our ESG performance, brand and culture
Timeframes
Our strategy will be delivered in phases with clear outcomes in each of our focus areas.

| | |
| --- | --- |
| * | End-2020. |
| ** | Excluding nine months step-up acquisition on 1 April 2021. |
| *** | Excluding ferrous and other segments. |