Summarised governance report
SDG 16 (peace, justice and strong institutions) seeks to promote peaceful and inclusive societies for sustainable development, to provide access for all, and build effective, accountable and inclusive institutions – from small companies to multinationals and governments. The Exxaro board is committed to contributing positively to achieving this goal, especially through good governance.
The board drives the Exxaro strategy and budget, sets performance and culture expectations as well as the governance framework, including its subsidiary and controlled companies, trusts and joint ventures. The board therefore continues to be the focal point and custodian of corporate governance for the group.
At the core of Exxaro's corporate governance are principles that guide the board in meeting its responsibilities to the company and its stakeholders, to enable the company to achieve the King IV governance outcomes and fulfil its purpose to power better lives in Africa and beyond. The board therefore regards good corporate governance as fundamentally important to create value and achieve the following governance outcomes in its own ethical and effective leadership: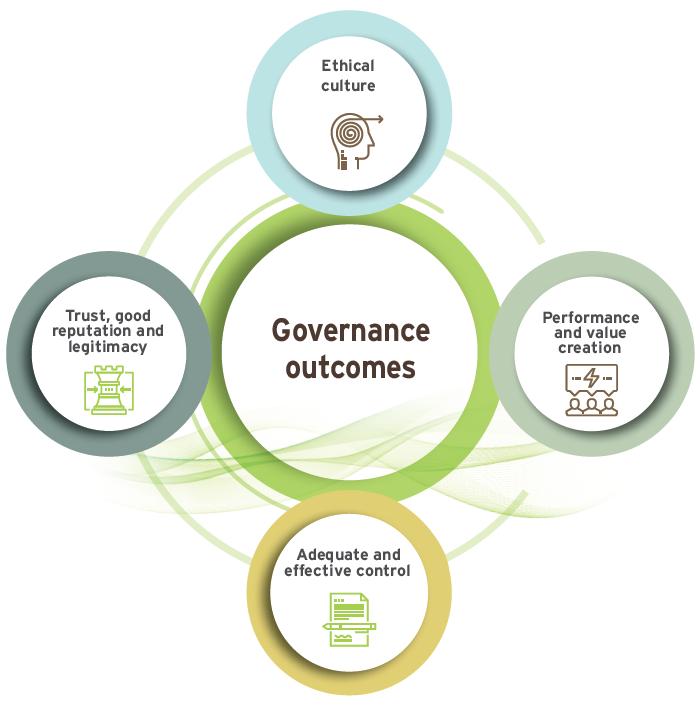 Our board assumes ultimate accountability and responsibility for the company's performance and affairs. In so doing, it effectively represents and promotes its legitimate interests. As a responsible corporate citizen, it also considers its material stakeholders' legitimate interests and expectations to make a positive contribution to society at large.
BOARD FOCUS AREAS IN 2021
The board annually identifies key focus areas, which may continue to receive attention in subsequent years, such as the following in the reporting period: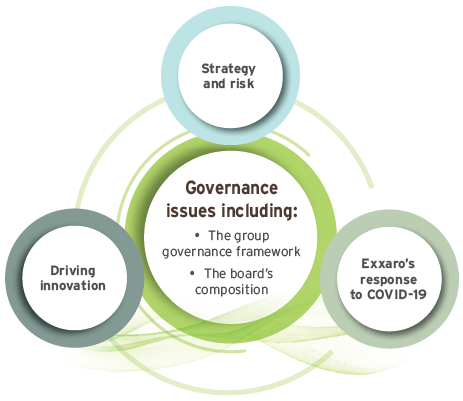 Response to COVID-19
Our COVID-19 mitigation measures were informed by the group's health and wellness strategy, based on three pillars: diagnosis, management and prevention.
Following on our 2020 interventions, additional measures were put in place to deal with the pandemic, including:
Communication with employees
Partnering with provincial departments of health to launch the vaccination programme roll-out
Hosting vaccination days at operations and head office for qualifying employees and family members
Limiting inter-business travel
Conducting ongoing COVID-19 testing
The importance of health, safety and wellness is a focused item on the agendas of board, board committee and executive committee meetings to enable feedback on the organisation's endeavours in this regard, including COVID-19 responses.
The board was comfortable with the governance processes applied across the group and various measures put in place during the pandemic to ensure the business is more resilient and responsible to withstand challenges into the future.
For details on Exxaro's COVID-19 responses, refer to Our people.
Climate change response
We intentionally focus on positioning Exxaro for growth, anchored on the just transition principle, which seeks to balance our financial performance, South Africa's economic development needs, ecosystem protection and society's adaptive capacity in the face of climate change.
Exxaro believes that our greatest opportunity is to help steer South Africa towards a sustainable future through an undiluted focus on low-carbon minerals and energy with a goal to be carbon neutral by 2050 through consistently reducing our direct emissions. The board is committed, beyond compliance, to mitigating the impact of climate change.
Specific actions in 2021 to honour this commitment included:
The disposal of 21.975 million shares in Tronox. The funds from the disposal will be used to invest in renewable energy projects, repay debt and make distributions to shareholders in accordance with Exxaro's capital allocation framework
The board and executive leadership were presented with the latest climate change assessment report released by the Intergovernmental Panel on Climate Change and the role of the board in responding to climate change
Due to the direct impact of climate change on the coal business, in 2020, the board identified the need for an experienced non-executive director with environmental, sustainability and climate change knowledge. Following a rigorous process, this appointment was finalised on 7 February 2022
The board's governance structure was revisited, giving the RBR committee oversight of Exxaro's strategic, financial and operational business resilience, specifically considering our response to the low-carbon transition, building a resilient and future-facing portfolio, and increasing customer diversification and revenue streams
A group-wide internal employee communication plan has been developed for Exxaro's Climate Change Response strategy, which is being rolled out throughout the organisation into 2022
For details on our Climate Change Response strategy, refer to our ESG perspective in the ESG report.
MATERIAL BOARD DELIBERATIONS OVER THE YEAR IN REVIEW
Monitored interventions as COVID-19 concerns remained a top risk
Considered and provided input on the suite of annual reports
Adopted the board diversity and inclusion policy with amended targets
Noted COVID-19 measures, specifically the vaccination programme and registration of Exxaro facilities as vaccination centres
Appointed one new non-executive director
Approved the annual reporting suite for the year ended 31 December 2021
Monitored the implementation of POPIA measures, which was noted as satisfactory
Considered the performance achievement and STI scheme implementation
Noted the need for additional skills composition of the board, which was driven by the remuneration and nomination committee
Approved the update of board and board committee annual work plans
Approved the update of the group delegation of authority
Considered the line-of-sight incentive scheme, performance achievement policy and alignment of international outbound policy
Governance
Group governance framework
The reporting period was particularly important from a governance perspective with the board focusing on reviewing governance structures in the group, board committees' terms of reference as well as delegations of authority to create and preserve value for agile decision making in the minerals and energy businesses while maintaining decentralised decision making in the more mature coal business.
King IV recommended practices for group governance require the board to assume responsibility for governance across the group. The board exercises this responsibility by adopting a group governance framework that provides direction on how the relationship between the holding company and subsidiaries should be structured and managed.
Board composition
The following outcomes were achieved in 2021 flowing from the board's key focus areas:
The succession of the board chairperson was addressed with the appointment of Geoffrey Qhena in April as chairperson designate with the retirement of Jeff van Rooyen at the 2021 AGM
The identification of new directors to take over as chairpersons of committees in future as part of succession planning
The board adopted a diversity and inclusion policy with new targets in March 2021
The succession of the CEO, Mxolisi Mgojo, was addressed through the appointment of Nombasa Tsengwa as CEO designate and executive board member on 16 March 2021 (her appointment as CEO will become effective when the CEO retires, being 1 August 2022)
The board filled four non-executive director vacancies, including the role of the chairperson in terms of the required skills and experience identified by the board as well as its diversity and inclusion policy:
Chanda Nxumalo
Independent non-executive director
Appointed
1 February 2021
Mandlesilo Msimang
Non-executive director
Appointed
15 March 2021
Geoffrey Qhena
Independent non-executive director
Appointed
19 April 2021
Isaac Malevu
Non-executive director
Appointed
22 June 2021
The board continued to search for independent non-executive directors to address independence, gender diversity as well as specific skills and experience requirements (which included energy, ESG, remuneration and hard rock mining) in line with the Exxaro strategy and succession planning. The following appointments have been made in 2022:
Karin Ireton
Independent non-executive director
Appointed
7 February 2022
Bennetor Magara
Independent non-executive director
Appointed
7 February 2022
Billy Mawasha
Independent non-executive director
Appointed
7 February 2022
Phumla Mnganga
Independent non-executive director
Appointed
7 February 2022
For more information on the board's composition, diversity and experience, refer to the ESG report.
Strategy and risk
King IV prescribes that the board should appreciate that an organisation's core purpose, risks and opportunities, strategy, business model, performance and sustainable development are inseparable elements of the value creation process. The review of corporate responses, social justice movements and other material economic and business impacts, analyst reports on megatrends with a view to identifying material business environment developments and data points, is a continuous process.
An updated strategy process was adopted by the board to provide for a continuous cycle in ensuring an integrated strategy across Exxaro businesses, supporting Exxaro's purpose. As risk management is inherently linked to achievement of strategic objectives, an integrated risk management approach is applied in the strategy review process, including the identification of emerging risks.
For more information on the strategy, refer to our strategy and for more information on risk management, refer to our business risks and opportunities.
MATERIAL BOARD DELIBERATIONS OVER THE YEAR IN REVIEW
Approved the group's annual financial statements and final dividend declaration
Considered the going concern assessment and approved that the group would remain liquid and solvent in the context of the distribution to shareholders
Considered the group's Sustainable Growth and Impact strategy with various matters to receive additional ongoing attention
Accepted the offer for the divestment of the ECC* operation as part of the group's growth strategy to dispose of non-core assets
Approved group interim financial results and interim dividend declaration for the six-month period ended 30 June 2021
Considered the going concern assessment and approved that the group would remain liquid and solvent in the context of the distribution to shareholders as well as the trading statement
Mandated management with respect to COP26 participation
Deliberated and considered the group's impact strategy
Driving innovation
For Exxaro, innovation is key to a successful, thriving business. Without actively driving innovation practices, businesses stagnate and ultimately fail.
The board recognises that it is imperative for Exxaro to continue innovating and strive for radical and disruptive solutions, not only to address challenges but to drive and support our strategic goals of carbon neutrality.
In addition to initiatives within the group and to promote board effectiveness, the following was put in place to support our board:
The board, board committees, executive committee and material subsidiaries use a secure platform for collation of board packs for virtual board meetings, which has greatly contributed to effective and secure meetings for several years. The system allows for secure collaboration, information sharing and electronic voting on written resolutions
Exxaro held its second hybrid AGM in 2021 with shareholders or their proxies participating via electronic communication or in person, subject to COVID-19 protocols. Participants could vote during the AGM through an electronic participation platform. If participants wanted their votes counted, they could submit information captured in the AGM notice to the platform service provider. Each shareholder who provided requested information was given a unique link to participate in the virtual meeting
The insider dealing environment has greatly improved with an electronic insider register sending automated notices to any person whose name is captured in the register and, when it is removed, providing a clear auditable trail as well as ensuring regulatory and policy adherence
Compulsory insider dealing awareness training was made available to the board and prescribed officers, as well as employees generally, on MyNexxt to allow completion at own leisure. MyNexxt is a learning management system that takes digital learning and staying connected to a new level by enabling wider accessibility to the platform.
Divestment of non-core assets and investments
Tronox SA
On 23 February 2021, Tronox Holdings plc exercised its "flip-in" call option over Exxaro's 26% shareholding in Tronox SA, for which Tronox Holdings plc delivered 7 246 035 newly issued Tronox ordinary shares to Exxaro on 24 February 2021. This resulted in the derecognition of the investment in Tronox SA and recognition of an additional investment in Tronox Holdings plc (refer to note 6.1.4 in the 2021 group and company annual financial statements).
Tronox Holdings plc
On 1 March 2021, Exxaro concluded a public offering in the United States of the 21 975 315 Tronox Holdings plc ordinary shares. The shares were sold at a public offering price of US$18.25 per share which was reduced by underwriting discounts and commissions resulting in an achieved price per share of US$17.43. This resulted in the derecognition of the investment in Tronox and the achievement of Exxaro's strategy to monetise our investment in Tronox (refer to note 6.1.4 in the 2021 group and company annual financial statements).
ECC operation
On 8 April 2021, Exxaro signed a sales and purchase agreement with Overlooked Colliery Proprietary Limited disposing of the ECC* operation. All conditions precedent to the sales and purchase agreement were fulfilled and the transaction became effective on 3 September 2021 (refer to note 8.3 in the annual financial statements).
Leeuwpan
The disposal process for Leeuwpan continues with definitive legal agreement envisaged to be signed in the first half of 2022, and regulatory approvals obtained thereafter.
Black Mountain
We continue to evaluate our options to dispose of its 26% shareholding in Black Mountain.
KING IV
In line with King IV's recommendation to apply and explain how good governance is practised within Exxaro, our detailed King IV application register is included in the ESG report . This sets out each principle with an explanation of steps taken as well as policies and processes used by Exxaro.
In addition to this, our governance reporting is also structured under the four desired outcomes of King IV, namely:
MATERIAL BOARD DELIBERATIONS OVER THE YEAR IN REVIEW
Approved the disposal of the group's shareholding in Tronox
Appointed three new non-executive directors, including the chairperson designate
Held the group's second hybrid AGM
Approved POPIA policy amendments and received confirmation of implementation of POPIA measures
Noted the implementation of the Climate Change Response strategy
Approved content to be shared at the Capital Markets Day on 20 September 2021
Approved the consolidated group annual budget for 2022 and noted the budget for 2023 to 2026
Approved the group governance framework and energy delegation of authority