CEO statement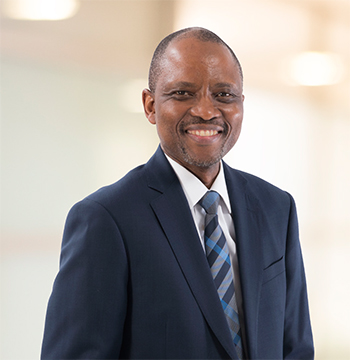 The fulfilment of our purpose – powering better lives in Africa and beyond – can partly be measured through our ESG performance, which was rated 3.7 out of 5.0 by the FTSE Russell ESG ratings. Individual ratings for each element appear in the original report on our website. An independent report from Renaissance Capital affirmed this performance by rating Exxaro best among the mining stocks under its research coverage. Safety and transformation are key components of the social pillar in ESG performance.
We maintained our safety performance in FY18, but unfortunately just missed our lost-time injury frequency rate (LTIFR) target of 0.11 with an actual rate of 0.12. I retain my confidence in the Exxaro team that this target is achievable and that the goal of zero harm remains a primary focus for all. Finishing the year without a fatality was a very affirming outcome of our safety efforts. This is the third time in our history that we have worked for a year or more without a fatality – proving zero harm is possible in our industry.
Completing the replacement BEE transaction was a significant milestone in Exxaro's transformation journey. The next step was to address other weaknesses in our empowerment credentials, such as enterprise and supplier development (ESD). We developed an ESD programme, at a combined expenditure of R186 million, which fulfilled the regulatory requirements of the revised codes of good practice by improving our recognition status from level 5 to level 4, while addressing our strategic objectives of diversifying and transforming our supply chain constituency and enabling our future and emerging enterprises in agri-business and water. Based on our ESD performance during the year and other pillars of the codes, we are confident that our rating, which will be confirmed in May (post publication of this report) will indicate a recognition level 4.
In our coal business, we continued to develop a better understanding of our customers through our market-to-resource strategy – we own a diverse mineral resource base between our Mpumalanga and Limpopo operations. Several years ago, we established the resource-to-market value chain to deliver coal to our markets. However, in recent years, markets have become more diverse and dynamic, requiring customer insights to develop the correct resource and produce coal products to specifications for delivery on time and at competitive pricing – this is the essence of our market-to-resource strategy. Combined with our operational excellence and innovation driver, 2018 was a year of record volume performance in terms of total production and sales, reaching 47.8 million tonnes and 45.2 million tonnes, respectively, while exports reached 8.0 million tonnes.
Our coal strategy is to improve the product mix to higher qualities (>5 800kcal) to capture higher value and narrow the discount attributable to lower coal qualities. The migration to higher coal quality by customers is also driven by climate risk response – higher quality coals have a higher energy content and fewer impurities.
Our digitalisation drive also reached a milestone with the installation of our backbone infrastructure. This increased bandwidth and underpinned installation of key data and information management systems across the resource-to-market value chain. Key improvements include an integrated perspective of the value chain, leading to better decision making from visualised information through better dashboards.
An additional milestone in our portfolio optimisation was concluding agreements to transfer the ownership and management of Arnot mine to a consortium, comprising mainly former employees of that mine. Arnot ceased operations at the end of 2015 when its coal-supply agreement (CSA) ended and was not renewed by Eskom, resulting in the mine beginning a premature closure process. Exxaro will contribute its mining right, while Eskom will contribute the assets of the mine and enter into a new CSA. Essentially, we are giving ownership of Arnot mine to ex-employees of that mine via a trust, which will give them a share in the new Arnot Opco Proprietary Limited. We also disposed of certain assets and liabilities of the NBC operation for R17 million.
Our capital expenditure programme, at R20 billion over the next five years, was an area of keen interest from all stakeholders. From the perspective of investors, this allocation of capital, about one-third of Exxaro's market capitalisation, presents significant risk to the company. However, we assured the investment community on resources in place to manage technical and financial risks to completion. Several brownfields projects were completed, such as the Mafube and Leeuwpan expansion projects, on time and within budget. We also began the greenfields Belfast project. Combined, these projects will increase production to some 60 million tonnes by 2023, resulting in additional EBITDA and cash generation (Our Capital Markets Day presentation from November 2016 provides additional details).
Looking ahead, the coal strategy will evolve in response to challenges and opportunities on the horizon. We foresee opportunities of expediting our growth profile from the rapidly approaching climate risk. In this regard we will be considering approaches to subsequent phases of development of current projects. The aim of this strategy will be to maximise value for stakeholders and increase returns to shareholders.
We will also focus on revitalising our culture as we migrate Exxaro onto a digital platform. Transformation of the necessary infrastructure to establish this platform will continue and we anticipate further benefits through improved productivity, production performance and cost management.
Our investments in the business of tomorrow remain relatively small and opportunistic, but are guided by a focused and informed strategic plan. We do not expect a contribution to the bottom line in the short term, but we remain confident of the appropriateness of this strategy to building an Exxaro that will be relevant into the future.
Mxolisi Mgojo
Chief executive officer
24 April 2019