Our group executive committee comprises the chief executive officer (CEO), finance director and six members of top management.
The board delegates authority to executive management, via the CEO, to manage, direct, control and coordinate the day-to-day business activities and affairs of the company, subject to statutory limits and other limitations set out in the delegation-of-authority framework.
Within the authorities delegated by the board, the key tasks of the executive committee (exco) are to: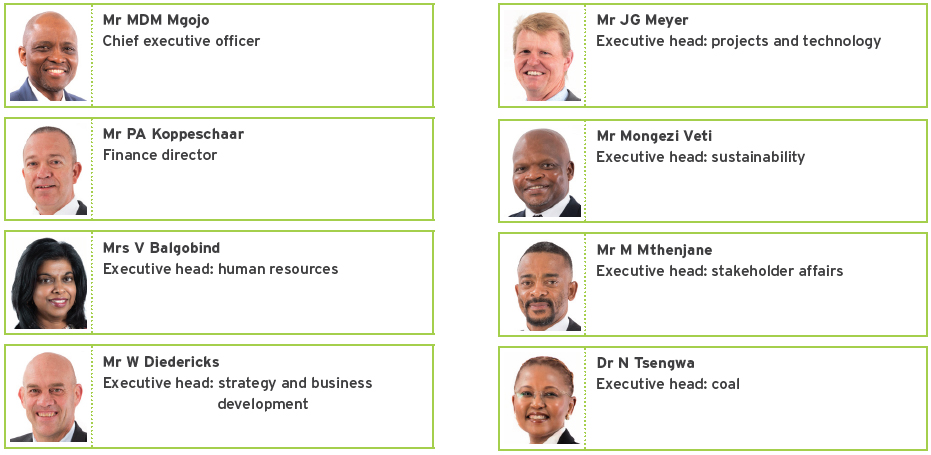 MDM Mgojo — Mxolisi (58)
Chief executive officer
Qualifications:
BSc (computer science), BSc (hons)(energy studies), MBA, advanced management programme
Experience:
Previously at Eyesizwe Coal, Mxolisi was responsible for marketing and logistics. After Exxaro's formation, he managed the base metals and industrial minerals commodity business before being appointed to head our coal operations from August 2008. Mxolisi was appointed CEO designate in May 2015 and CEO in April 2016. He is a director of Tronox Limited, Talent10 Holdings and Dynamo Investment Holdings. He was elected president of the Minerals Council South Africa in May 2017.
JG Meyer — Johan (47)
Executive head: projects and technology
Qualifications:
BEng (metallurgy), MBA, advanced management programme
Experience:
Johan started his career in production management at Iscor Pretoria Steel Works. He has worked at KZN Sands, research and development in Kumba Resources, Mineral Sands, Zincor and Exxaro corporate office. His current role is focused on delivering the coal growth projects and developing integrated resource and reserve life-of-mine plans.
PA Koppeschaar — Riaan (48)
Finance director
Qualifications:
CA(SA), advanced and associate programmes in treasury management, advanced diploma in taxation, advanced management programmes (Insead), certificate in theory of accounting. Member of the Association of Corporate Treasurers of South Africa
Experience:
Riaan started his career with Coopers and Lybrand. After completing his articles, he branched into the fields of treasury, investment management and corporate finance. He has held senior management positions at Iscor, Kumba Resources and Exxaro Resources until his appointment as finance director of Exxaro Resources in July 2016. He is a director of several Exxaro subsidiary companies, joint ventures and a trustee and investment committee member of the Exxaro Pension and Provident Funds.
M Veti — Mongezi (52)
Executive head: sustainability
Qualifications:
National higher diploma in metalliferous mining and coal mining, MBL, advanced management programme, mine overseer's certificate and mine manager's certificate of competency for fiery mines
Experience:
In the early 1980s, Mongezi worked for AngloGold at Western Deep Levels and joined Sasol Mining in 1994. In 2002, he became mine manager at Arnot, and was appointed general manager for area 2 in Exxaro soon after the merger, before assuming his current role in 2010. In 2015, he was appointed executive head sustainability.
V Balgobind — Vanisha (45)
Executive head: human resources
Qualifications:
BA (hons)(ind psych), MA (ind psych), management development programme
Experience:
Vanisha is a registered industrial psychologist with 20 years' experience in the mining industry. She joined Iscor Mining in 1997 as an HR graduate trainee. She was then employed at Kumba Resources as an HR business partner and worked in the talent management area between 1998 and 2006. At Exxaro, she managed the talent management and staffing centre of expertise, was manager for corporate projects and HR optimisation, and group manager for talent and learning. She chairs the Exxaro women in mining committee and serves on other Exxaro subsidiary companies. Her passion lies in education and women empowerment, as well as finding integration between work and quality family time.
MI Mthenjane — Mzila (48)
Executive head: stakeholder affairs
Qualifications:
BSc (eng)(mining), senior management development programme (GIMT), executive development programme (EDP) — AMP (INSEAD)
Experience:
Mzila is a mining engineer with more than 25 years' combined experience in mining, investment banking and sustainability. This includes seven years in precious metals industry in deep-level gold mining at AngloGold Ashanti and Gold Fields Limited in senior mine production management and corporate development roles; and six years in the platinum industry as senior investment manager and executive: business sustainability at Royal Bafokeng Holdings and Royal Bafokeng Platinum, respectively. His tenure in investment banking included four years at RMB and two years at Deutsche Bank in various roles, including corporate and project finance. Mzila has been with Exxaro in his current role, leading our stakeholder management and communication portfolio since May 2013.
AW Diedericks — Wim (51)
Executive head: strategy and business development
Qualifications:
BEng (mining), executive development programme
Experience:
Wim started his career as an Iscor bursar from 1986 to 1990 and was appointed an engineer-in-training at Thabazimbi Mine in 1992. He was also employed at Durnacol (Iscor), Tshikondeni (Iscor), Sishen (Iscor), Rosh Pinah (Iscor), Kumba Resources head office and Thabazimbi (Kumba Resources). Since Exxaro's formation, he has held senior positions at KZN Sands, Grootegeluk, Mpumalanga Coal Commercial region and corporate office.
N Tsengwa — Nombasa (52)
Executive head: coal
Qualifications:
PhD (agronomy), executive development programme
Experience:
Nombasa has over 15 years of executive management and board experience in the public and private sector. In 2003 she joined Kumba Resources as general manager safety, health and environment. In 2007, she became executive general manager safety and sustainable development. In 2010, she became directly involved in managing coal operations, as general manager of captive mines, and general manager of Mpumalanga operations. In 2015, she was appointed acting executive head of coal operations, and confirmed in that role in July 2016.
Other management committees and forums that support the executive
Investment review committee
The purpose of this committee is to oversee management-review processes for major investments, ensuring that:
Each project meets the strategic, technical and investment requirements of the company, including the identification and management of project-related risks
Critical decisions, project parameters and governance processes are addressed prior to committing funds
Each project enhances the portfolio value of the company.
In addition, it also has the authority to approve some projects to reduce the approval timeframe for smaller projects.
Within authorities delegated by the board to exco, the key tasks of this committee are to:
Consider economic parameters and commodity prices to assist capital-budgeting process
Take note of group-wide weighted average cost of capital and hurdle rates to determine whether a project qualifies for committed funding
Assess reports from independent specialists on their review of projects and their support of or opposition to a project
Consider projects within strategic parameters determined by the portfolio review committee, ensuring any potential investments will complement the group's portfolio
Review all identified risks (including those identified during financial and technical analysis) and ensure appropriate risk management strategies are implemented at respective project phases
Review the projects pipeline for capital projects
Request technical interventions and reviews where appropriate
Assess financing options
Once satisfied that an investment is appropriate, approve projects within its approval mandate and recommend those beyond its mandate to exco and the board, in line with the latest board-approved delegation-of-authority policy and matrix
Recommend any material scope changes (where the project was approved) for approval, in line with the latest board-approved delegation-of-authority policy and matrix.
Information management steering committee
Exxaro has developed a strategic response to sustainability risks in climate change and rapidly changing technology, and is driving innovation excellence to support its operations. An effective information and technology function is at the forefront of the company's strategic direction on innovation, digitalisation and automation. The information and technology management (IM) function contributes to a high-performing business by enabling superior production and protecting core assets such as information. IM policies guide user behaviour and raise security awareness, supported by continuous security monitoring.
The purpose of the committee is articulated in principle 12 of King IV. As a management subcommittee of the audit committee, it oversees IM governance, implementation and enforcement. It also supports the audit committee's mandate to ensure business resilience and mitigate incidents, including cyber attacks and adverse social media events.
Combined assurance forum
The purpose and activities of the combined assurance forum appear on Combined Assurance.