Strategy
A PURPOSE-DRIVEN STRATEGY
Our purpose as a company is to power better lives in Africa and beyond by responsibly investing in mining, energy, water and agri-economy.
This statement was derived from evaluating our current role in South Africa in the energy value chain, our existing asset base and capabilities, and the future we are approaching.
We supply coal for some 36% of Eskom's coal-generation capacity; the steel (ArcelorMittal) and cement-producing industries (around 60%); and other sectors in the mining and manufacturing industries – combined, this is close to 16% of South Africa's annual coal production.
We have also invested in 239MW of renewable wind energy generation (in a JV with Tata Power) which is delivering into the grid, and this remains the largest investment by a single company/consortium.
Therefore, our conduct in managing Exxaro and its contribution to South Africa's economy and energy security is the origin of our strategic intent of powering possibilities and purpose of powering better lives.
From this foundation of mining and energy, and acknowledging the headwinds against coal, we have developed related interests in water. This includes constructing water-treatment plants to ensure compliance with our statutory environmental management plans and recognising the risk presented by the increasing scarcity of water for several reasons, including climate change. The combination of arable land and availability of water underpinned our interest in the agri-economy, given the growing concern about food security.
In addition, we are entering the agri-industry value chain through bringing farms 'closer' to markets by optimising the value chain and finding alternate markets. We have invested in our agri-protein start-up that supplies insect-based protein as animal feed.
We have invested in Curapipe Limited. This company holds the sole licensing agreement for South Africa on innovative sealants – underground pipes to stop leakages. This is globally pioneering technology that will improve municipal water supplies to consumers.
Finally, the advent of the so-called 4th industrial revolution has been an enabling factor in venturing into these new areas, including the energy sector.
2018, A MILESTONE YEAR FOR OUR STRATEGY
Our strategy has been premised on four key objectives, set out below. FY18 was a milestone year in delivering against these objectives, which we first shared with the market in 2015:
Strategic objective

Description and performance in 2018

Key measure of performance and result for 2018

Comment on outcomes and results achieved

Maintain a leading position in our sustainability performance

Safety is a key performance measure of our sustainability as a mining company
In addition, our performance in terms of environmental stewardship, social impact and governance provides a profile of our sustainable development practices and responding to key societal challenges and opportunities

LTIFR = 0.12 compared to a target of 0.11 and prior-year performance of 0.12
ESG score = 3.7 vs industry average of 2.5

We maintained our performance in 2018, which is an improvement of 37% since 2014. We continue to strive for zero harm through visible felt leadership and ongoing safety awareness to achieve our target
While the individual scores of our environmental (3.5), social (3.3) and governance (4.6) performance were better than our industry peers, we can still improve, particularly in social impact and some aspects of environmental stewardship, particularly target disclosure

Portfolio optimisation

Selling non-core coal assets and optimising our investment portfolio (Tronox, Black Mountain Mine), and realising a return above our cost of capital on these investments

We sold Manyeka and certain assets and liabilities of our NBC operations for a gain of R171 million
We sold an initial interest in Tronox in late 2017. This transaction was executed in the market at a premium of about 2%

We continue to hold our interest in Black Mountain Mining while we explore viable opportunities to sell
We remain intent on selling our remaining interests and exiting the Tronox investment. Proceeds will be returned to shareholders, considering the capital allocation framework shown on Finance director's review
We are exploring options to exchange our shareholding in SIOC for a shareholding at the listed Kumba Iron Ore level
We have maintained our principle of not executing these transactions as a 'fire sale'

Operational excellence

Our coal business remains the primary driver of Exxaro's revenue. Continuous improvement in terms of production increases, cost reduction and operational efficiencies is key for the sustainability of the business, given headwinds against coal

Volumes in 2018 reached a record 47.8Mt, including record export volumes of 8Mt (up 5% and 5.3% on 2017, respectively)
Revenue increased 12% to a record R25.4 billion

The 2018 operational performance reflects the quality of resources and capability of people in our operations
Our innovation and digitalisation programme enabled us to close a production gap that had emerged in the first half of the year while increasing production beyond our expectations We have initiated a systematic and organisation-wide digitalisation programme. In FY18, this introduced a visualisation capability of our production value chain – a cultural change in how we operate – and we expect further benefits as we roll out the digitalisation programme
Our capital programme supports our target of 60Mt of production in 2023 with a higher-value product mix for export markets while maintaining consistent, reliable and cost-effective supply to Eskom and the rest of the domestic market
We also expect to expedite our coal development programme (ie advancing the phase 2 coal projects) to maximise the value of our coal business and take advantage of the positive outlook on higher prices for higher quality coal

Capital allocation priorities

We delivered against our capital allocation programme shared with you in 2017
Despite moving from a net cash position to net debt, we are well within our debt covenants and the balance sheet remains strong
We were able to finance our sustaining capital to ensure safe and productive assets as well as the ongoing R20 billion five-year expansion programme
At the same time, we returned cash to shareholders via a special dividend from the proceeds of selling 20% of our Tronox interest as well as a normal dividend totalling 1 085cps (555cps final, 55% increase on 2017)
We continued to invest opportunistically in our business of tomorrow, specifically energy, water and agri-business

Our net debt:equity ratio is a conservative 9%
We are well below our targeted net debt/EBITDA ratio of under 1.5 times
We received a dividend of R57 million from Cennergi - proving our investment in clean energy is bearing fruit
Coal capex - sustaining capital was R2.8 billion and expansion capital was R2.9 billion
Total dividends paid of R7.8 billion comprised special dividends of R4.5 billion and normal dividend of R3.3 billion at a cover ratio of 3.3
R263 million was invested in energy, water and agri-business

We are pleased with the outcome of our capital allocation programme We will maintain a disciplined approach, particularly in delivering on the capex growth programme for our projects and maintaining balance strength
Our perspective on M&A remains conservative, with a focus on value-accretive transactions across multiple matrixes, including ESG measures
As we proceed with the sale of non-core assets, we will adhere to our capital allocation decision process and be mindful of shareholder expectations for cash distributions and an improving cover ratio
Our balance sheet strength is a priority, and we do not want our net debt/EBITDA ratio to exceed 1.5 times
OUR DEVELOPING BUSINESS OF TOMORROW
| | | |
| --- | --- | --- |
| ENERGY: flexible energy solutions | | AGRI: enhancing the agri-industry value chain |
WATER: sustainable saving and treatment solutions
ENERGY: flexible energy solutions
| | |
| --- | --- |
| 1 | Position Exxaro to win in the new future |

| | |
| --- | --- |
| 3 | Leverage emerging technologies |

2
Explore and enter new sectors
(agriculture, energy, water)

4
Seek bold impact (empowering better
lives) and returns
Agility
Idea
Launch
Quickly & efficiently
Acquisitions, greenfield development, market partnerships
IDENTIFY THEMES
IDENTIFY BUSINESS
OPPORTUNITIES
DEVELOP VALUE
PROPOSITIONS &
BUSINESS CASE
IMPLEMENT/
COMMERCIALISE
SCALE AND GROW

Accelerate growth
Accelerate growth Inter-portfolio synergies

Rapid development Launch into market

Right and viable opportunities

Lower barriers for entry to market

Rapid deployment and entry to market

Quick time to market and business cycles

Leverage exponential enablers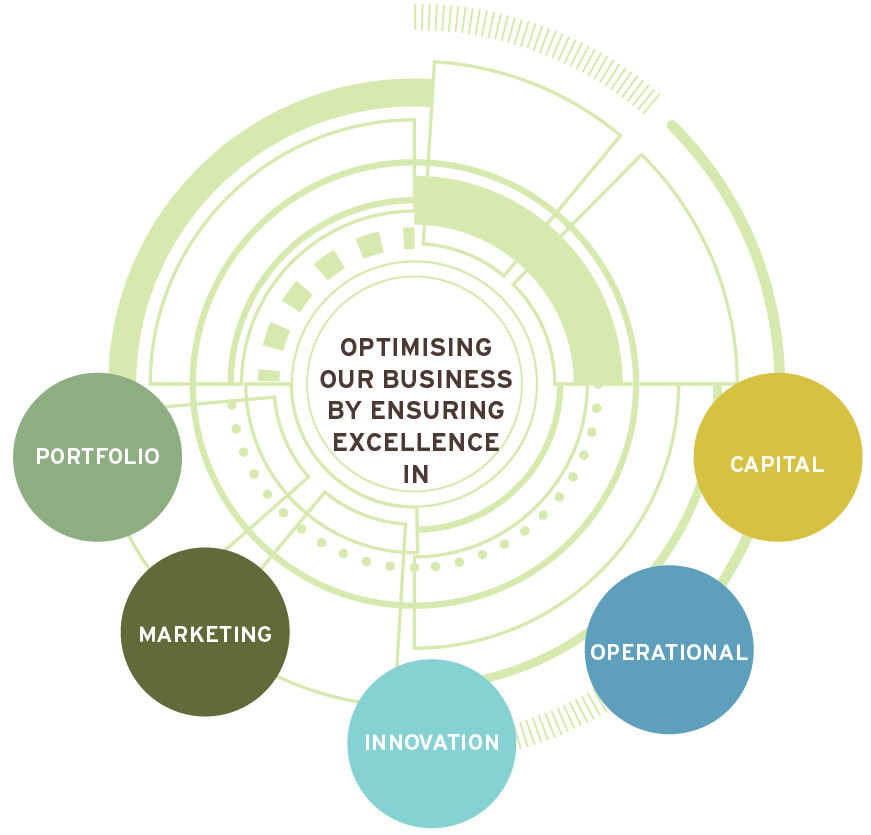 OBJECTIVES
KEY PERFORMANCE INDICATORS
1 PORTFOLIO

Develop portfolio investment and divestment scenarios

Execute streamlined investment and divestment processes

Number of successful divestments and investments

2 MARKETING

Product mix and RB1 growth

3 INNOVATION

Realtime value chain visualisation across all
our businesses

Integrated operations centres for all operations

5% year-on-year performance improvement across all business units

Ensure ICT infrastructure is in place

4 OPERATIONAL

Top 5 priorities in Start-up Way2

Driving top quartile performance

Total product improvement

5 CAPITAL

Achieve capital allocation targets

Align project portfolio with strategy

Reduce capital cycle lead time

Communicate effectively to markets

Measure and forecast in real-time
SUPPORTED BY
PEOPLE AND
ORGANISATION
EXCELLENCE

Align workforce planning with strategy

Recruit talent and train new capabilities

Address social impact technology

Change management for Start-up Way culture

Streamline and automate peoplecentred processes

SAFETY AND
SUSTAINABILITY
EXCELLENCE

Maintain licence to operate

Leverage latest technology in SHEC

Effective community engagement
DRIVING TOWARDS VALUE
Increase production throughput and equipment uptime
Improve safety and environmental performance
Increase people performance
Improve vendor and contractor management
Enable functional excellence across operational and functional silos