Stakeholder review
In support of Exxaro's purpose of powering better lives in Africa and beyond, we continue to work towards improving the quality of our relationships with stakeholders and building long-term, stable and trusting relationships that will create shared value for all our stakeholders. From a relatively procedural engagement approach, our objective is to mature through integrated and relational levels to the intentional, proactive management of stakeholder-related risks and opportunities.
Exxaro's stakeholder ecosystem
Exxaro's stakeholder ecosystem comprises a broad range of stakeholders as illustrated below.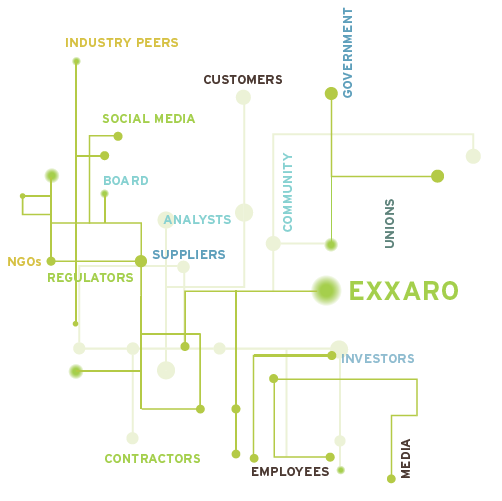 Our engagement philosophy
The context of society remains a key reference point for our conduct and stakeholder engagement activities. In this context, we fulfil several societal functions, including that of employer, growth catalyst and national energy resource provider. In pursuit of our sustainable development objectives, we also impact on the environmental, intellectual and financial capitals of society. Our aim is to create sustainable shared value for our stakeholders by striving for operational efficiency, growth and regulatory compliance as well as responsible and accountable corporate citizenship. Our sustainability is founded on long-term, mutually constructive relationships and common values with our stakeholders. By virtue of our existence and prosperity, we strive to make our society a better place to live in.
Stakeholder engagement
Our stakeholder engagement activities are guided by the AccountAbility 1000 Stakeholder Engagement Standard (AA1000SES), King IV, our values, our engagement philosophy and the following objectives:
Proactively and continuously seek to understand stakeholders and their expectations
Engage respectfully and uphold the dignity of stakeholders
Respond timeously to stakeholder concerns
Ensure a consistent, but nuanced, approach to stakeholder engagement across the group
Develop appropriate stakeholder and issue engagement plans
Seek opportunities to collaborate and co-create appropriate solutions
Identify opportunities to leverage relationships and engagement platforms
Report transparently on the extent and outcomes of engagements with stakeholders.
Evaluating our stakeholder relationships
Given Exxaro's purpose, strategic and stakeholder objectives outlined above, growing trust with our stakeholders is key to our success. Trust is built on deep, open and enduring relationships with stakeholders, unlocking opportunities for dialogue, collaboration and co-creation. Trust helps us deliver on three key equities: reputation, brand and talent.
In 2018, we conducted a survey to evaluate levels of trust in the organisation among seven key stakeholder groups: employees, communities, government, investors/analysts, customers, suppliers and media. The project also identified factors contributing to Exxaro's reputation that could be used to develop a reputation framework to inform strategy, direct tactical interventions through a new engagement approach, and track improvements over time.
Summary of survey results
Trust index
Engagement
index
Advocacy
index
External stakeholders (includes customers, suppliers, media, investors and government)
74.6
69.3
69
B
C+
C+
Affected communities
71.3
57.5
64.6
B
D
C
Employees
78.3
63.3
75.5
B
C
B
Key findings
Compared to other sectors, trust in the mining sector is low, particularly among investment, media and government stakeholders. However, except for affected communities, other stakeholder segments acknowledge the positive impact of the mining industry on South Africa and its people.
Overall, trust scores for Exxaro are healthy.
Exxaro outperforms its peers on diversity and transformation as well as its commitment to cleaner energy and climate change.
Exxaro is only really outdone on overall impression among external stakeholders, which we believe is due to our limited communication in the past.
Most stakeholders agree that Exxaro has a clearly defined role in society, but investors, communities and government still need further convincing. Proof of tangible action will help to bridge this gap.
Although awareness of our socio-economic activities varies among stakeholders, on the whole they firmly believe Exxaro's corporate social investment (CSI) activities have a positive impact on the communities they serve.
The foundational drivers of trust in Exxaro for all stakeholders are diversity and transformation and financial strength, supported by social attributes of citizenship such as community, good governance, integrity, energy, climate change and safety issues as well as agri-industry opportunities. Beyond this are factors specific to certain stakeholder groups which we need to focus on to grow trust further with that group.
Recommendations
When asked what Exxaro could do to improve its reputation, there were varied responses. The most common was that Exxaro needs to improve its stakeholder engagement.
Improving the quality and extent of engagement was highlighted as a priority by government stakeholders. They also encouraged Exxaro to publicise its CSI initiatives more widely and loudly, especially job and enterprise-creation initiatives, and to continue efforts to improve relationships with employees and communities.
Investors need more information on Exxaro's strategy in particular.
Communities want to see better engagement and procurement opportunities, and continued investment in community development, job creation and youth development.
Media stakeholders requested improved access to senior leaders, more opportunities for dialogue with Exxaro, more exposure to mega-projects and socio-economic development projects, and ongoing engagement on our strategy. They also suggested Exxaro should be more proactive in promoting itself.
For employees, improved engagement, transformation (throughout the organisation), skills development, youth development, learnerships, ethics, recruitment practices, responsible environmental management and job security were key talking points.
Domestic customer concerns related to contractual issues such as product quality, volumes and Exxaro's export strategy. There were requests for supply to the Eastern Cape and concern was expressed about coal prices.
What is Exxaro doing to address the issues raised?
Readers are referred to more information in this report (IR) and our supplementary report (SR).
Stakeholder concerns
How is Exxaro responding?

Engaging with stakeholders

In the second half of 2018, our focus was therefore on developing an integrated engagement framework, firstly across the corporate function and, secondly, between corporate and the business units. The expected outcome of this approach is better insights about our stakeholder universe and being able to engage on mutual issues on both a short- and long-term basis. The framework will be rolled out across the business in 2019.

Stakeholder engagement plans have been developed at each business unit, aimed at improving community relationships, while a government engagement plan implemented from the corporate centre is aimed at building provincial or national relationships necessary to support business unit activities.

Skills development

See Skills development, Business resilience and Operational compliance

Employment equity

Responsible environmental management

See Environmental management for more information

Local procurement

Exxaro has implemented a local procurement strategy regulated by the supply chain sustainability policy. Local SMMEs (small, medium and micro enterprises) are integrated into Exxaro's supply chain through direct and indirect procurement channels. Direct procurement is enabled by using set-asides, preferential tender evaluation criteria, plus preferential contracting terms. In 2018, over R500 million in contracts was awarded to black-owned SMMEs from Exxaro's host communities. Indirect procurement is the preferred method of integrating SMMEs in major capital projects. Exxaro's sustainability policy encourages main contractors to subcontract a share of the contract value to local SMMEs, while adhering to Exxaro's corporate governance and sustainability standards.

Employee engagement

Communicating Exxaro's strategy was a key focus in 2018. We also increased the number of communication channels with employees to include a mobile app, at no cost to employees, to receive information. See Performance against strategy

Marketing and publicity

A broader communication strategy has been developed, targeting our stakeholders through social media, print and broadcast channels. Most of the messages are aimed at sharing what Exxaro is doing in education, small business development, infrastructure development, agriculture and health. We are continuously looking at opportunities to profile the organisation with various stakeholders.

Communicating Exxaro's strategy

In response to the information needs highlighted by analysts in the reputation survey, Exxaro conducted a roadshow to analysts and investors during 2018 to share information about the strategy. The board also rigorously tested Exxaro management's ability to deliver on the business-of-tomorrow strategy.

Community development

A total of R77 million was invested in community development, infrastructure and education initiatives in 2018. See Skills development, Environmental management, Material issues and Operational performance for more information. (See People in the supplementary report.)

Exxaro has partnered with Anglo American, the CSIR, World Vision and the Limpopo provincial government in The Impact Catalyst, a collaborative socio-economic development platform aimed at achieving greater impact through the collective impact of initiatives in the province.

Youth development

In 2018, the board approved the Youth Exponential Development (YDx) initiative for youth development in line with the president's youth empowerment scheme. This will be rolled out in 2019.

Infrastructure development

Exxaro invested over R32 million in infrastructure projects over 2018. This included the delivery of 56 houses, three creches and a community hall totalling R17.6 million to communities around our mine-in-closure, Tshikondeni, in Limpopo. See Operational performance for more information.

Supply chain processes, payment, partnerships and feedback

Through our digitalisation journey, we aim to create an efficient market where buyers and sellers engage effectively. To improve our turnaround times and feedback, we are implementing a new system and digital portal where suppliers can track tenders and invoices, and which will greatly improve internal efficiency. In principle, Exxaro supports proposals for collaboration and co-creation of our long-term procurement strategy and undertakes to investigate means by which this goal can be achieved. We are also developing a stakeholder engagement plan to improve communications and interaction with suppliers. See Business resilience.

Domestic customer concerns

Exxaro's products (and therefore its markets and marketing strategy) are determined by the quality of our coal seams. Around 70% of our volumes are delivered to Eskom and just 20% goes to export. The remaining domestic volumes have unfortunately been affected over the last year by resource issues at Leeuwpan as well as the disposal of North Block Complex. The Leeuwpan life-extension project implemented in 2018 should address some of these issues. In addition, several truck breakdowns and pit-liberation issues at Grootegeluk last year exacerbated the situation. Regrettably, this resulted in variability in both the consistency of supply and product quality for our domestic customers. Several improvement projects are in place to address these issues. See Material issues and Finance director's review for more information.

Enterprise development

Exxaro has implemented a comprehensive enterprise and supplier development (ESD) strategy aimed at supporting economic transformation. Around R186 million (or 82% of the approved ESD budget of R228 million) was approved and disbursed to 24 beneficiaries. The balance was due to be disbursed in the first quarter of 2019. See People of the supplementary report for more information.