The directors have pleasure in presenting the group and company annual financial statements of Exxaro Resources Limited for the year ended 31 December 2018.
NATURE OF BUSINESS
Exxaro is a large South African-based diversified resources group, with interests in the coal, TiO2, ferrous and energy markets. Exxaro's assets vary between controlled and operated assets as well as equity-accounted investments. The major controlled assets are the coal operations, with Exxaro being one of the top five coal producers in South Africa and in turn, Grootegeluk is acknowledged as one of the most efficient mining operations globally and runs the world's largest coal beneficiation complex.
While coal is the core of our business now and for decades to come, Exxaro understands the finite nature of the fossil-fuel sector and changing global imperatives. Therefore, Exxaro also holds a 50% (2017: 50%) interest in Cennergi, an energy company which aims to be the leading cleaner energy IPP in South Africa.
Exxaro's major investments in associates include its 23.35% (2017: 23.66%) equity interest in Tronox Limited, a vertically integrated mining and inorganic chemical business. It also includes a 26% (2017: 26%) equity interest in Tronox SA and a 20.62% (2017: 20.62%) equity interest in SIOC, which extracts and processes iron ore.
Exxaro is a public company incorporated in South Africa and is listed on the JSE. It is also a constituent of the JSE's Top 40 index, as well as the top 30 in the FTSE/JSE Responsible Investment Index, with headquarters in Pretoria, South Africa.
Exxaro's strategy is based on sustainably growing its coal asset base as well as embarking on investments focused on the security of energy, water and food supply (agriculture). This underpinned the strategy guiding our business of tomorrow, that along with the business of today (being coal) will ensure that Exxaro empowers better lives in Africa and beyond.
Interests acquired during the year in the area of agriculture and energy
Exxaro acquired an equity interest in AgriProtein on 31 May 2018. AgriProtein develops municipal organic waste conversion plants to generate high quality, natural protein sold for use in animal feed and agriculture.
On 18 September 2018, Exxaro acquired an equity interest in LightApp. LightApp is one of the leading start-ups in industrial energy analytics. It is a software company that develops and deploys an energy management system for industrial customers.
Sale of non-core assets and investments to ensure sustainable coal assets
To optimise Exxaro's coal portfolio, a sale of shares agreement was concluded with Universal Coal for the 100% shareholding in Manyeka, including a 51% interest in Eloff. The transaction closed on 31 July 2018.
On 2 March 2018, Exxaro concluded a sale of asset agreement with North Block Complex Proprietary Limited to dispose of certain assets and liabilities of NBC. Given the composition of the assets, two section 11 applications were submitted to the DMR to transfer the mineral rights. Although the section 11 for the Paardeplaats mining right has not yet been granted, it was agreed with the buyer to close the transaction on 31 October 2018.
The sale of Paardeplaats will be concluded once section 11 approval has been obtained.
INTEGRATED REPORT AND SUPPLEMENTAL INFORMATION
This integrated report contains material information on the activities and performance of the group and its various divisions as well as in the supplementary information. These reports are unaudited. The board of directors (the board) acknowledges its responsibility to ensure the integrity of the integrated report and supplemental information. We have accordingly applied our minds to the integrated report and believe the report addresses all material issues, and fairly presents the integrated performance, impact and sustainability of the organisation.
CORPORATE GOVERNANCE
The directors endorse and acknowledge the principles contained in King IV™. These principles are applied by Exxaro and therefore the disclosures made in the integrated report are essential to allow stakeholders to assess whether the principles and recommended practices are integrated in the business processes of Exxaro. Furthermore, we acknowledge that effective corporate governance should form part of everything we say and do. Corporate governance forms part of the foundational layers of our strategy, and effective governance is therefore entrenched as a way of doing business. Full details on how these principles are applied in Exxaro are set out in the integrated report 2018.
COMPARABILITY OF RESULTS
The results for the years ended 31 December 2018 and 2017 are not comparable due to the key transactions reported in the table. Refer note 5.6 and 5.7 for detail regarding the re-presentation and restatement of 2017 financial information.
ACCOUNTING POLICIES
The accounting policies applied during the year ended 31 December 2018 are consistent, in all material respects, with those applied in the group and company annual financial statements for the year ended 31 December 2017 except for the adoption of the following new standards, which are relevant to the group, for the first time for the year commencing 1 January 2018:
IFRS 9 Financial Instrument
IFRS 15 Revenue from Contracts with Customers
The impact of the adoption and the new accounting policies are disclosed in note 5.6.
REGISTRATION DETAILS
The company registration number is 2000/011076/06. The registered office is Roger Dyason Road, Pretoria West, 0183, Republic of South Africa. Refer chapter 19: annexure 3, for further details.
CAPITAL MANAGEMENT
A new capital allocation framework was adopted in June 2018. In terms of the new framework, free cash flow generated will be prioritised per the diagram below.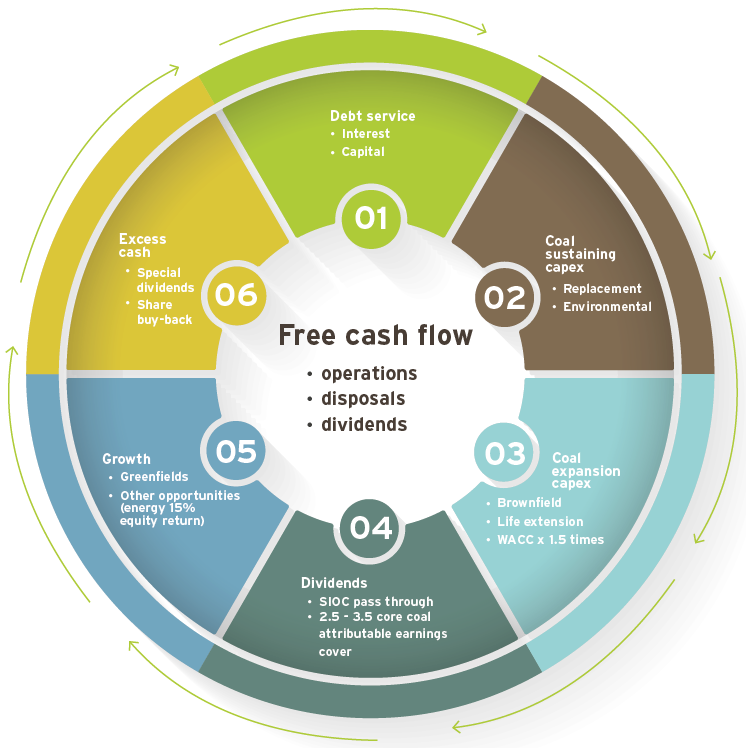 This revised framework is in line with Exxaro's commitment to sustainably return cash to shareholders through the cycle, while retaining a high level of balance sheet strength.
SHARE CAPITAL
Number of shares
At 31 December
2018
2017
Authorised ordinary shares of R0.01 each
500 000 000
500 000 000
Issued ordinary shares of R0.01 each
358 706 754
358 706 754
Treasury shares held by Kumba Resources Management Share Trust
158 218
158 218
Treasury shares held by Eyesizwe
107 612 026
107 612 026
SHAREHOLDERS
An analysis of shareholders and the respective percentage shareholdings appears in chapter 19: annexure 1.
DIVIDEND PAYMENTS
The company's dividend policy is to consider an interim and final dividend for each financial year. At its discretion, the board may consider a special dividend, where appropriate. Depending on the perceived need to retain funds for expansion or operating purposes, the board may approve the payment of dividends.
Given Exxaro's strong balance sheet, underpinned by strong cash flow generation, the board approved a revised dividend policy during 2018. The revised dividend policy comprises two components; firstly, a pass through of the SIOC dividend received and secondly, a dividend based on a targeted cover ratio of 2.5 times to 3.5 times core attributable coal earnings.
Exxaro declared the following dividends:
Dividend number 31
Interim dividend number 31 of 530 cents per share was approved on 14 August 2018 and declared in South African rand in respect of the six-month period ended 30 June 2018. The dividend payment date was Monday, 25 September 2018 to shareholders recorded in the register of the company at close of business on Friday, 21 September 2018.
Dividend number 32
Final dividend number 32 of 555 cents per share was approved on 12 March 2019 and declared in South African rand in respect of the year ended 31 December 2018. The final dividend payment date is Monday, 13 May 2019 to shareholders recorded in the register of the company at close of business on Friday, 10 May 2019 (record date). To comply with the requirements of Strate, the last date to trade cum dividend is Monday, 6 May 2019. The shares will commence trading ex-dividend on Tuesday, 7 May 2019.
The final dividend declared is subject to dividend withholding tax of 20% for all shareholders who are not exempt from or do not qualify for a reduced rate of dividend withholding tax. The net local final dividend payable to shareholders, subject to dividend withholding tax at a rate of 20% amounts to 444 cents per share. The number of ordinary shares in issue at the date of this declaration is 358 706 754. Exxaro company's tax reference number is 9218/098/14/4.
Special dividend
On 13 February 2018, Exxaro declared a special dividend amounting to 1 255 cents per share following the partial disposal of its shareholding in Tronox Limited during October 2017. The dividend was paid to shareholders on 5 March 2018.
INVESTMENTS AND SUBSIDIARIES
The financial information in respect of investments and interests in subsidiaries of the company is disclosed in note 17.8.
EVENTS AFTER THE REPORTING PERIOD
The group entered into the following transactions subsequent to 31 December 2018:
On 15 February 2019, Exxaro received a cash dividend of R460 million from Tronox UK and Exxaro's 26% membership interest was redeemed for an amount of R1 597 million
On 22 February 2019, Exxaro signed a transfer agreement with the Arnot OpCo Proprietary Limited consortium, whose shareholders are former employees of Arnot and Wescoal, for the transfer of the Arnot mine. This transfer is subject to regulatory and the three parties' approvals
Refer details above regarding the final dividend for 2018.
The directors are not aware of any matter or circumstance that has arisen since the end of the financial year not dealt with in the integrated report 2018 or in the group and company annual financial statements 2018 that would significantly affect the operations or the results of the group and company. Refer note 18.3 for further details.
DIRECTORATE AND SHAREHOLDINGS OF DIRECTORS
Details of the directors in office at the date of this report are set out in the integrated report 2018.
Details of directors' shareholdings are contained in note 14.5.3.
In March 2018 as a result of the Replacement BEE Transaction Dr MF (Fazel) Randera, Mr D (Rain) Zihlangu, Mr VZ (Zwelibanzi) Mntambo; Mrs S (Salukazi) Dakile-Hlongwane and Ms MW (Monhla) Hlahla resigned due to the unwinding of MS333. In their stead, Eyesizwe nominated four individuals which the board appointed to take up office with immediate effect: Mr VZ (Zwelibanzi) Mntambo; Ms MW (Monhla) Hlahla, Ms L (Likhapha) Mbatha and Ms D (Daphne) Mashile-Nkosi.
Dr D (Deenadayalen) Konar, who served as chairman of the board, retired by rotation at the AGM on 24 May 2018 and did not make himself available for re-election. Mr S (Saleh) Mayet, who served as a non-executive director also retired at the AGM and did not offer himself for re-election. Furthermore, Dr CJ (Constantinus) Fauconnier, an independent non-executive director retired in terms of the requirements of the MoI (by virtue of his age) and did not offer himself for re-election.
The board subsequently filled these casual vacancies after running a thorough and transparent appointment process through its remuneration and nomination committee, taking into account its race and gender targets of 50% black and 30% black women. It appointed Ms A (Anuradha) Sing, Ms GJ (Geraldine) Fraser-Moleketi, Mr MJ (Mark) Moffett and Mr LI (Isaac) Mophatlane as independent non-executive directors.
Ms GJ (Geraldine) Fraser-Moleketi is not mentioned in the printed report.
In accordance with the MoI, the appointments by the board are required to be confirmed through election by the shareholders at the forthcoming AGM to be held on 23 May 2019.
At the date of the compilation of this report, the following individuals were directors of the company:
Mr J (Jeffrey) van Rooyen (chairman)
Ms GJ (Geraldine) Fraser-Moleketi (lead independent director)
Mr PA (Riaan) Koppeschaar (finance director)
Ms MW (Monhla) Hlahla
Ms D (Daphne) Mashile-Nkosi
Ms L (Likhapha) Mbatha
Mr MDM (Mxolisi) Mgojo (chief executive officer)
Mr VZ (Zwelibanzi) Mntambo
Mr MJ (Mark) Moffett
Mr LI (Isaac) Mophatlane
Mr EJ (Ras) Myburgh
Mr V (Vuyisa) Nkonyeni
Ms A (Anuradha) Sing
Mr PCCH (Peet) Snyders
DIRECTORS' SERVICE CONTRACTS
All executive directors' employment contracts are subject to six calendar months' notice. Non-executive directors are not bound by service contracts. There are no restraints of trade associated with the service contracts of executive directors.
A detailed analysis of the directors' and prescribed officers' remuneration is included in note 14.5.
GROUP COMPANY SECRETARY
Mrs SE (Saret) van Loggerenberg, a Fellow of the Institute of Chartered Secretaries is the company secretary. The contact details of Saret van Loggerenberg appear in the administration section.
INDEPENDENT EXTERNAL AUDITORS
PwC was re-elected as independent external auditors on 24 May 2018 in accordance with section 90 of the Companies Act and has again been proposed for re-election in respect of the 2019 financial year, to occur at the forthcoming AGM on 23 May 2019.
AUDIT COMMITTEE
The audit committee report appears here, as well as in the integrated report 2018.
BORROWING POWERS AND FINANCIAL ASSISTANCE
Group
2018

Rm
(Re-presented)
2017
Rm
Amount approved
52 308
50 126
Total borrowings (excluding finance leases)
(4 414)
(6 529)
Unutilised borrowings
47 894
43 600
The borrowing powers were set at 125% of shareholders' funds attributable to owners of the parent for both the 2018 and 2017 financial years.
Pursuant to the authorisation granted at the AGM held on 25 May 2017, shareholders approved, in accordance with section 45 of the Companies Act, the giving of financial assistance to related and inter-related companies of Exxaro.
The directors resolved that the company will satisfy the solvency and liquidity test, as contemplated in section 45 of the Companies Act and detailed in section 4 of the Companies Act, post such assistance. The terms under which such assistance will be provided are fair and reasonable to the company.
EMPLOYEE INCENTIVE SCHEMES
Details of the employee incentive schemes are set out in note 14.3 as well as the remuneration and nomination committee report in the integrated report 2018 and the supplementary information.
RELATED-PARTY TRANSACTIONS
Details of related-party transactions are set out in note 15.1.
GOING CONCERN
The directors believe that the group and company have adequate financial resources to continue in operation for the foreseeable future and accordingly the group and company annual financial statements 2018 have been prepared on a going-concern basis. The directors are not aware of any new material changes, or any material non-compliance with statutory or regulatory requirements, that may adversely impact the group or company.
SPONSOR
Absa Limited acted as sponsor to the company for the financial year ended 31 December 2018.
TRANSFER SECRETARIES
Computershare Investor Services Proprietary Limited serves as the South African registrar of the company.
AGM
The 18th (eighteenth) AGM of shareholders of Exxaro will be held (subject to any adjournment or postponement) at the JSE Building, 9th Floor Dining Room, One Exchange Square, Gwen Lane, Sandton, South Africa, at 11:00 on Tuesday, 14 May 2019 to consider and, if deemed fit, pass with or without modification, the resolutions.